OKLAHOMA CITY (OBV) – The Greater Oklahoma City Asian Chamber of Commerce is now in business, kicking off the Lunar New Year in grand fashion with an official launch celebration attended by state and city leaders.
The event was held Wednesday morning at Grand House Asian Bistro, with the Greater OKC Asian Chamber's board of directors and other local chamber leaders in attendance. Gov. Kevin Stitt and Mayor David Holt were also on hand, both speaking about the many contributions Asian American and Pacific Islander community members have made to the state and the nation.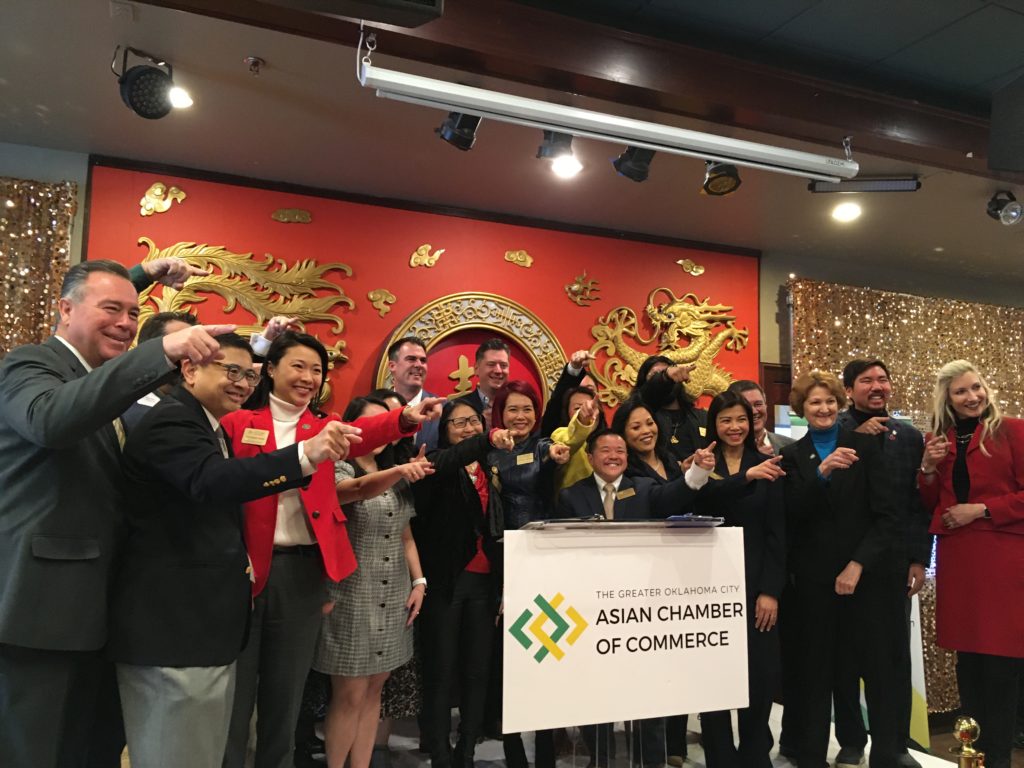 The Greater OKC Asian Chamber was created by a group of community leaders and entrepreneurs to support the Oklahoma City metro area's growing Asian community.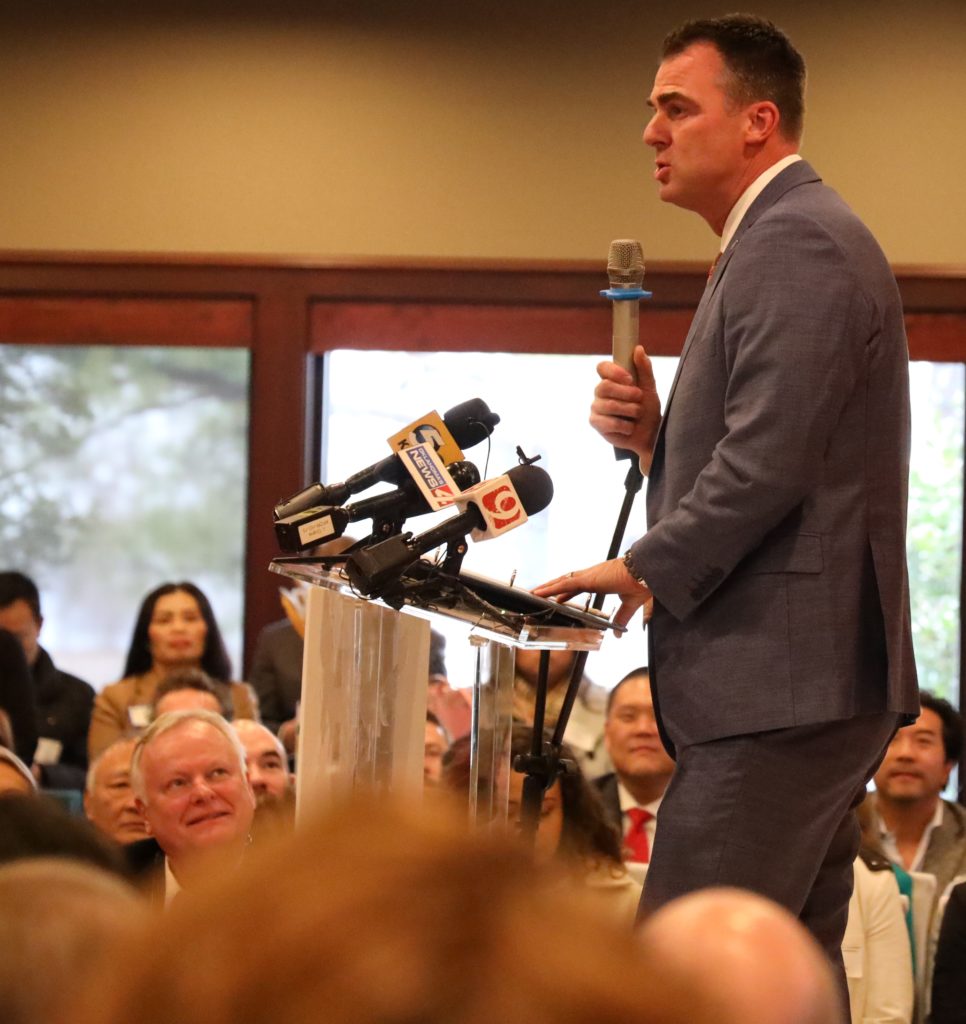 "We want to do whatever we can to make sure you're welcomed in the state of Oklahoma, that we never play favorites with anyone. I tell all of our regulatory bodies [that] it's our job to have a level playing field," Stitt said in his remarks to a packed room. "Government needs to have a level playing field and let everybody go compete and win with each other. So, there's no such thing as equal outcomes, but we want equal opportunities for every single person in our state regardless of your race, your background, where you live in the state. We want everybody to be successful and go compete and win based on your merit."
There are 50,000 Asian Americans residing in the Oklahoma City metro, as well as over 5,300 Asian-owned businesses. Those businesses generate $1.25 billion in sales each year and have a combined $203 million in payroll, according to 2020 Census data.
"We started out with a small group of entrepreneurs from different businesses and backgrounds in early 2022 and quickly grew into a strong and passionate team of prominent business leaders serving as board of directors and committee members," said Scarlet Le-Cao, the inaugural president of the Greater Oklahoma City Asian Chamber of Commerce.
The Greater OKC Asian Chamber will advocate on behalf of Asian community members who are entering the business world.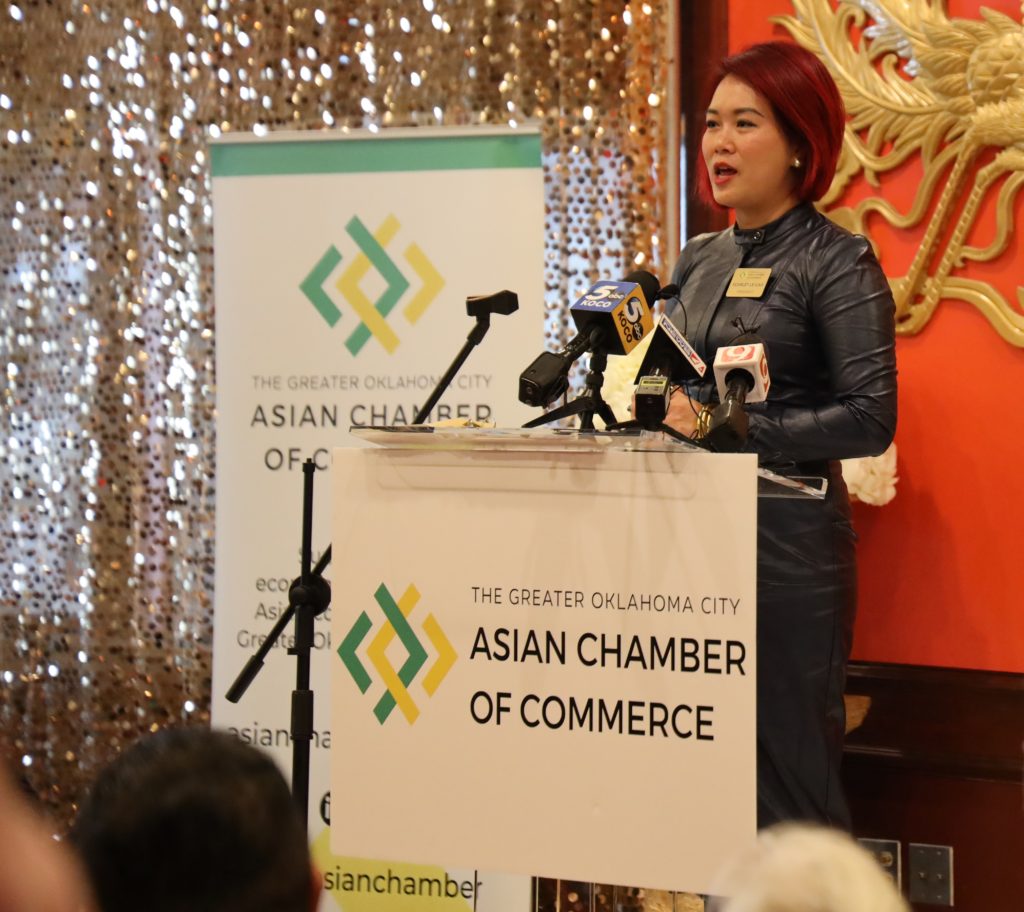 "The Asian population is incredibly diverse, and we want to preserve our cultural heritage and support economic development for Asian communities in the greater Oklahoma City metropolitan area," Le-Cao said. "It is critically important to advocate, represent and provide our communities with valuable tools for their businesses and professions."
Mary Nhin, business owner and Greater Oklahoma City Asian Chamber of Commerce Co-Vice President, spoke early in the event about the struggles she faced when trying to open a business 20 years ago, chiefly, trying to obtain a business loan. She said she was rejected by 11 banks.
"I remember feeling all alone, on an island, wishing I had a mentor or someone to help me, someone to answer the questions, like, 'Where do I get a sales tax permit? How do I find a subcontractor to help me with the buildup? How do I start an LLC?' I believe had I had a mentor or someone to help me – a community – my journey would not have been so difficult," Nhin said.
The Asian community and its businesses are a growing and vital part of Oklahoma City, Holt said.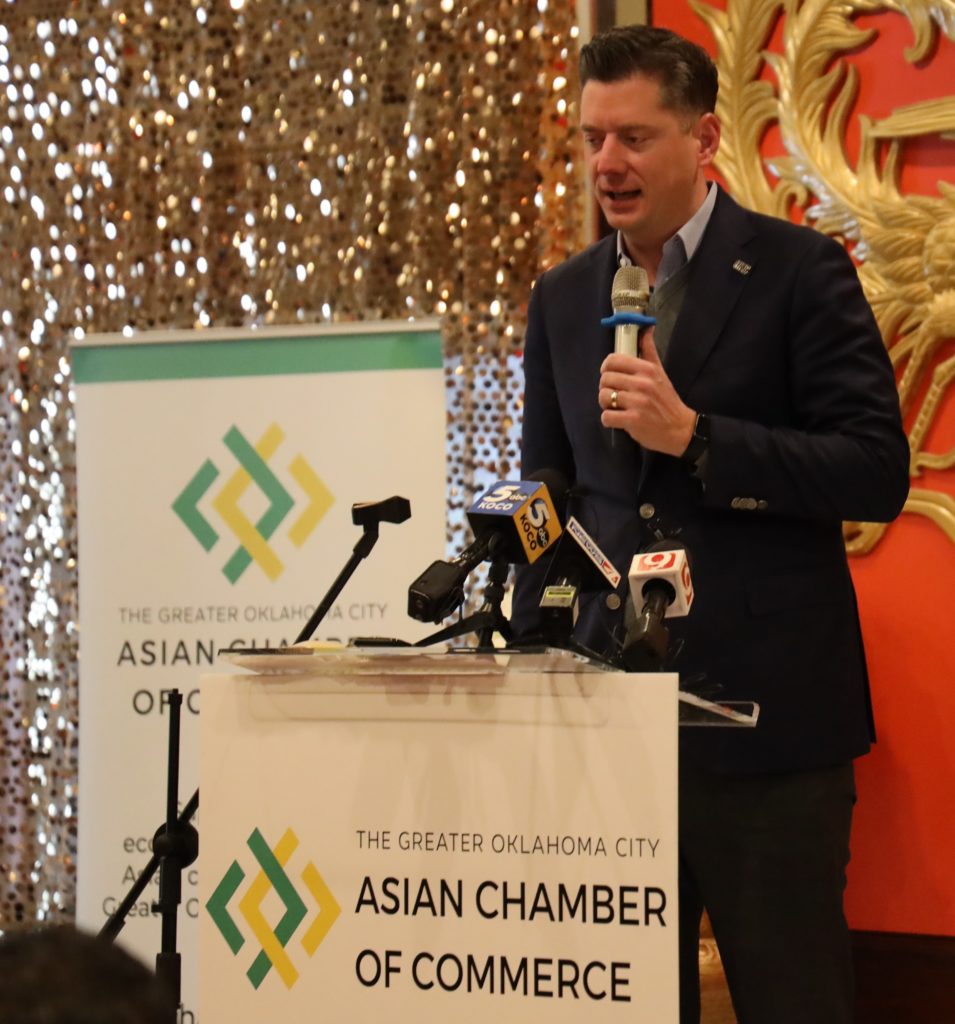 "For decades, Oklahoma City has been the proud home of a vibrant Vietnamese American community. The Asian community has grown significantly and made a remarkable impact on our neighborhoods and local economy," Holt said. "This special Lunar New Year celebration not only marks a new beginning for the chamber and for our city but also promotes unity, spurs innovation and fosters economic growth."
Rep. Daniel Pae, R-Lawton, and Rep. Andy Fugate, D-Oklahoma City, were also in attendance. They spoke with Oklahoma Business Voice about the Greater OKC Asian Chamber's significance to the Asian community and Oklahoma City as a whole.
"I believe the Greater Oklahoma City Asian Chamber is going to be a great organization that advocates for the interests and needs of the Asian American community," Pae said. "It's a way for folks to network together and to meet other Asian American business owners, to learn from each other and ultimately to grow together as one community."
Pae will be serving on the Chamber's Policy Committee. He said the Chamber is planning a celebration at the State Capitol in May, which is Asian American Heritage Month.
The Chamber will help the Asian community have a stronger presence in the metro area, Fugate said.
"We are all stronger when we speak with one voice, and so, having that opportunity created for the Asian community is huge," Fugate said.
The Greater OKC Asian Chamber will collaborate with other chambers in the area to support the business community and help Oklahoma City grow in prosperity.
"I believe here today, we had representation from all the other different chambers – the local, the city – and that's what it takes," Pae said. "Our diversity is a source of our strength and openness. It is incredibly diverse. And the more that we can bring people together, the better off you are."