OKLAHOMA CITY (OBV) – Tom Love, an Oklahoma business giant and travel stop pioneer, died Tuesday at age 85.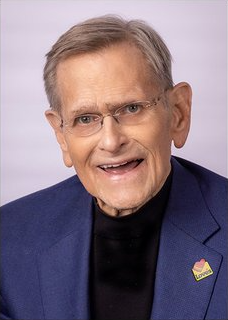 Love, who, along with his wife and business partner, Judy Love, founded and operated Love's Travel Stops & Country Stores, died in his hometown, Oklahoma City, according to a release issued on the Love's website.
He is survived by Judy Love; they were married 62 years. He is also survived by his children Frank, Greg, Jenny and Laura, nine grandchildren, two great-grandchildren and two more on the way.
"We are deeply saddened by the passing of our beloved husband, father and grandfather," the Love Family said. "He loved people, and that was evident in how he guided our family, operated the business he started in 1964 and gave back to our community and organizations across the country that serve others. He was always committed to helping others succeed and opening the door for leaders, including his children and grandchildren, and we look forward to building upon his legacy. While the grief we feel is unmeasurable, we celebrate his life and will continue his legacy of living a life filled with integrity, honesty and faith."
The success of Love's Travel Stops & Country Stores is a reflection of Tom Love's character, according to Shane Wharton, Love's president.
"Tom Love was a man of conviction who never wavered from the principles of honesty and integrity in the 59 years he spent developing the company he started with his wife, Judy," Wharton said. "These tenets still guide our company and will as we move forward. Tom always listened and was sincerely interested in knowing the stories of employees and customers. He wanted to hear their thoughts, ideas and hopes for them, their families and the company. He credited the company's success to the people who worked for us. He could relate to all employees but had a soft spot for those on the frontline at stores. In many respects, he was an ordinary person who built an extraordinary business alongside his wife Judy and his family, who he loved deeply."
The Love's company grew from modest beginnings in 1964 when Tom and Judy Love spent $5,000 to lease an abandoned service station in Watonga, a rural town northwest of Oklahoma City. Their company, then-named Musket Corporation, opened 40 stores in Western Oklahoma over eight years.
They opened their first country store in Guymon, Okla., in 1972. It was the first U.S. store to combine self-service gasoline and grocery items. The country store became the linchpin of Love's emergence as one of the preeminent companies in the nation.
The first Love's Travel Stop opened on Interstate 40 in Amarillo, Texas, in 1981. It was the first of hundreds of locations that cater to both professional truck drivers and motorists. Love's has since incorporated hot and fresh food items, truck care maintenance and warm showers into its service model.
The company opened its 600th location in October 2022. Love's expanded over the years to include businesses focused on truck maintenance, logistics, commodity supply and alternative energies.
The following memorials were released by Oklahoma leaders and luminaries:
"Tom was a dear friend who I often turned to for advice. He was a visionary, innovator, inspirational leader and compassionate person. Tom was a quintessential entrepreneur long before entrepreneurialism was ever in vogue. He loved his country, having served in the Marine Corps. He loved his hometown of Oklahoma City, where he headquartered his business. Tom loved his state and responded with alacrity and superb skill when he accepted my appointment as chairman of the Oklahoma Transportation Commission. He was devoted to his dear wife, Judy, their four wonderful children, and many grand and great-grandchildren. He was committed to his faith, and he gave generously, but often quietly, to support education, medical and other significant initiatives. Cathy and I are heartbroken at his loss, but we are encouraged to know Tom's legacy will live on through his family, company and countless kind deeds."

Former Oklahoma Gov. Frank Keating
"With deep sadness, we acknowledge the passing of a distinguished Chickasaw Nation citizen, Tom Love. In 2019, it was my great privilege on behalf of the Nation to induct Tom into our Hall of Fame, the highest honor we can bestow upon one of our citizens. The induction recognized Tom's immeasurable contributions to the advancement and betterment of the Chickasaw Nation. Tom embodied the values we cherish – honesty, trust, respect and service. He was generous with his time and resources. We enjoyed and cherished his friendship. We will surely miss him. As a Nation, we extend our condolences to Judy and the family. You will be in our hearts and prayers."

Chickasaw Nation Governor Bill Anoatubby
"Today, Oklahoma is mourning the loss of Tom Love, an innovative businessman with a heart for philanthropy.

After successfully growing the business he owned with his wife, Judy, into one of the country's most recognizable brands, he spent years giving back to the state. Tom made a profound impact on thousands of lives and his generosity cannot be understated.

My prayers are with Judy and the rest of the Love family as they mourn the loss of their loved one."

Oklahoma House Speaker Charles McCall
"We mourn the passing of our great friend and fellow Oklahoman, Tom Love. Tom represented the finest of our Oklahoma values of humility, honesty, compassion and service. He exhibited these exceptional core values in every aspect of his remarkable life – faith, family, friends, business and community. As a husband, father, grandfather, great-grandfather and friend, Tom always showed an abundance of goodness and kindness. We salute Tom for a well-lived life and for his invaluable contributions to the betterment of our city, state and nation. My family sends heartfelt condolences to Judy and the entire family and pray for their comfort in the coming days and weeks. Those who had the pleasure of knowing and working with Tom are better because of it."

Mike Turpin, friend and former Oklahoma Attorney General
"Tom Love is my Oklahoma hero. Together with his loving wife and business partner, Judy, Tom has lived a life of humility, generosity and enormous impact. His deep love for his church, community and country has been abundant and long-lasting. As our grieving hearts accept Tom's passing, the brokenness is quickly filled with gratitude for his life. Tom was a man of amazing vision, deep faith and complete devotion to others. He loved God. And he loved people – all kinds of people. None more than his family. May the comfort of our compassionate God be present with his beloved wife, Judy, their children and grandchildren. And all of us. 'A mighty oak has fallen in the forest and left a gaping hole against the sky.' But Tom Love's roots grew so deep that greatness will continue to grow from the many seeds of faith and integrity he planted in others."

Jane Jayroe-Gamble, well-known broadcaster, author, public official and family friend
Click here for the full Love's release.