OKLAHOMA CITY (OBV) – The Oklahoma Institute for Child Advocacy (OICA) awarded Rep. Suzanne Schreiber a high honor for her work in creating a law that will help make childcare more available across the state.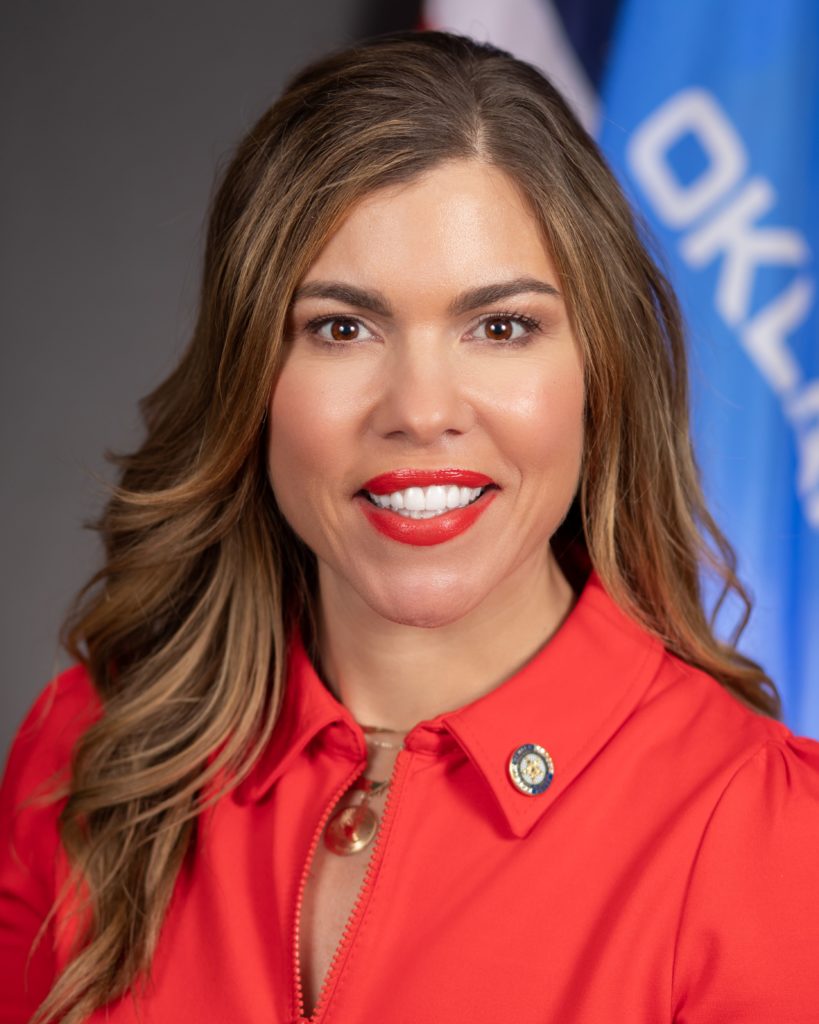 Schreiber, D-Tulsa, received OICA's Freshman Legislator of the Year award for her legislative efforts to remedy Oklahoma's childcare crisis.
"It's an honor to receive this award from OICA for the work I'm committed to doing to solve real problems facing Oklahoma families, children and businesses," Schreiber said. "The child care crisis in Oklahoma is putting a strain on the pocket book of Oklahoma families and affecting our workforce. Because childcare is the industry that serves all other industries and our kids, everyone suffers when it's not supported. "
OICA CEO Joe Dorman praised Schreiber's devotion to improving childcare and her ability to garner bipartisan support for the cause.
"The Oklahoma Institute for Child Advocacy is excited to support Representative Schreiber in finding common sense solutions that lead to better outcomes for Oklahoma children," Dorman said. "Representative Schreiber has a unique understanding of this crucial issue and has proven the ability to bring both parties together to move legislation forward in her first session under the dome. Oklahoma children are fortunate to have her as their champion."
Schreiber wrote House Bill 2452. The bill streamlines Oklahoma's family childcare home licensing regulations to help daycares and other such facilities stay open, which ensures greater childcare availability for Oklahomans. It was a key bill in the legislative effort to expand childcare and get more parents back into the state's workforce.
Gov. Kevin Stitt signed HB 2452 into law in early May.
"When our child care industry is strong and it doesn't have barriers and it has the right supports and funding and strength and incentives, then it is able to function just like a lot of our other businesses," Schreiber said in a previous interview with Oklahoma Business Voice. "And then it provides those working parents the childcare support that they need so that they can go to work and be a part of the workforce."
HB 2452 allows DHS-licensed family home childcares to operate at licensed capacity without local municipal oversight. The bill enables childcare centers to open and operate safely and efficiently, which will ensure parents their children are receiving consistent, quality care while they are at work, according to Schreiber.
DHS licenses family home childcare facilities to care for up to seven children, and large family home childcares to care for as many as 12 children.
Schreiber said a DHS license should be sufficient for a family home childcare to operate since those facilities undergo a rigorous DHS licensing process.
"It seemed contradictory to me for a local authority that does not have expertise in the care and safety of children to overrule the agency [DHS] that is charged with the care and safety of Oklahoma's children in all things, and has the expertise and professionalism to make those decisions on how businesses should take care of children," Schreiber said.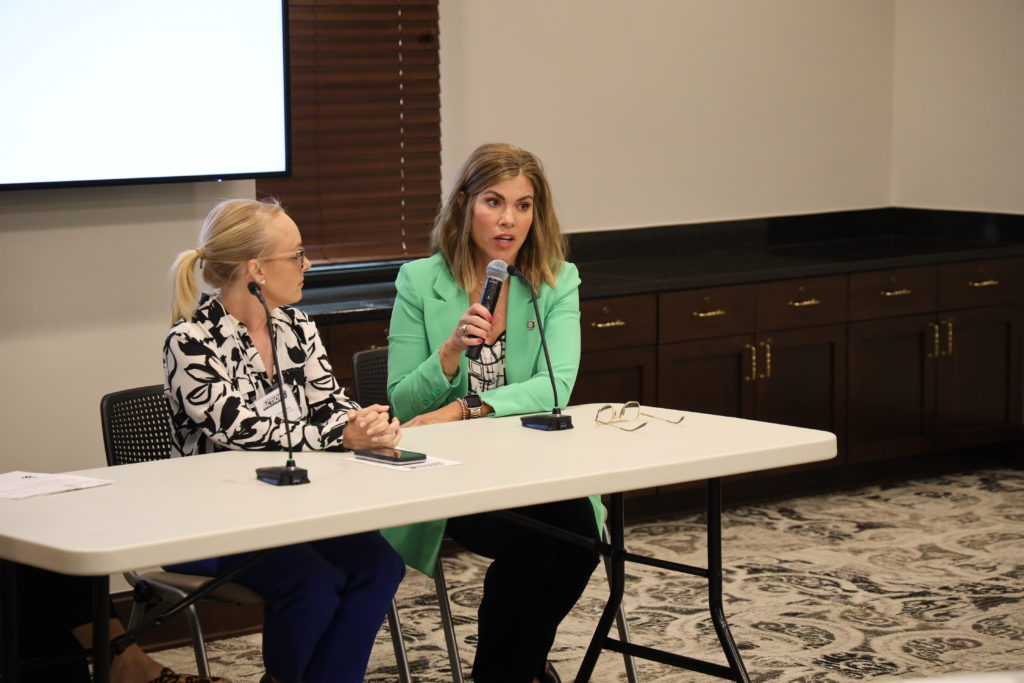 Municipal oversight of family home childcares can disrupt the workforce, Schreiber said.
"If a municipality comes in and makes an ordinance and tells a family home childcare that they have to get a variance, that holds up seats, reducing childcare availability. Plus, you're interrupting a small business from doing business, and displacing the childcare workers," she said.
Schreiber also wrote House Bill 2451, which provides tax credits to employers who either expand or establish childcare facilities or provide financial assistance to employees for childcare. HB 2451 was not signed into law this past legislative session, but will continue through the process in the next session.
"Again, the aim here is to create the affordability and accessibility in the childcare space that working parents and employers desperately need," Schreiber said.
Schreiber described the childcare industry as the modern economy's foundation since it is essential in enabling working parents to participate in the workforce, Schreiber said.
"And so, when we as a state make sure that it doesn't have red tape, we make sure that we're incentivizing it the right way so that businesses can open, function and grow," she said.
Childcare needs are frequently overlooked during workforce improvement efforts, according to Schreiber. It's a need that not only impacts parents who need a job, but also employers seeking qualified workers. Schreiber spoke passionately about that need.
"It's just something that we sort of take for granted, and in the modern working world, there are so many working parents. And we need those people who want to work to be able to work. And what they need for that is an accessible childcare that they can afford so that they can go and pursue their career, and the employers need that just as much as the actual working parent does, because the employer is losing a huge portion of its workforce if parents don't have childcare that they can access or childcare is not portable, but many times that is forgotten," Schreiber said. "It's just something that's assumed that families will take care of. 'They'll figure it out. They'll find a family member.' But when we really start delving into it, we find out actually what families are doing is someone is staying home that wants to work, that has skills, because they either cannot afford [childcare] or because it's just absolutely not accessible to them."
Schreiber said she will remain focused on improving and expanding childcare in Oklahoma. She filed a request for an interim study to address the barriers which prevent childcare from being more accessible and affordable for Oklahoma families.
"This isn't just a children's issue–it's ultimately a workforce issue that if left unsolved, means fewer people entering the workforce and greater financial strain on families," she said. "Families and businesses alike feel the burden of Oklahoma's child care crisis and it's up to all of us to solve this problem. I know we're up to the task."
Childcare facilities have been on the decline in Oklahoma for more than a decade.
Oklahoma had more than 4,000 facilities in 2012; that number dwindled to 2,954 by 2021.
Carrie Williams, executive director of Oklahoma Child Care Resource and Referral, told Oklahoma Business Voice in April that 55 percent of Oklahoma is categorically listed as a childcare desert.
Williams also said long childcare waiting lists prevent many parents from getting their child into a facility.
"The wait list for childcare can be up to two years for an infant. So, they're not an infant anymore by the time the parents can obtain childcare," she said.
Oklahoma businesses have been adversely impacted by the childcare facility and worker shortage, seeing a 6.1 percent decline in workforce labor participation among Oklahoma mothers who have children ranging in age from infant to four years old.
"Often times the parent has to either leave the workforce or make a new work arrangement. It's even harder if a family has nontraditional hours of care that they need; it's very difficult to find childcare that operates outside traditional hours of 7 a.m. to 6 p.m.," Williams said.
Parents nationwide are exiting the workforce due to diminishing childcare options.
A U.S. Chamber of Commerce Foundation study states that 58 percent of working parents reported leaving their job because they could not find viable childcare. Also, 32 percent of women surveyed said having to be home to care for family members made returning to work difficult.
The childcare shortage is not only causing parents to leave their job, it's also preventing them from returning to work.
"Dropping out of the workforce to care for children greatly disadvantages women, often in the form of lower wages and missed promotions," the U.S. Chamber report states.
Childcare breakdowns cause states to lose an average of $1 billion in economic activity annually, according to the foundation study. Part of the lost revenue stems from the cost of parents missing work because quality childcare was not available—or unaffordable.
The average cost of childcare in the U.S. ranges from $11,000 to $29,000 annually, according to the U.S. Chamber.
Oklahoma parents who manage to find a childcare facility nearby often have to contend with high childcare costs. Oklahoma is one of the 10 most expensive states for childcare costs, with families having spent 6.9 percent of their income on childcare in 2020.
Businesses are also adversely affected by childcare shortages. Childcare system gaps prevent businesses from fully re-staffing their operations, which leads to closures and operation hour reductions across all industries. The Foundation study states that employee absences and turnover costs employers anywhere from $400 million to $3 billion a year.
The state used funds from childcare desert grants as well as stabilization grants to help Oklahoma childcare centers and incentivize the opening of new centers, according to Williams.
Subsidized childcare aid provided through a federal Childcare Development Fund grant is helping low-income Oklahoma families reenter the workforce. It also aids individuals working in the childcare field.
The state has made a legislative budget request from the Department of Human Services for an additional $30 million in support of subsidized childcare, according to Williams.
Oklahoma must continually work to support and fortify childcare facilities, Schreiber said.
"Just like we stimulate other industries – nursing, aerospace, manufacturing, tech – we need to stimulate the childcare industry as well, because none of those other things actually work when we don't have the childcare industry," Schreiber said. "It doesn't matter how much incentive we put into recruiting an employer if those employers don't have the workers they need because the workers don't have childcare."