OKLAHOMA (OBV) – The Oklahoma Medical Research Foundation (OMRF) has spent decades working to cure diseases through research, and it will celebrate its 77th anniversary by crisscrossing the state's 77 counties and hosting events in 25 cities.
OMRF, located in the northeast section of Oklahoma City, was established in 1946.
The dream of creating OMRF was realized thanks to a 77-county fundraising effort that saw more than 7,500 households give $2 million in gifts and pledges.
Now, OMRF administrators and personnel want to personally thank Oklahomans for making the past 77 years possible with a "77 for 77" tour that will touch all 77 counties, much like the statewide fundraising effort from the 1940s. The tour will make stops in 25 cities to host special events, according to Dr. Andrew Weyrich, president of the Oklahoma Medical Research Foundation.
"Each event will have its own flavor tied to the local community. We'll share about OMRF's history and outlook, bring a bit of OMRF to the communities we visit through video and digital technology, and, whenever possible, through our scientists themselves," Weyrich said.
A public schedule has not yet been set for the 25 events, but OMRF officials will provide updates on omrf.org/77.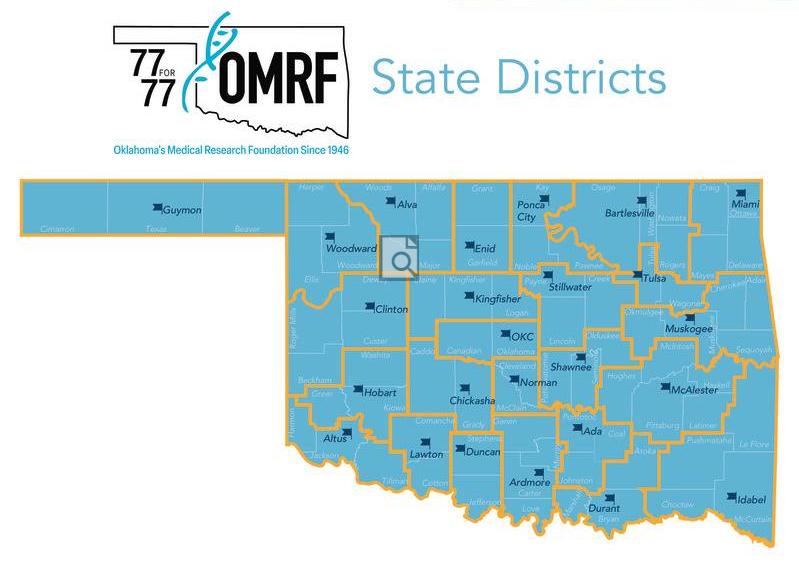 Each event will be devoted to giving thanks, according to Weyrich.
"We want to thank folks for their years of support, show them what their investments in medical research have done over the last 77 years, and talk to them about our vision for the future of OMRF," Weyrich said. "In some cases, people at these events may have had parents or grandparents who gave to OMRF. We want to say thank you for that generational philanthropy."
OMRF opened its first research building in 1950 at Northeast 13th and Lincoln in Oklahoma City. More than 4,000 Oklahomans attended the facility's open house event.
The facility had 11 laboratories and three senior scientists who were focused on researching cancer, heart disease and metabolic disorders.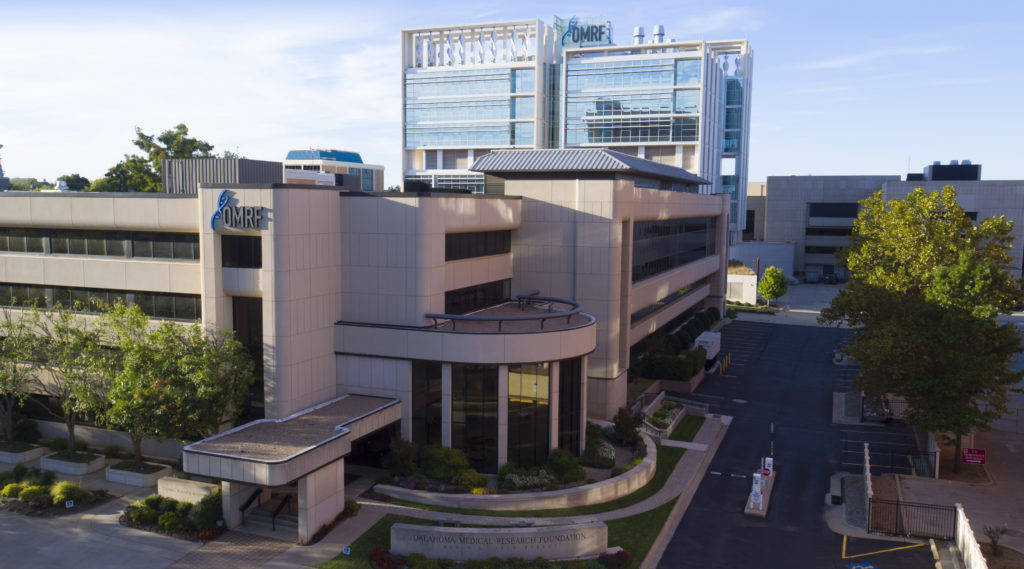 OMRF has since grown by leaps and bounds both in size and science.
A new research tower was dedicated at Northeast 15th Street in 2011. OMRF now has more than 50 active labs, two patient clinics and nearly 500 employees across six buildings, including the original location.
OMRF scientists are spread across five research programs. Those scientists are continuing the mission of investigating cancer, cardiovascular diseases and metabolism.
"We've also become a global leader in autoimmunity, with an entire program devoted to autoimmune conditions like lupus and rheumatoid arthritis," Weyrich said. "Elsewhere, our scientists are studying diseases of aging like Alzheimer's, osteoarthritis and macular degeneration, and a variety of rare diseases."
The efforts are producing tangible results.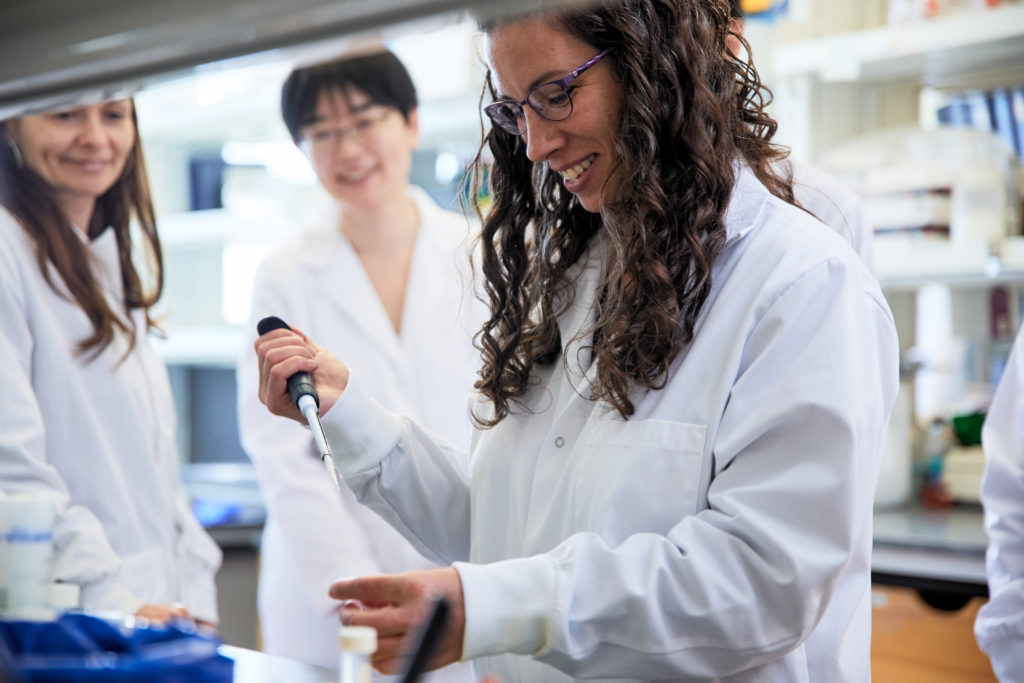 OMRF research has led to the following:
Three FDA-approved drugs as well as a diagnostic test on the market and two more in development, including the first targeted therapy for the pain crises in sickle cell disease, as well as diagnostic tests for disease management;
2,000 patents filed with OMRF technologies;
More than 190 active research grants, including collaborations with Duke, Harvard, Johns Hopkins, Mayo Clinic, MD Anderson and Stanford;
Over 50 active clinical trials;
More than a dozen industry collaborations with partners, including Biogen, EMD Serono, Merck, Norvartis, QBioMed and Oblato;
13 spinoff companies;
More than 15 years as a Native American Research Center of Health, partnering with two Oklahoma tribes to understand autoimmune disease in their members;
Insights and discoveries that have helped deepen understanding and changed the landscape for patients with conditions ranging from lupus to cancer and HIV and AIDS;
Over 6,000 patient visits last year by people from both Oklahoma and surrounding states for treatment in OMRF's multiple sclerosis and rheumatology centers;
Named one of eight National Institutes of Health Autoimmunity Centers of Excellence;
Trained more than 600 young scientists through its Sir Alexander Fleming Scholars program and thousands more graduate students and postdoctoral researchers;
10 consecutive Top Workplaces in Oklahoma awards;
Brought hundreds of millions of dollars into the state through federal grants; and,
Makes an annual economic contribution of $165 million to Oklahoma's economy.
"Every one of our labs is working to answer questions critical to advancing human health," Weyrich said. "If you or a loved one has cancer, a heart condition, addiction, hearing loss, Alzheimer's disease, vision challenges, lupus or multiple sclerosis, you'd probably say a lab working in that particular area is doing our most important work. And our scientists are working on all of those things and more."
OMRF is a nonprofit. Every cent donated to OMRF goes to its labs and clinics for research and patient care in its rheumatology and multiple sclerosis clinics.
"Thanks to a private trust and other funding sources, no part of a charitable gift goes to our overhead," Weyrich said.
OMRF scientists rely on highly competitive federal grants, such as those from the National Institutes of Health, to fund high priority research. OMRF received nearly $40 million in competitive federal grant dollars in FY2022.
Private donations also help OMRF's efforts.
"Thanks to private giving, OMRF can support each of our labs with additional funding each year," Weyrich said. "That, along with seed funding from organizations like Oklahoma City's Presbyterian Health Foundation, the Oklahoma Center for the Advancement of Science and Technology, and TSET's Oklahoma Center for Adult Stem Cell Research, allows our scientists to get the preliminary data to justify their applications for major federal grants."
Go to OMRF.org to make a donation and to learn more about research efforts.