OKLAHOMA CITY (OBV) – Google hosted an event in Oklahoma City on Wednesday with a focus on growing Oklahoma's workforce by empowering Americans through specialized job skills training.
The 2023 Summer Summit: Emerge Empowered event was held at Oklahoma City Community College.
The focus of Emerge Empowered was fostering multi-generational knowledge transfer, collaboration and innovation to help shape Oklahoma's workforce.
A wealth of experts and professionals from both business and education sectors spoke during the summit, which began at 9 a.m. and closed at 3 p.m. A gathering devoted to networking and cocktails was held after the summit.
Caroline Levens, director of Grow with Google, was the summit's keynote speaker.
Levens spoke about a variety of topics related to workforce, including growth opportunities through technology, education and skills development, among others.
Grow with Google is dedicated to helping people obtain the skills they need to obtain a good job and build a successful career.
"Today I share how we partner with the ecosystem for institutions, nonprofit organizations and employers, workforce development agencies and large nonprofit organizations to create an exclusive job," she said.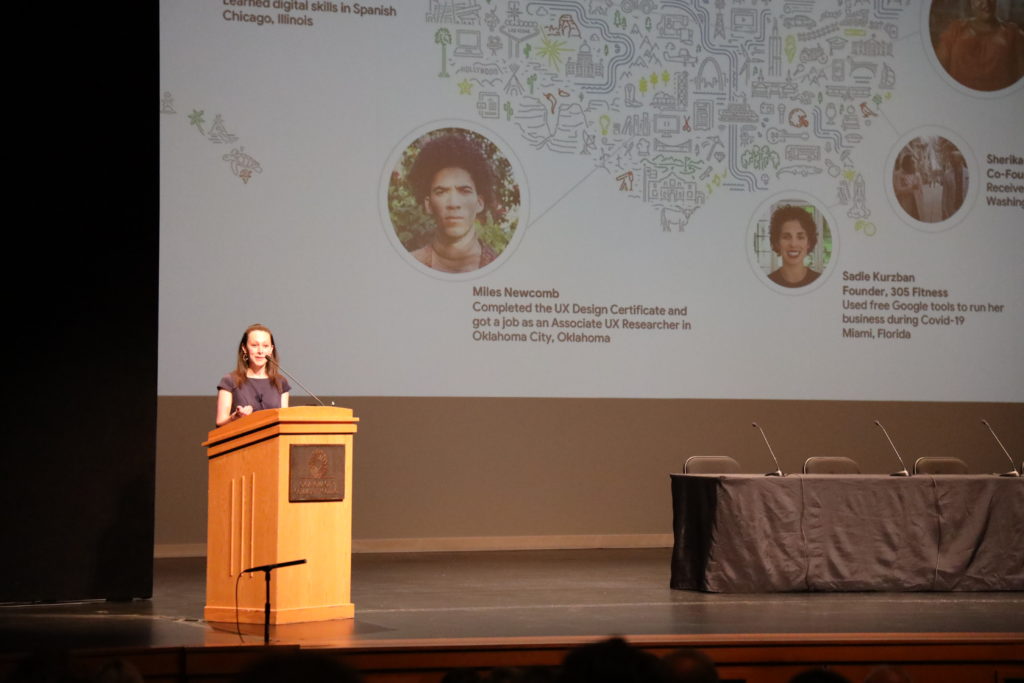 Levens referenced Google's struggle to find qualified technical support staff from 2014 to 2016.
Google partnered with a nonprofit that trains low income Americans to scale into tech jobs. Grow with Google created a pathway through which people could become IT professionals.
"What we found is IT is a very teachable field," Levens said.
The pathway includes a six-month apprenticeship and two summer internships. Participants who completed those requirements proceeded to a full-time IT support residency program at Google.
Google expanded the program and hundreds of thousands of IT jobs were created.
Those who completed their residency and became full-time IT professionals earned a median salary of over $57,000.
"Our team was working with a mission to create economic mobility for [those individuals]," said Levens. "And we determined that if we really focused on economic opportunity, we could have disproportionate impacts."
Grow with Google has trained over 10 million Americans, including 11,000 in Oklahoma, since 2017.
Levens said the current job market is mostly broken. She said the problem lies in jobs requiring a four-year college degree but the work itself not necessarily needing a degree to be accomplished.
"Eighty million Americans do not have a four-year degree," Levens said. "But it's not just about degrees. There's the true skills gap between the top jobs that are available and the skills that people have and the skills that employers need."
Grow with Google is focused on helping Americans develop those profitable skills and working with employers to see beyond four-year college degree requirements.
"So, this is the fear is that people may not have the time, money or desire to go back to school full time to learn a new career. For working with employers, you can't change the job market through training alone," Levens said. "So, it's working with them to hire graduates from the [training] program."
Go to grow.google to find out more about Grow with Google.