OKLAHOMA CITY (OBV) – The president of the Greater Oklahoma City Chamber said she fully supports Mayor David Holt's quest to build a new arena that will meet the needs of the OKC Thunder, accommodate other major entertainment events and generate large revenue for the city.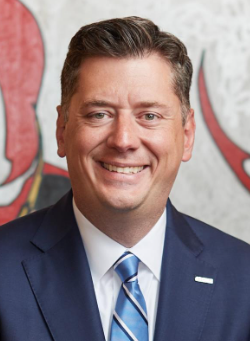 Holt made his case for a new arena last month during his State of the City address.
"It is 2023, and in the relentless and unforgiving competition between American cities, our downtown arena is simply not what it used to be," Holt said during his address. "As we've just covered, this isn't a new phenomenon for us. We've had to face that reality multiple times before, with almost clockwork regularity. Our current downtown arena once represented us well in the world of entertainment and sports, but those days fade, and at this point we're mostly succeeding on sheer grit. Our management team at the arena is doing a great job marketing us for concerts and shows, but the building itself is a growing liability."
Christy Gillenwater, President & CEO of the Greater Oklahoma City Chamber, agrees that the time has come to build a new arena.
"We have an extremely small arena in comparison to the rest of the arenas in our competitive class, so the idea is not only to support the Thunder with this new facility, but also enable stronger concert opportunities," Gillenwater said.
The Paycom Center is Oklahoma City's current arena. Oklahoma City's MAPS city development sales tax initiative funded the $89.2 million arena, which was initially referred to as the MAPS Sports Arena. It opened in June 2002 with a new name, the Ford Center. The name was changed to Chesapeake Energy Arena in July 2011, and then to the Paycom Center in July 2021.
The 581,000-square-foot facility was designed to meet National Hockey League requirements. The Oklahoma City Blazers were a popular minor league hockey team at the time, and there was hope that an NHL expansion team would be created in Oklahoma City.
A pro hockey team was not created in Oklahoma City, but the NBA's SuperSonics moved from Seattle to Oklahoma City in 2008 and became the Oklahoma City Thunder.
A new arena must be built to meet an NBA team's unique needs, Gillenwater said.
"In order to keep [the Thunder], it will require us to build a new arena that's intended for the NBA," she said.
The Paycom Center hosts other entertainment events as well. Seating for Thunder games and other events is as follows:
Basketball – 18,203
Concert (360°) – 16,591
Concert (270°) – 14,666
Concert (240°) – 13,486
Concert (180°) – 11,555
Concert (Theatre) – 3,613
Ice Rink – 15,152
Boxing – 16,757
Holt said the Paycom Center is not only the second-cheapest arena in the NBA, having received a total investment of around $200 million – a far cry from the most recently built NBA arenas, the Chase Center in San Francisco, which opened in 2019 and cost $1.4 billion to build, and 2018's $524-million Fiserve Forum in Milwaukee – it is also last among all NBA arenas in square footage. Twenty-two current NBA arenas are larger than 750,000 square feet, Holt said.
"Size equals opportunity. Let's be real, the teams and promoters who use your arena want to make money, and they can make more money in every other NBA arena, just because of the square footage," he said. "So, by NBA and national concert standards, our arena is too small, it has too little investment in it, and it is trending towards being too old. And on top of that, we're the NBA's third smallest market and there are 18 U.S. markets larger than ours that don't have an NBA team. In the long run, this is not a tenable situation."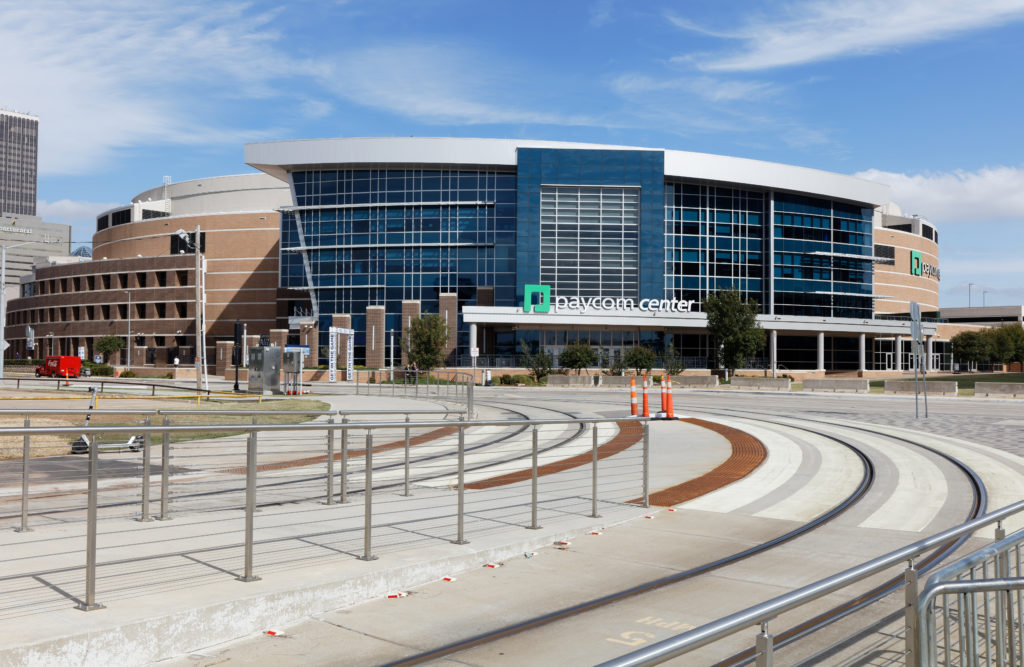 A new arena would have to match the size and amenities standard of newer NBA arenas to be a viable, long-term home for the Thunder, Gillenwater said.
"What we're trying to do is look out to the future and see these new arenas being built have much larger square footage than ours," Gillenwater said. "And these new arenas have different amenities than what we have. And so for the ability for the Thunder to continue to be the strong global brand, the strong identity that the team has really helped create for Oklahoma City and for the state, for that matter, is really critically important."
The Thunder generated $55.8 million in direct spending in the pre-COVID 2018 calendar year, according to Harve Allen, public relations manager, for the Greater OKC Chamber.
Thunder games attract droves of fans from OKC and out of town, which brings revenue to businesses in the city. In-town game attendees spend an average of $75 per game in gameday-related expenses, and Thunder fans from out of town spend $237 per game on expenses that include food, lodging, fuel and retail, Allen said.
A new arena will not only maximize the NBA experience and be a boon for Thunder fans, but it will also allow for bigger and better concert experiences, according to Gillenwater.
"Having more space would enable additional opportunities for revenue for both concerts as well as for the Thunder. And that's really important. So the composition of the square footage is going to be a critical part of the details that are currently underway and being discussed," she said.
The U.S. Census Bureau's 2022 population estimates state that Oklahoma City is the 20th largest city in the nation. The population estimate for July 1, 2022 was 694,800. OKC's population was 579,999 on April 1, 2010.
The Thunder's presence in Oklahoma City has been a key to the city's growth, and its continued presence is essential for future prosperity, including workforce growth, Gillenwater said.
"Our success is directly tied to the past 15 years and how our economy has grown in terms of population, in terms of the overall economy, in terms of the companies we've been able to bring here – all of that has really generated over the last 15 years," she said. "Having an NBA team that is successful, it's a magnet for talent, and when your workforce is growing, that grows your population, which is a magnet for companies. Companies want to be in cities that are growing and cities that easily can attract the talent and the skillsets and people that they need to be successful."
The City of Oklahoma City's long-term lease with the Thunder was set to expire on May 10, 2023. However, the Thunder agreed last year to a three-year extension to discuss future possibilities with the city.
"Obviously, we want a long-term relationship that secures our Thunder for a generation, but we can't accomplish that without a modern NBA arena," Holt said.
Holt and City Manager Craig Freeman have had several conversations with top Thunder personnel over the past year about keeping the Thunder in OKC. Holt said those conversations proved fruitful and a new arena is close to being agreed upon.
"I can report to you today that we are close to a jointly agreeable proposal that will construct a new downtown arena that meets the modern standards of the NBA and the concert industry," Holt said. "We believe we can and must present this agreement before the end of summer, with an election before the end of 2023."
MAPS 4 funds can be used to fund a new arena, according to Holt.
"We believe our new arena can be funded without raising tax rates above their current levels. We believe we can accomplish this vital project simply by paying the exact same sales tax rate we pay today. No tax increase will be necessary," Holt said. "The public funding necessary to build the new arena will be supplemented by remaining MAPS 4 dollars that are already earmarked for the downtown arena, as I mentioned last year. And for the first time in city history, these public funding commitments will be joined by a significant financial contribution from the ownership of the Oklahoma City Thunder."
It has not been determined when the City Council will vote on whether to dedicate MAPS 4 funds to building a new arena. Voters will ultimately decide whether MAPS 4 sales tax money should be used for a new arena.
"The voters in Oklahoma City build the city," Gillenwater said. "We hope that they'll continue to do so, to continue to aspire and have visions for ongoing prosperity for our city and a new arena as directly linked to the continued success of the Thunder, which is directly connected to the ongoing success of Oklahoma City."