NORMAN, Okla. (OBV) – Aviation is a booming industry in Oklahoma, and a soon-to-be expanded Oklahoma Aviation Academy is expected to launch the industry to its greatest heights yet.
The State Senate and House passed a plan in September to spend the remaining billion-plus dollars of Oklahoma's federally allocated American Rescue Plan Act (ARPA) funds. Twenty-million dollars was approved to build a new Oklahoma Aviation Academy facility. That $20 million will be in combination with an expected $20 million allocation from the City of Norman. The city money will be generated from bond money.
The Aviation Academy is located at the University of Oklahoma's Westheimer Airport in Norman, not far from the University of Oklahoma School of Aviation Studies, which FLYING magazine recognized in 2022 as the nation's best university aviation program. The Aviation Academy is part of Norman Public Schools and operates in coordination with OU. It prepares high school students for future careers within the aviation industry. The Academy's new facility will also be located at Westheimer Airport and will usher in a new era of specialized aviation training for Oklahoma's youth.
"I'm so excited about this," said Rick Nagel, Managing Partner of Acorn Growth Companies, an aerospace and defense investment and buyout group, and member of the OU Board of Regents. "Norman is going to become very quickly one of the top hubs for aviation training in America. It's going to happen fast."
Aerospace is Oklahoma's second largest industry and the fastest growing industry in the state. The industry is anchored by Tinker Air Force Base in Oklahoma City, which collectively employs just shy of 30,000 people, and American Airlines, which has its North American maintenance base in Tulsa.
OU President Joseph Harroz Jr. said the Aviation Academy will light the way for other schools interested in providing hands-on education in various technological industries.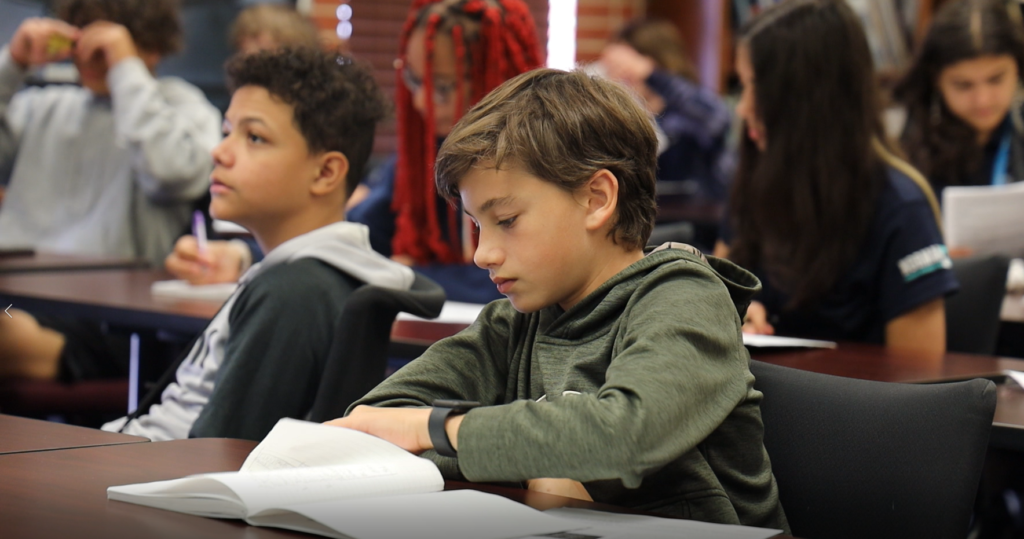 "It's groundbreaking, it's exciting and it's a blueprint for each industry. And to me this is a great place to start," Harroz said. "When you look at the Oklahoma Aviation Academy, it hits right in the sweet spot of what is now the second largest industry in Oklahoma, and the fastest growing 15 percent of our workforce today is in and around aerospace and aviation."
The Aviation Academy is one of Oklahoma's major workforce development initiatives. One of its primary objectives is to address the shortage of engineers, pilots, air traffic controllers, ground support personnel, A&P mechanics, technicians and supply chain managers.
"So, this academy was born to solve this workforce shortage," Nagel said. "We have a very unique ecosystem in Oklahoma, and particularly in Norman, to have those kinds of entities and be able to put this on a university airport so that when kids graduate, they're certified pilots."
Academy students are concurrently enrolled at the University of Oklahoma, and in their training learn about aircraft designs and maintenance and get the opportunity to fly drones, which gives them the potential to become commercial drone operators.
Norman Public High School senior Will Hyde said the academy takes students out of the classroom desk and into a flight simulator cockpit.
"It allows us to basically be here at the airport and learn about aviation, have practical, hands-on experience with it instead of just sitting inside of a school classroom," Hyde said. "I'm pretty excited to go to school every morning, even though, since I'm an upperclassman, I have to come at 7:35 [a.m.]. I'll take it, you know."
Students who were presented with the opportunity to join the Academy jumped at the chance, according to Dr. Nick Migliorino, Superintendent of Norman Public Schools.
"They were like, 'Man, I want to fly Aviation Academy, I want to fly,'" Migliorino said. "But truly, this is an academy that is going to expose kids to real world opportunities that exist outside of Oklahoma, and preparing them for the workforce that Oklahoma needs."
The training students receive fast-tracks them toward engineering and aviation program degrees.
They also have the option to go to career tech and finish their AP mechanic license or any number of other tracks that will guide them into the workforce, Nagel said.
"It's really designed with pathways in mind, and the development of those pathways is what will make this unique, unlike anything else in the country," he said.
Kristi Gray, Director of Gifted Advanced Programs and College and Career Readiness for Normal Public Schools, supports junior and senior Aviation Academy students with coursework so they can specialize in an area that they're interested in as a career.
"This kind of opportunity just doesn't happen very regularly within school districts. I mean, to specialize like that and to have a path through 12th [grade], to get to where you want to be, it's kind of cool, right?" Gray said.
Officials behind the Aviation Academy expected the Academy's inaugural class to be around 30 freshmen, but enthusiasm was so high that around 80 signed up. Sophomores, juniors and seniors also wanted to sign up. Over 100 students are now enrolled in the Academy, with 150-200 students on its waiting list. 
Several hundred more students can receive an aviation education once the new facility is built, according to Nagel.
Officials planning the new facility hope 600-800 students can be enrolled in the academy at one time, with as many as 150-200 students per class.
The Academy's students enjoy the curriculum because they receive a dynamic, hands-on education in an exciting science, technology, engineering and math (STEM) field. And the plan is to bring that curriculum to as many students as possible across the state.
The new facility's classrooms will be equipped with cameras so that the coursework can be exported to smaller schools that lack the resources to teach aviation on a dedicated basis, Nagel said.
"So, our hope is that we're able to expose every kid in Oklahoma who's thinking about a career in aerospace and defense to a curriculum that gets them asking questions about how they can start getting into this, into these jobs," Nagel said. "The goal at the end of the day is to make science, technology, engineering and math exciting again for kids."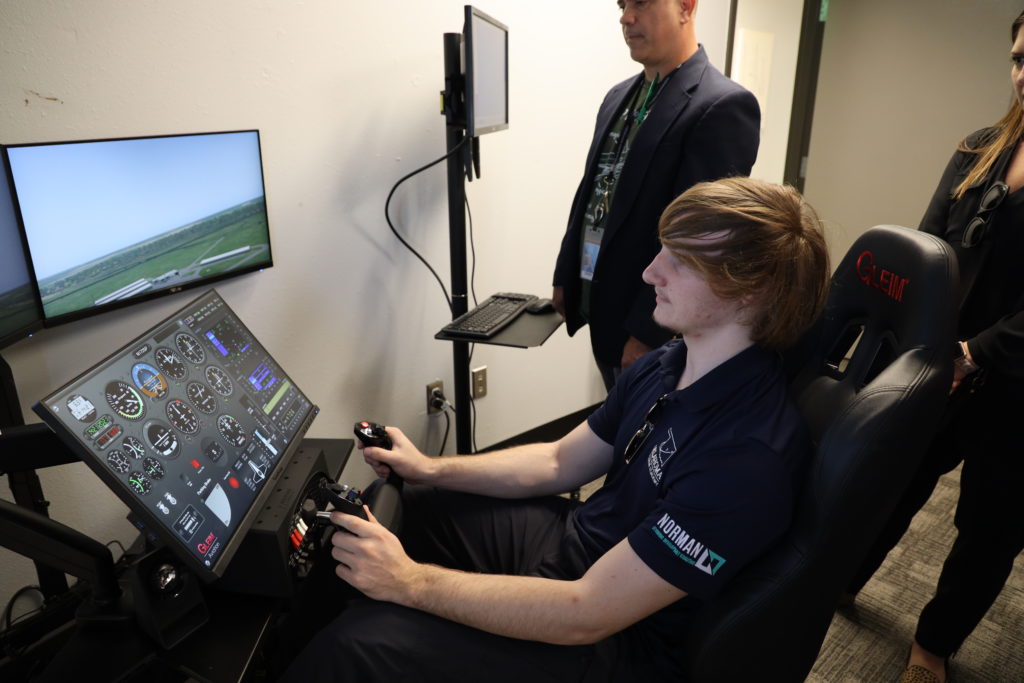 Nagel said prioritizing STEM education is essential since Oklahoma is 49th in the nation in STEM outcomes for coming out of high school.
"I mean, we're literally like dead last. Kids coming through high school are just not exposed to these kind of opportunities," Nagel said. "The coursework is all very theoretical, [but] we make it applied; you know why getting the curve of an equation is right when you can equate it to the to the glide slope of a wing. We bring all this stuff to life, make it hands on. Kids are building things or modeling things, and we expect much better outcomes as a result."
Nagel hopes the Aviation Academy will inspire a surge in dynamic, hands-on STEM education across the state.
"I'd like to see this become a model that other communities across the state could replicate," he said. "And it doesn't necessarily have to be aviation, it could be biotech, could be computer science, could be cybersecurity, it could be advanced manufacturing, it can be entrepreneurship. I could go on and on."
The Aviation Academy represents all the promise and potential of what a public school can offer, Migliorino said.
"This is not a charter school, but this is a prime example of when industry and public education, universities, technology centers all come together. This is what can be created when we all work together," Migliorino said. "It is not a charter school. But you know what? I believe public schools should be doing everything they can do to be the school of choice."
Harroz said the Academy will make a profound difference.
"It's a statewide opportunity, and the Oklahoma Aviation Academy creates this opportunity for us to change the lives of the students that are going into high school, that are looking forward to a career that they know has applications and opportunities for years and decades to come," Harroz said.
The Academy helped create connections for Hyde and inspired plans for his future.
"I think that after high school, I want to go into the aviation business. And I've actually met a few different people from the Academy, and we're actually working on starting up an aviation cleaning company here at the airport," he said.
Administrators and officials involved with the Aviation Academy are brainstorming ideas on how to make the Academy available to students across the state, not just those in the metro area.
"I think the goal is all of the above, and we want to expose as many kids to this as we possibly can by delivering a quality product and hopefully getting kids excited about these kinds of careers, which we desperately need," he said.
The creation of a new Oklahoma Aviation Academy is a statement of future growth, Harroz said.
"[It] puts a stake in the ground and says we're going to continue to grow in aviation and aerospace. We're going to leverage the strengths that we have today," Harroz said. "And we're going to use those assets that we have to enhance the life of the citizens of our state, to enhance the state and our nation as a whole."