OKLAHOMA CITY (OBV) – Efforts are underway to make Oklahoma the next go-to state for major Hollywood feature film and television show productions, with a focal point of the movement located in downtown Oklahoma City.
You wouldn't think it, but OKC's downtown is home to a massive movie studio.
Prairie Surf Studios is a fitting name for the studio; it's as expansive as any grand, sweeping prairie in the Sooner State.
The 1.3 million square foot facility has five soundstages – two 32,000 feet, one 25,000 feet and the remaining two 24,500 feet – retrofitted to support major film and television show productions.
The studio is the former location of the Myriad Convention Center, which opened in 1999 and later became known as the Cox Convention Center. The convention center was leased to Prairie Surf Media and converted into the studio after the Oklahoma City Convention Center opened, thanks to the city's MAPS 3 funding initiative. Over 100,000 square feet of new space was added during the conversion.
Prairie Surf Media runs the studio. The multi-platform content creation company was co-founded by Oklahoma natives, Rachel Cannon and Matt Payne, both of whom achieved success in Hollywood.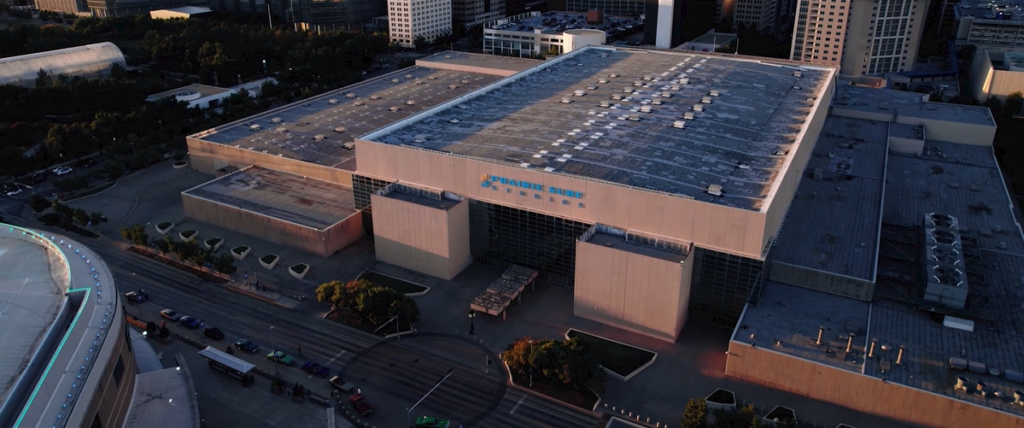 Cannon, an Oklahoma native, got her start in the entertainment industry as an actress, appearing in several hit television shows, including "Big Bang Theory," "Two and a Half Men" and "Mad Men." She went on to a six-year stint as a series regular on the popular ABC comedy, "Fresh Off the Boat," playing recurring character Deidre.
Payne, also an Oklahoman, made his bones in Hollywood as a screenwriter, achieving success as a writer on TV shows "Vegas," "Memphis Beat," "The Defenders" and "Without a Trace." He returned to Oklahoma in 2015 and has since played a prominent role in the state's film community, producing documentaries for Griffin Communications and the OETA Foundation and teaching film business and screenwriting at Oklahoma City University.
Payne was one of three featured speakers during The State Chamber of Oklahoma's Public Affairs Forum in December. He highlighted the growing number of film and television productions in Oklahoma, citing the first season of the Paramount Plus series "Tulsa King," starring Sylvester Stallone, which filmed in Tulsa and Oklahoma City.
"And it has really, really put us on the map, not only as a business, but also as a state. But this isn't just happening in Oklahoma City," Payne said.
"Tulsa King" is not the only prominent Hollywood production in Oklahoma. The hit FX television show "Reservation Dogs" shoots in Okmulgee, and the upcoming feature "Killers of the Flower Moon," directed by legendary filmmaker Martin Scorsese and starring Leonardo DiCaprio, Robert De Niro and Brendan Fraser, filmed in several locations, including Bartlesville, Fairfax, Osage County, Pawhuska and Tulsa.
"We get calls daily from people that want to film in Oklahoma," Payne told Oklahoma Business Voice.
Films and television productions are creating large numbers of jobs and bringing significant revenue into the state.
Such productions spent $104.1 million in fiscal year 2022 in Oklahoma, as of Sept. 23, $169.1 million in fiscal year 2021 and $32.4 million in fiscal year 2020, according to Oklahoma Film & Music Office data.
Those productions also created 6,348 jobs in fiscal year 2022, as of Sept. 23, 7,927 jobs in fiscal year 2021 and 3,827 jobs in fiscal year 2020, Film & Music Office data states.
The Filmed in Oklahoma Act of 2021 gives a maximum of $30 million in rebates to film and television productions shot in Oklahoma each fiscal year, which is from July 1 to June 30, for 10 years. A production must spend over $50,000 in the state to qualify for the rebate.
Payne wants the state to increase the annual incentive to entice more productions to the Sooner State.
"Currently, we've tapped our incentive program with 'Reservation Dogs' and 'Tulsa King,'" said Payne. "As we begin to see the economic impact that these high budget shows have, we must also begin to think about increasing the cap so that there is filming year-round."
Increasing incentive funds is an investment that pays off in new jobs.
"'Tulsa King' had up to 1,000 people a day working on it and there was still demand for more," Payne said.
Nina Anderson was a production crew member on "Tulsa King." She's a student at Frances Tuttle Technology Center, one of the local colleges Prairie Surf works with to teach students skills to become film industry professionals.
Anderson grew up a fan of film and television. She recalled her mom requiring her to watch the end credits of shows and movies to show respect and acknowledgement to the crew members who worked hard during the production.
She learned about Prairie Surf partnering with Francis Tuttle and signed up for a production class that was held on Saturdays. The class gave students the opportunity to build a set for filming. A foreman for the show noticed Anderson's work and enthusiasm.
Anderson said she is astonished Oklahoma has a growing film production industry.
"You know, 15, 20 years ago, you would have thought of that kind of thing, 'No, no, never.' And I think it's cool that they're bringing it here," she said.
Francis Tuttle's film program was developed in response to the film industry's growing presence in Oklahoma, Oklahoma City especially, according to Cody Mosley, Director of Francis Tuttle.
Francis Tuttle's film production courses were created in consideration of adult students who have day jobs.
"And so they might be at night, they might be on weekends, but [we're] really just doing everything that we can to funnel that pipeline and [make it available] for people that have never thought about these kind of experiences or opportunities being available in Oklahoma. We want to show the industry that Oklahoma is ready," Mosley said.
Implementing film production classes was a smooth process for Frances Tuttle.
"All of these are very short-term courses, and we try as hard as we can to make them available for working adults," Mosley said.
Prairie Surf is partnering with other schools that are incorporating film production classes, including Oklahoma City Community College (OCCC), Metro Tech, Canadian Valley Technology Center and high schools in Moore, Norman and Mid-Del school districts.
OCCC has been training students in film production for over 20 years.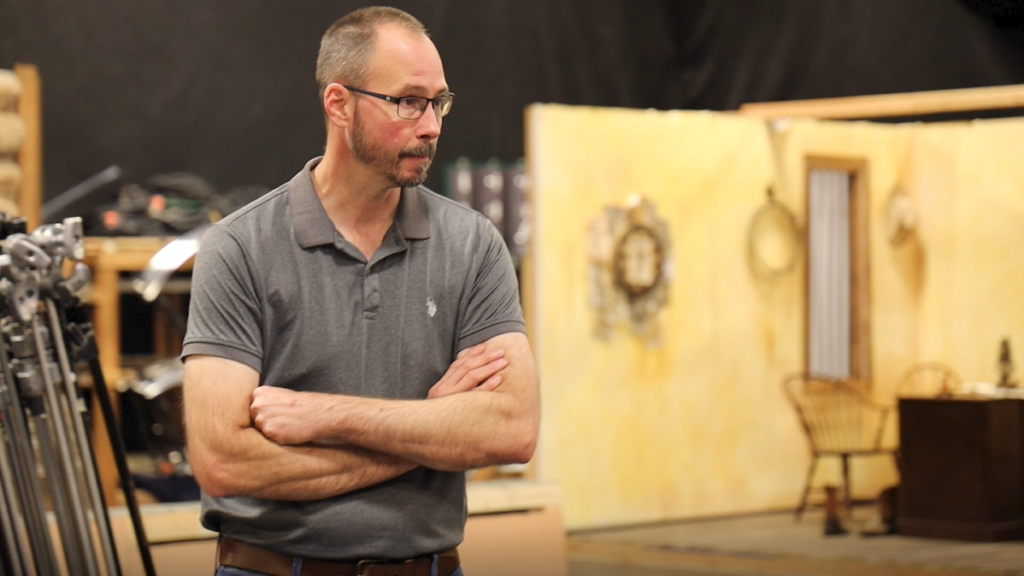 Sean Lynch, a professor of digital media at OCCC, said the college's film program aims to accelerate workforce training.
"We've basically been doing that for 20 years already," Lynch said. "But basically we've started instituting some intensive classes, some specialty courses and things to speed up people faster as they need people as these productions come in."
Courses are designed to fully prepare students for a career in film and TV production. Lynch referenced an intensive course that OCCC provided last year, training students to become on-set grips and electricians. The course met eight hours a day, five days a week for five weeks.
"[It] was literally ready to put out a set ready grip and electricians after that five week course," Lynch said.
OCCC, one of the most highly regarded film production programs in the country, has deep roots in film education.
Gray Frederickson, an Oklahoma City native and Academy Award winning producer of "The Godfather Part II," was influential in developing OCCC's film program.
Payne was an Oklahoma State University student and had not yet found his purpose when he joined Frederickson's summer film program at OCCC around 20 years ago. He learned the trade and technical aspects of the film industry. He left the program with a passion for filmmaking.
"My life changed and I went from a guy who was about to fail out of OSU to graduating with honors in three semesters," Payne said.
Payne moved to Los Angeles and landed a job on the hit FOX series "24" and succeeded as a television show writer.
OCCC continues supplying students with the tools to succeed in the film industry. London Thephachanh is one such student.
Thephachanh said the work he has put in on OCCC film student projects is paying off with real job opportunities.
"One thing about this program was Sean's passionate and he teaches very well. And one thing about what you see is that hard work gets recognized, and meeting the connections and meeting people has really helped me out," he said.
A connection he developed through OCCC led to a job on the set of a Netflix movie.
"I got the experience on a real set and actually got paid, which was something new to me," he said.
Thephachanh next got a job on "Tulsa King," and the skills he learned at OCCC came to fruition.
"Learning the basic things here [at OCCC] translated for me on the bigger sets and more expensive equipment," he said.
The film industry's most ripe job opportunities are behind the scenes, according to Payne, and there's a growing number of workers to fill those jobs thanks to the film production programs at Oklahoma colleges and technical schools.
"What the film industry is for is for construction workers; it's painters, welders, hairstylists; it's accountants and all these people. The way that these people learn these skills is simply by getting their hands dirty," Payne said. "We at Prairie Surf are working with all of those people, all of those institutions to figure out how to grow our workforce as quickly as possible."
Payne and Cannon are notifying their entertainment industry connections about production opportunities in the Sooner State.
Oklahoma, Payne said, has some key qualities that will entice productions.
"The key is incentive and workforce which is why we are working so closely both with higher ed and our career tech system. Additionally, the cost of living and doing business is attractive to productions," he said. "Our beautiful landscapes certainly don't hurt either."