NORMAN, Okla. (OBV) – It was a sweet dream come true Friday for Oklahoma high school students who hope to have a career in the culinary arts.
The Oklahoma Restaurant Association hosted Oklahoma ProStart Student Invitational at Embassy Suites by Hilton Norman Hotel & Conference Center on Friday, giving teenagers who dream of working in the restaurant industry a chance to prepare delicious food and lay out a restaurant management plan on a grand stage.
This was the event's 20th year, resuming after a two-year hiatus brought on by the COVID-19 pandemic.
ProStart is a school-to-career curriculum that has been adopted in 18 technology centers and traditional high schools throughout Oklahoma, with an enrollment of more than 1,100 students.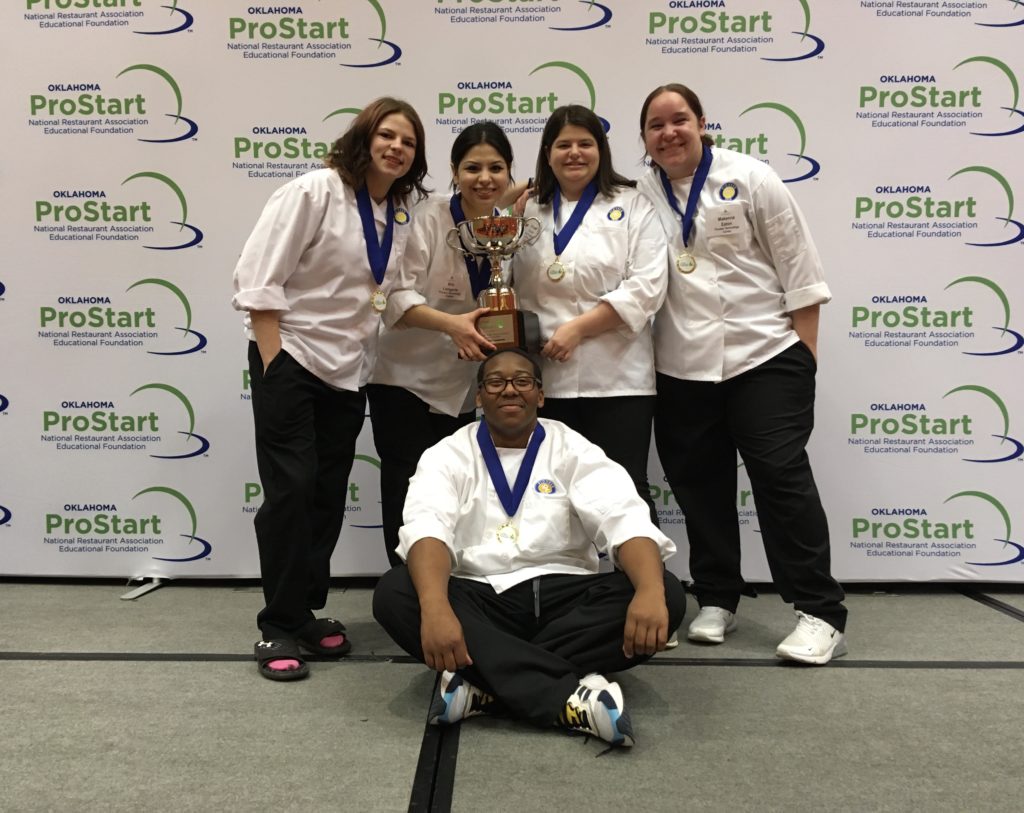 Teams of five from high schools and technical centers throughout Oklahoma participated, including five teams in the culinary competition and three teams in the restaurant management competition. Two vocational technical school teams with members ages 18-20 years old also squared off in a cooking competition.
"I've always had a passion for cooking, and I lean toward becoming a saucier," said Darrius Allen, a senior at Pioneer Technology Center in Ponca City.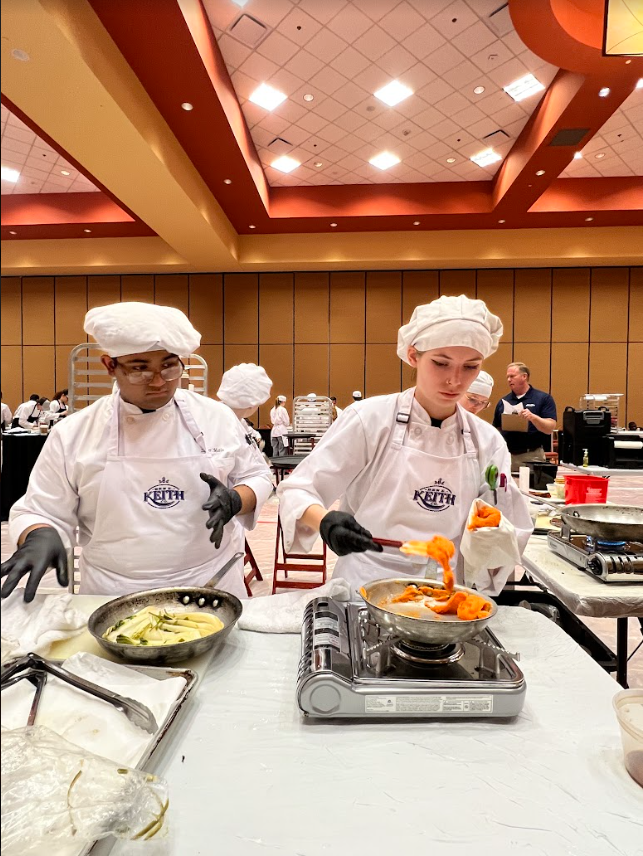 Allen first learned sauce-making from his parents. He and his four teammates – Makenna Eaton, junior, Nikita Longoria, junior, Donna Gray, senior, and Abbigail Corbin, senior – won Oklahoma ProStart's culinary competition by preparing an exquisite three-course meal that consisted of a starter: fried polenta with sautéed shrimp, red bell pepper and coulis with a cilantro chimichurri sauce; an entrée: creamy spinach mushroom couscous with fried pork, sautéed carrots and pineapple garlic sauce; and dessert: poached pear with mint mascarpone cream with a lace cookie and blood red jelly.
"We had an hour to prep a three-course meal, and we went over that hour by two minutes," Eaton said.
The Pioneer Technology team took home the championship trophy despite the two-minute overage.
"They worked really hard, and it just shows that hard work does pay off," said Brenda Pollak, who is in her 10th year as Pioneer Technology Center's culinary arts instructor.
The team will head to Washington, D.C. in May for the National ProStart Invitational.
Edmond Santa Fe High School will also be heading to D.C. in May. They won the restaurant management portion of the competition, which required the participating teams to develop a restaurant plan consisting of a menu, marketing campaign, staffing and layout design.
The Edmond Santa Fe team was the youngest team in the competition, comprised of two freshmen, two sophomores and one junior, and each had a unique task. Isabel Batchelor, a freshman, oversaw marketing; Chessa Miles, a sophomore, handled menu development and costing; Lluvia Carbajal, a sophomore, was in charge of concept; Emily Schwartz, a freshman, managed layout and staffing; and Anna Reiger, a junior, was team alternate.
Meghan Synco, an executive chef for the Hal Smith Restaurant Group, mentored the team.
"For them to work with one another to put together something that I've done for my entire career was really remarkable," Synco said.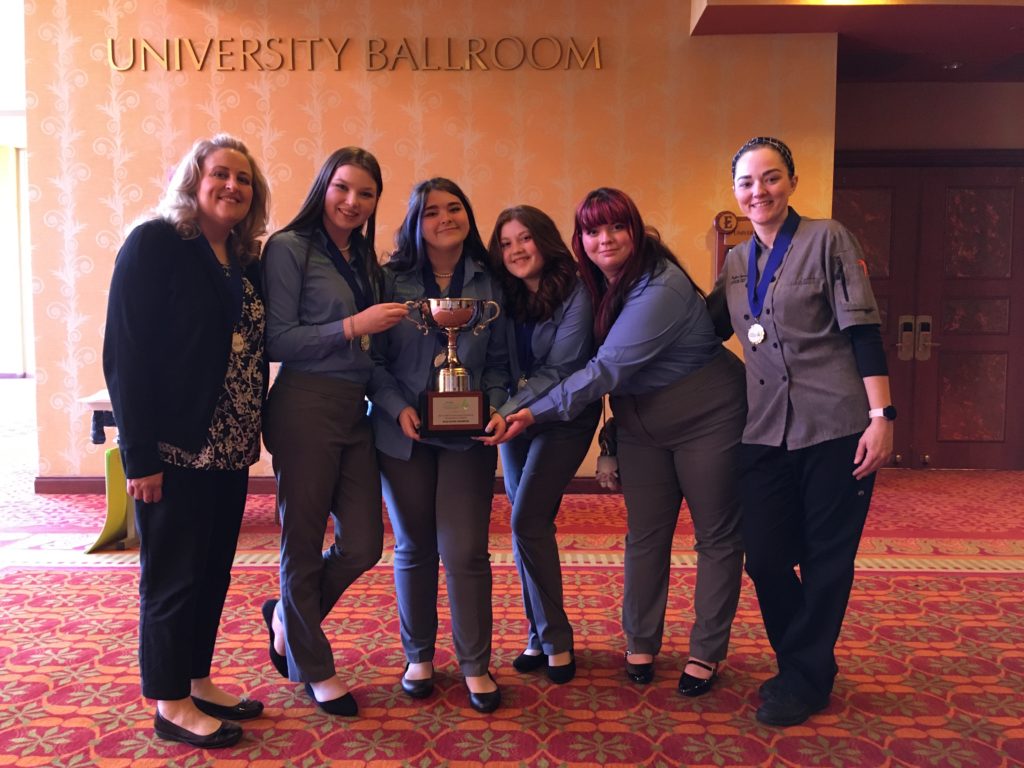 The Edmond Santa Fe team worked for seven months to prepare for the competition, gathering between classes, during lunch and after school.
"They worked so hard from the beginning," said Kristin Harris, who has been the culinary arts instructor at Edmond Santa Fe for 10 years.
The competition helps culinary art students realize that becoming a professional chef is not only a dream, but an attainable goal, said Lacey Pierson, event manager for the Oklahoma Restaurant Association.
"It provides them so many tools," Pierson said. "I've spoken to so many kids whose dream is to own a restaurant or a bed and breakfast."
Participating chefs, such as Synco, are an invaluable part of the event.
"They want to teach them how they can improve," Pierson said. "[The students] are leaving the competition with more tools than they came in with."
Dominic McBride, Anne-Marie Reed and Hadyn Ketterling are all members of the Northeast Technology Center Culinary Team, and they all aspire to have a career of preparing delicious dishes. The Oklahoma ProStart Student Invitational was their chance to proceed further along their culinary career trajectory.
"We thought it would be a great opportunity as a learning experience and a networking experience, and it's been a ton of fun," McBride said.
As for Allen's career aspirations, he sees a future in the Navy, but not apart from the tasty sauces his parents taught him to prepare.
"I can be a culinary specialist in the Navy," Allen said. "I'll get to cook for the president."