OKLAHOMA CITY (OBV) – A top U.S. Air Force fighter pilot who dedicates his life to providing educational opportunities to the families of fallen or disabled military service members spoke solemn and rousing words of inspiration during The State Chamber of Oklahoma's Annual Meeting.
Lt. Col. Dan Rooney, the founder of Folds of Honor, was the keynote speaker during Annual Meeting, the Chamber's flagship event.
Annual Meeting offers valuable networking opportunities with business and legislative leaders from across the state.
Rooney, an F-16 fighter pilot who twice won the Top Gun award, founded Folds of Honor in 2007. The nonprofit foundation has since provided 44,000 scholarships totaling $200 million to the children and spouses of fallen or disabled military members.
The decorated fighter pilot delivered a presentation that honored military men and women who died serving their nation, and landed an important message: the greatest success is a life lived to the fullest.
"This is the number one regret on people's death bed: 'I wish I'd had the courage to live a life true to myself, not the life others expected of me,'" Rooney said. "We lose ourselves, we lose our passion, our fire in our hearts as we try to serve so many people that we forget about being true to what God puts in our heart."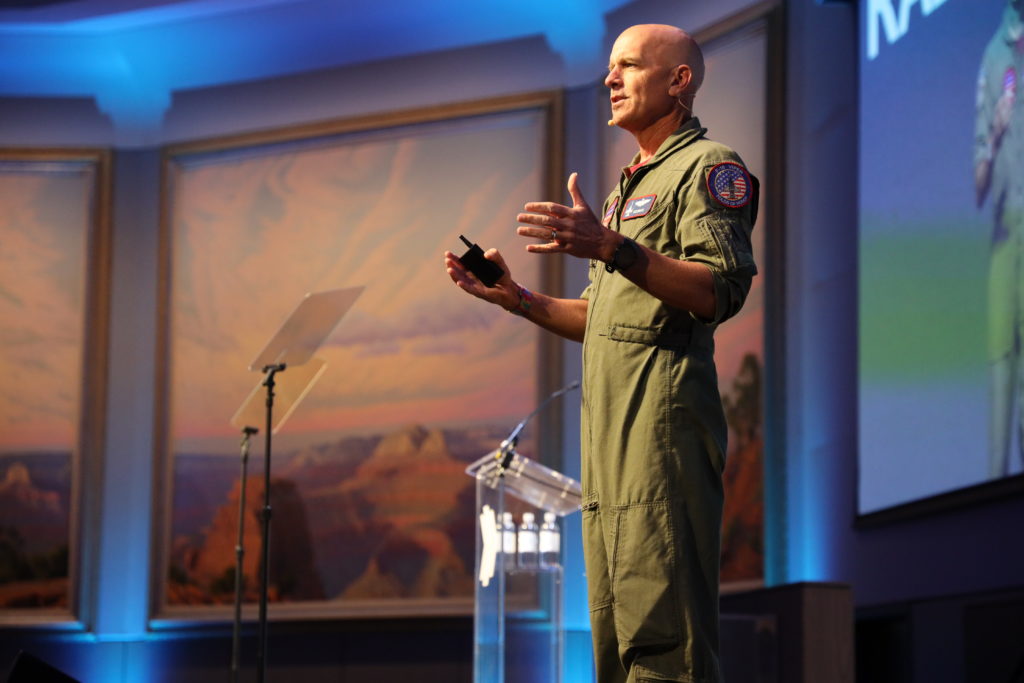 Rooney said his hope in life is that God will use him as a vessel for good.
"[That] he will breathe something through me that is bigger than myself that will have a lasting impact on you all," he said.
Rooney said he discovered a path to ensure a life fully lived.
"I'm going to give you the same sage advice I got when I started pilot training that I've given every fighter pilot that I've trained since then, and it is 'slow down to speed up,'" Rooney said. "For the next 35 minutes, let the world be out there and let's be intentional together and let the holy spirit connect this room. Those intentional moments are when the great stuff hits us."
In addition to his continuous charitable efforts and inspirational speaking, Rooney remains an active military member. He is currently stationed at Headquarters Air Force Recruiting Service Detachment 1, at Joint Base San Antonio in Randolph, Texas. He was given a special duty: to serve as an Air Force ambassador and inspire the next generation of service members.
Rooney flew three combat tours during the war in Iraq, piloting an F-16 Viper. In addition to his two Top Gun awards, he also earned the Air Force Commendation Medal, Air Medal, Anti-terrorism Medal, Combat Readiness Medal and Air Expeditionary Medal. He was presented the White House's "Presidential Volunteer Service Award'' by President George W. Bush, as well as the Air National Guard's "Distinguished Service Medal", the "Directors Service Award" and the Ellis Island "Medal of Honor."
He said an aggressor pilot's job is unique and that he helps train some of the best fighter pilots in the world.
Optimal flight conditions are similar to a life fully lived, Rooney said.
"When you step out to go fly a [combat mission], the last thing you do is get the weather brief, and this is the term you like to hear, 'CAVU.' It stands for 'ceiling and visibility unlimited' – those perfect steel blue skies to go fly a fighter jet," said Rooney. "But for me years ago, this became a code of living. It hit me that everyday is an unlimited gift, tomorrow guaranteed to none of us. And do we have the courage and the faith to truly live the day like we might not get another one?"
Rooney, who was born in Stillwater, resides in Owasso and is a dedicated husband and father of five daughters.
Click here to contribute to Folds of Honor.