OKLAHOMA CITY (OBV) – The 59th Oklahoma Legislature favored business growth, according to the 2023 RIED Report.
The State Chamber Research Foundation (SCRF) released its annual RIED Report last week, applauding Oklahoma legislators for a business-friendly legislative session. RIED (Research Institute for Economic Development) found that Oklahoma legislators did not hinder economic and business growth during the recent legislative session.
SCRF, a division of The State Chamber of Oklahoma, releases the RIED Report each year. The report is a legislative scorecard that evaluates each state legislator on their support of legislation that either helps or hinders Oklahoma's business community. The RIED Report's purpose is to promote economic growth by evaluating the business, job and economic growth issues that are up for vote at the Oklahoma State Capitol during legislative session.
"You can't make progress if you are not measuring the success of your efforts. For 25 years, RIED has offered a great way to track the pro-business sentiment of our legislature," said Chad Warmington, president and CEO of The State Chamber of Oklahoma. "It's a tool that we value and rely on to make sure elected officials are supporting pro-business issues at the State Capitol."
RIED profiles each state legislator's individual voting record on bills that impact business, industry, job creation and economic growth issues that matter most to the private sector. Each legislator is graded on his or her vote on each bill.
The 2023 RIED Report states that this year's legislative session had no anti-growth bills, but some pro-growth legislation did not receive enough support to push it across the finish line.
"I would say that the scores are reflective of a legislature that is interested in growing the state's economy," said Ben Lepak, SCRF Executive Director. "But we think that there are some opportunities that were left on the table for pro-growth policies, like tax reform. In the last few years, the number of anti-growth bills that are being enacted into law has decreased. We didn't have a single anti-growth bill that we included in the final score."
This year's RIED Report gave the following 45 legislators perfect scores for their voting record this past legislative session: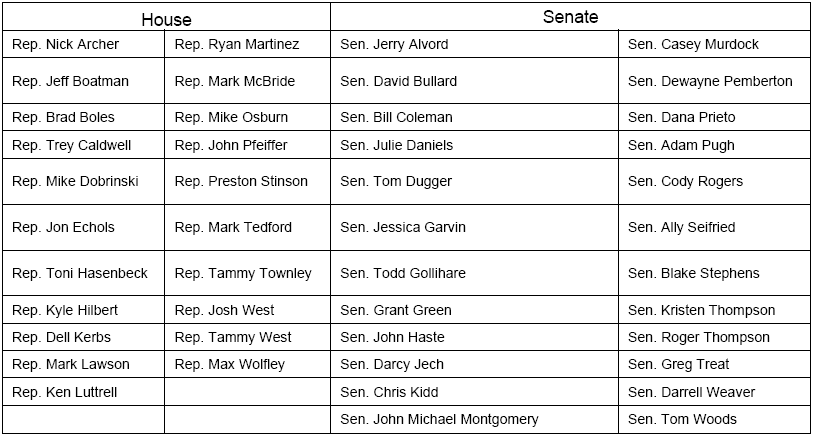 RIED only scores high impact bills that are consequential to the business environment, and that make it through the legislative process and are enacted into law, Lepak said.
RIED gave high marks to legislators who supported Senate Bill 621, House Bill 1039X and House Bill 2452.
SB 621, which was signed into law in June, establishes the Oklahoma Workforce Commission, a body that will be comprised of business leaders from the private sector. The Workforce Commission's purpose will be to revitalize Oklahoma's workforce by focusing and streamlining the state's workforce management system and aligning it with the educational sector to build the workforce of the future.
HB 1039X, which automatically became law in early June after it sat unsigned on Gov. Kevin Stitt's desk for five days, eliminated the state's franchise tax. The franchise tax was a direct tax levied on a company's net worth, taxing $1.25 for every $1,000 in capital, with the amount capped at $20,000, regardless of the company's size or net worth.
HB 2452, signed into law in May, streamlines Oklahoma's family childcare home licensing regulations to help daycares and other such facilities stay open, which ensures greater childcare availability for Oklahomans. It was a key bill in the legislative effort to expand childcare and get more parents back into the state's workforce.
"This year was kind of interesting. Overall, I think the legislature was fairly pro-growth. There were lots of pro-growth measures. We didn't have a single anti-growth bill that was enacted into law," said Amanda Hall, RIED Director.
In addition to HB 1039X and HB 2452, RIED scored legislators on their votes for the following successful pro-growth bills:
House Bill 2459: a bill that expands included expenditures in production costs to include full-time higher education students, military or those in a restorative workforce program, and increases the percentage of the expenditure amount considered for the incentive.
Senate Bill 93: a bill that requires high school graduates to complete the Free Application for Federal Student Aid (FAFSA). FAFSA shows students a possible grant, scholarship or loan for their future education, which could encourage an increase in post-secondary education.
Senate Bill 930: a bill that authorizes the Oklahoma Aeronautics Commission to create a career pathway in the aerospace industry with education and industry stakeholders. The bill's aim was to help the aerospace industry continue to develop into a critical industry, which would foster economic growth for the state.
Multiple tax bills did not reach Stitt's desk, including an individual income tax reform bill and a pair of complimentary bills that aimed to simplify the state's three-pronged tax apportionment formula and eliminate the "throwback rule." The throwback rule requires some explanation. Sales revenue from another state that does not tax the income from the sale – states like South Dakota and Wyoming – are added to the corporation's Oklahoma income.  The income is being "thrown back" to Oklahoma. This also happens in instances when sales do not occur in Oklahoma.
SCRF publishes the RIED Report to help legislators get Oklahoma on the path of growth and prosperity, Lepak said.
"Oklahoma has a legislature and other policy makers that are oriented towards trying to grow the state's economy and our population and ultimately grow Oklahomans prosperity. We want to help them in that," he said. "I would say that the scores are reflective of a legislature that is interested in growing the state's economy and that there are always ways to improve."
The latest RIED Report includes each legislator's 2023 score, their scores from previous years, if applicable, and a cumulative score.
This year's report was revamped to give a more detailed explanation of each bill, as well as a RIED opinion on the bill and why it was rated pro or anti-growth.
The full 2023 RIED Report is included below: