LAWTON, Okla. (OBV) – Oklahoma business leaders, state officials and international dignitaries gathered Tuesday to celebrate the groundbreaking of a Westwin Elements plant that is expected to become the first nickel and cobalt refinery in the United States.
The event spanned Oklahoma City and Lawton and lasted throughout the day.
Gov. Kevin Stitt spoke at a breakfast gathering, held at The Skirvin Hilton in Downtown Oklahoma City, welcoming Westwin to Oklahoma's energy sector. Dennis Muilenburg, former CEO of Boeing and member of the Westwin Board, also spoke during the event. Both expressed their enthusiasm for the progress they believe Westwin's planned critical metals refining operation will bring to Oklahoma's energy industry.
"We're so excited that you guys setting up shop in the state of Oklahoma. We want to make sure you are up and running as soon as possible," Stitt said.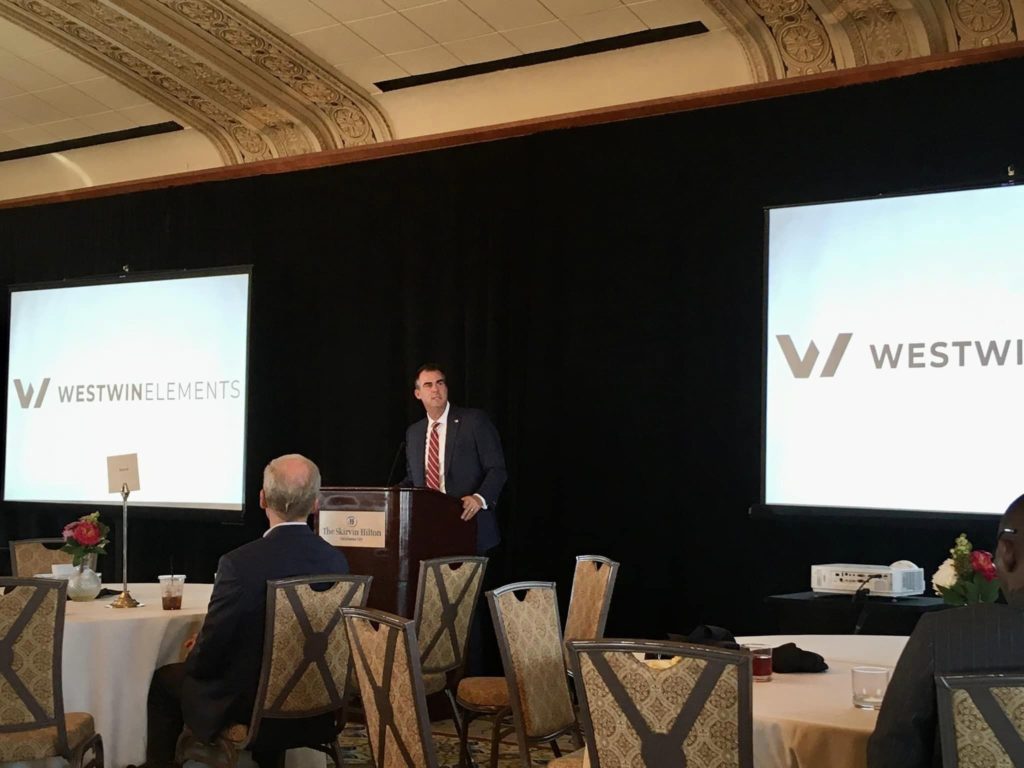 Muilenburg said Westwin's operations will be vital to Oklahoma's economy and energy sector.
"We're going to do some great things. I think it's remarkable that in today's business world, we can do something of such great significance," Muilenburg said. "When we look at rare earth metals and their importance to our economy, it's incredible how important these things are. We are going to make U.S.-sourced refined cobalt and nickel. It is an important and vital mission."
The dozens of women and men who attended the breakfast then traveled to Lawton for a groundbreaking ceremony at the location where Westwin's pilot plant will be built.
KaLeigh Long, Westwin's founder and CEO, said China has the market cornered when it comes to refining nickel and cobalt, and that the Westwin refinery will be the only such refinery in the United States.
"Westwin is committed to the responsible sourcing of cobalt and nickel, complying with local, state, and global regulatory authorities," Long said.
Stitt issued a statement expressing enthusiasm for the new energy development, saying it will be a boon for both the state and the nation.
"I'm proud of Westwin Elements' investment in Oklahoma and their commitment to America's critical mineral independence. With the help of companies like Westwin, Oklahoma is securing the critical mineral supply chain and becoming a national leader in this industry," Stitt said.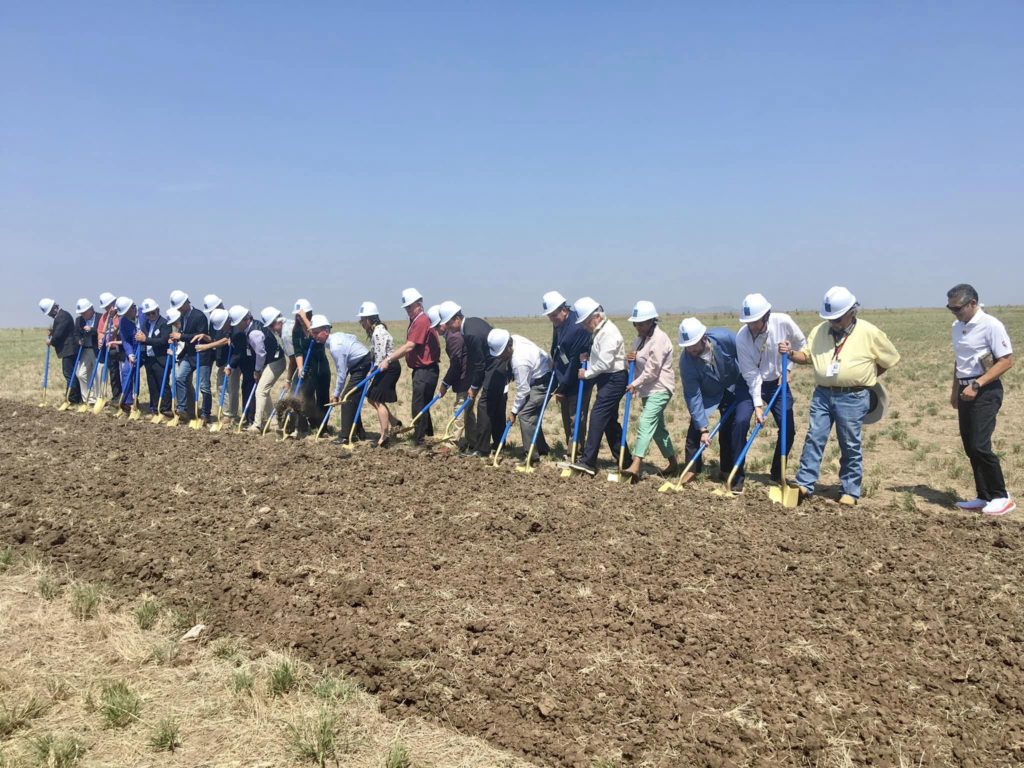 The refining of nickel and cobalt is critical to the nation's defense industry, according to Muilenberg.
"I am all in for this because it is not only important to business, aerospace, medicine, and more, but it is also a huge advancement for national security," he said.
The pilot plant will be built on a 480-acre tract in the OK SW Rail Industrial Park. City of Lawton officials gave Westwin a strategic lease agreement and forgivable loan for the pilot plant.
Westwin's plans begin with the pilot plant, but ultimately, Long and her team of industry engineers, which she said has over 200 years of combined expertise, plan to expand the pilot plant into a smaller commercial plant by Q4 2025 and a full-scale plant by 2030.
The pilot plant will refine only nickel. The smaller commercial plant will refine 2,000 metric tons of nickel and 2,000 metric tons of cobalt annually. The full-scale plant will refine 64,000 metric tons of nickel and 20,000 metric tons of cobalt annually, according to Xavier Wong, Westwin's senior technical director.
Westwin will be a $1.25 billion capitol investment, according to Long.
Long said the refinery will be designed and constructed to meet the highest engineering and environmental standards.
"We're here to set this refinery for the long term, to create the right culture and maintenance and standards," she said.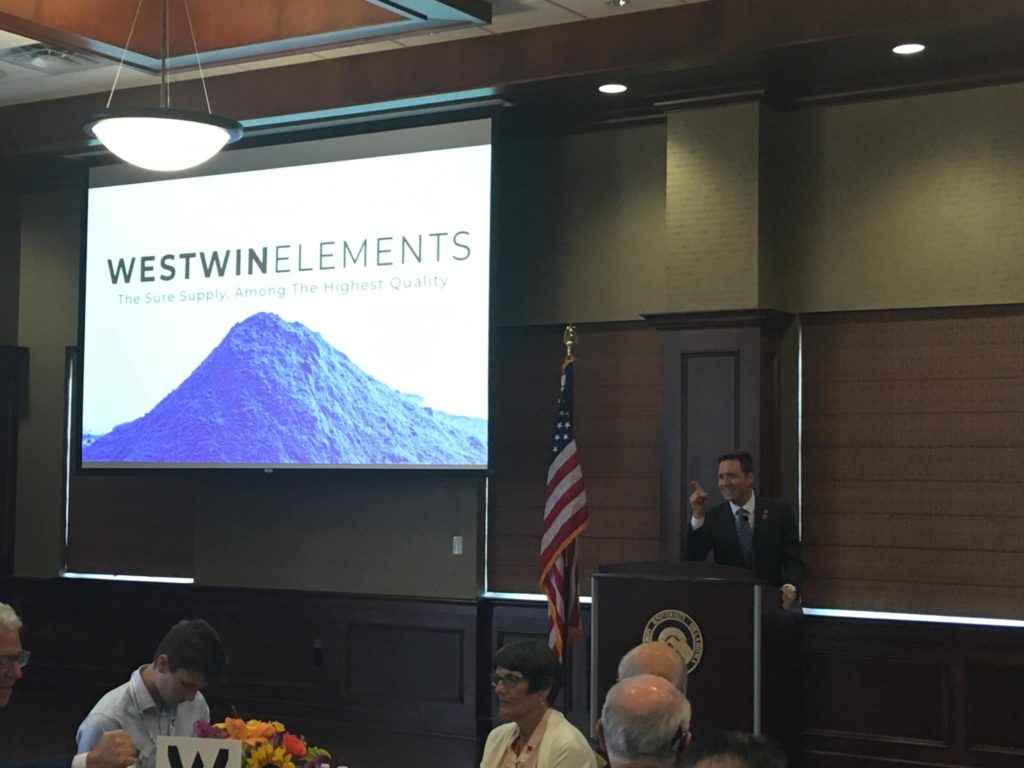 Municipalities in eight states, including Texas, Missouri and South Carolina, were vying for the Westwin refinery, Long said.
"Lawton really wanted this project and offered a $24-million incentives package," Long said. "Lawton believed in this project. It has the nicest people. I love how American it is, and I want to invest in it the way it has invested in us."
The refinery is expected to create 795 jobs once fully commissioned, according to Long.
Westwin is looking to hire around 30 operators for the pilot plant.
John Michael Montgomery, a former state senator and now the president and CEO of the Lawton Fort Sill Chamber of Commerce, said the refinery will be an exciting adventure for Lawton.
"It's part of the future of our economy, and it's innovative and exciting," Montgomery said. "Cobalt processing is important to [the] electric car [industry], but there are other opportunities for application."
A lunch reception was held at Cameron University in Lawton, and Lt. Gov. Matt Pinnell delivered remarks about the significance of Westwin's upcoming contributions to the state's energy industry.
"This company and what they're doing right here in Lawton is the brand we want for Oklahoma," Pinnell said. "Yes, we are an oil and gas energy state, but we can also be a renewable energy state."