OKLAHOMA CITY (OBV) – Millions of dollars from Oklahoma Lottery proceeds are being invested in Oklahoma's education workforce through a special program that seeks to keep teachers in the classroom.
More than $22.58 million was deposited into the Oklahoma Teacher Empowerment Program (OTEP) fund at the start of September.
The investment will help the state maintain its teaching force, according to Oklahoma Senate Pro Tempore Greg Treat.
"As promised, these funds are now available to go toward our hard-working teachers who go above and beyond for their students," Treat said. "These funds, combined with the raises that went into effect at the beginning of the school year, will further incentivize the highest performing teachers to stay in the classroom, which will help Oklahoma students and strengthen the profession. I would not be where I am today without the guidance from teachers at Catoosa Public Schools who believed in me. That is why I made it a priority to get these funds into the classroom as quickly as possible. I hope districts apply for these funds and the money goes out as soon as possible."
The pay raises from the start of the school year Treat referred to were from Senate Bill 1119, which provided longevity-based pay raises for all certified staff, ranging from a $3,000 increase for teachers with zero to four years' experience; $4,000 for five to nine years; $5,000 for 10-14 years; and $6,000 for teachers with 15 years or more on the job. SB 1119 was part of a historic package from this past legislative session that united competing education reform plans from the Oklahoma House of Representatives and Senate. Gov. Kevin Stitt helped legislators reach a compromise.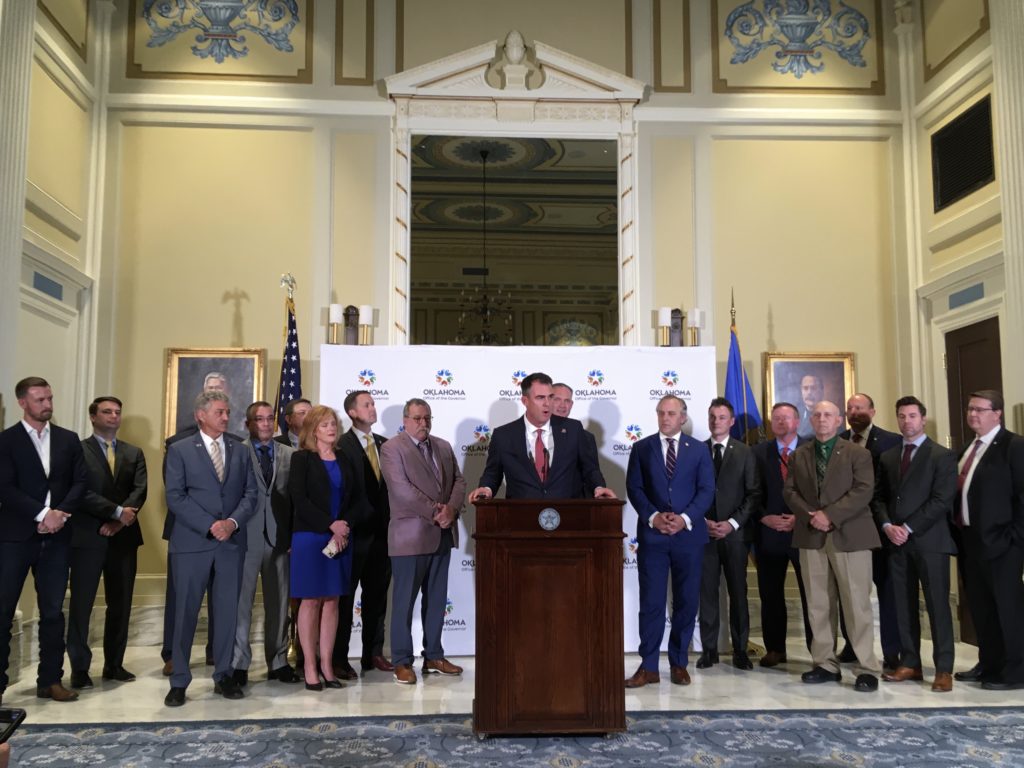 OTEP provides separate raises that allows educators who distinguish themselves to receive higher pay without having to move into an administrative role.
The $22.58 million deposit enables Oklahoma school districts to designate advanced, lead and master teacher certificates for up to 10 percent of their teachers twice per year, with minimum salary increases for the corresponding certificate levels.
"Applications may be submitted for designations once prior to the school year, and once prior to the beginning of the second semester," Oklahoma Department of Education officials said. "Funds are available for those that apply on a first-come-first-serve basis until funding is exhausted."
Schools that participate in the certification program will receive matching funds from the Teacher Empowerment Fund to provide merit-based raises to teachers selected by their district.
The program's goal is to give quality teachers a strong economic incentive to continue teaching instead of finding work in another field.
"I appreciate our hard-working teachers and am thrilled this money has gone out," said Sen. Adam Pugh, R-Edmond, who announced the the $22.58 million deposit. "I hope this money will give superintendents the resources and flexibility to reward teachers at the local level to make decisions by giving teachers raises they need to ensure their kids are being prepared for the next phase of their lives. I encourage all administrators to research this and apply for funds for their teachers. I will continue to be a resource to all school officials if they need assistance navigating the system."
Selected teachers will receive the following salary increases annually at the following tier level:
Advanced – Minimum $3,000 from the district with a $3,000 state match;
Lead – Minimum $5,000 from the district with a $5,000 state match; and
Master – Minimum $10,000 from the district with a $10,000 state match
"At the top level, that's a $20,000 pay raise for a teacher," Pugh said while speaking to Oklahoma Business Voice.
School district administrators will decide which teachers will receive the Empowerment Fund raise and at which tier level.
"It's based on merit and every school district has the flexibility to measure that themselves," Pugh said to OBV.
Educators who receive the advanced, lead and master designations will be placed in professional development cohorts and provided additional training opportunities through the Department of Education.
Teachers who work for economically disadvantaged schools or in a district with enrollment below 1,000 students will receive an additional one-time award of $1,500 – $5,000, depending on their designation, Education Department officials said.
School district administrators who are interested in applying for their teachers can contact the Oklahoma Teacher Empowerment Program at OTEP@sed.ook.gov. More information can be obtained by clicking here.