OKLAHOMA (OBV) – The National Business Leaders Survey took a comprehensive look at business leaders' thoughts and concerns regarding their state's business and economic conditions and found that a large portion of those leaders are worried about workforce deficiencies.
The Siena College Research Institute (SCRI) recently released its annual National Business Leaders Study, which has been conducted each year since 2007.
SCRI partnered with the National Association of State Chambers to distribute the survey that informed the study to members of their State Chambers in four different U.S. regions: Northeast, South, Midwest and West.
Respondents from 30 of the 50 states, including Oklahoma, participated in the survey. Oklahoma was classified as a Southern state along with Texas, Louisiana, Mississippi, Tennessee, Kentucky, West Virginia, Virginia, Georgia and Florida.
The survey had 1,114 respondents from across all four regions.
The study surveys business leaders across the nation, measuring and assessing business leaders' confidence about the health of business, and their opinions on federal and state governments' affects on business. It also gages their outlook on workforce.
Business leaders across the nation are guardedly optimistic overall about business and economic conditions. Though some CEOs see their state government as being an asset in business growth, few are satisfied with the federal government's impact on business.
The study concluded that many top business honchos are worried about the state of workforce.
Forty percent of business leaders are looking to hire, but most are finding a shallow pool of qualified workers.
Those leaders say they are having trouble recruiting and retaining qualified workers.
Many CEOs said they are unsatisfied with workforce development efforts.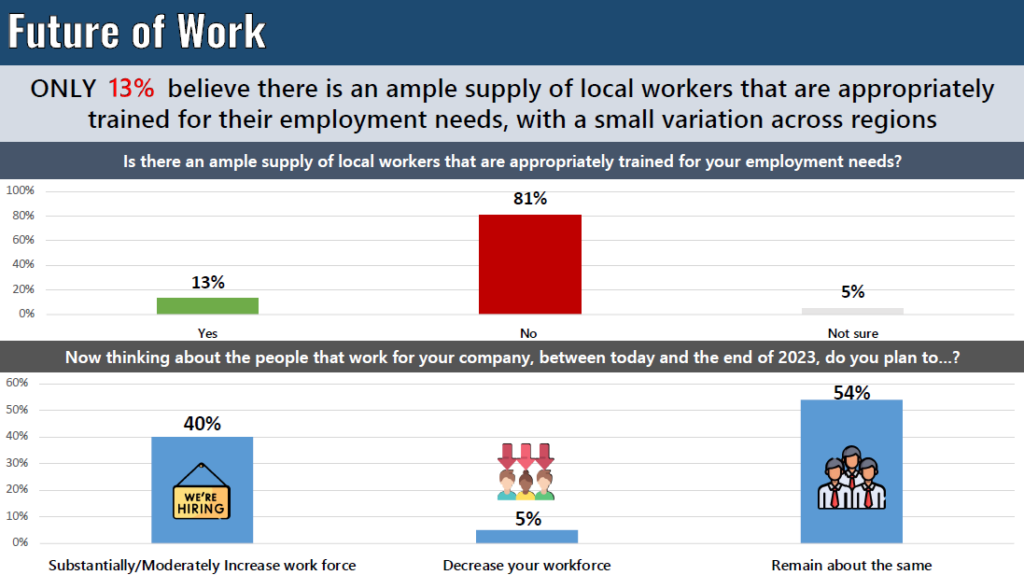 Only 13 percent of surveyed business leaders believe there is an abundant supply of local workers who are sufficiently trained to meet employment needs, with small variation across the four regions.
A majority of business leaders in the South – 38 percent – said current business or economic conditions in their state are better compared to a year ago. However, 35 percent said current conditions are worse, and 28 percent said conditions are the same.
Most business leaders in the Northeast and West say business or economic conditions are worse in their state than they were last year. A thin majority of Midwestern business leaders said business and economic conditions this year are the same as last year.
Regarding business or economic conditions specific to their industry, only the South had a majority of business leaders – 36 percent – who said conditions are better this year than last year. Business leaders from the other three regions said conditions are worse in their respective industry.
Southern business leaders were also primarily optimistic in their expectations of their state's economic future. Among those business leaders, 42 percent said they expect the economy will be better in the future, 25 percent expect it to be worse and 33 percent expect it to remain the same.
A majority of business leaders in the Northeast and West expect the economy in their state to be worse in the future, while a majority in the Midwest expect it to remain the same.
Business leaders' outlook on their respective industry's future in their state breaks down as follows: A majority of those in the South expect it will be better; a majority of those in the Northeast and West think it will be worse; a slight majority in the Midwest think it will remain the same.
The complete study is shared below: