ADA, Okla. (OBV) – The Chickasaw Nation broke ground on the first of multiple planned child development centers that are expected to provide vital childcare services to Ada community members.
The Chickasaw Nation Child Development Center is being built near the Chickasaw Nation Medical Center, 1921 Stonecipher Blvd., on the Ada South Campus.
A groundbreaking ceremony was held on Sept. 8, with Chickasaw Nation Governor Bill Anoatubby leading the ceremony.
"This new facility is another way in which we are continually working to meet our mission to enhance the overall quality of life of the Chickasaw people. This is a celebration of another step in our decades-long investment in our youth and families here in the Ada area and throughout the Chickasaw Nation," Anoatubby said.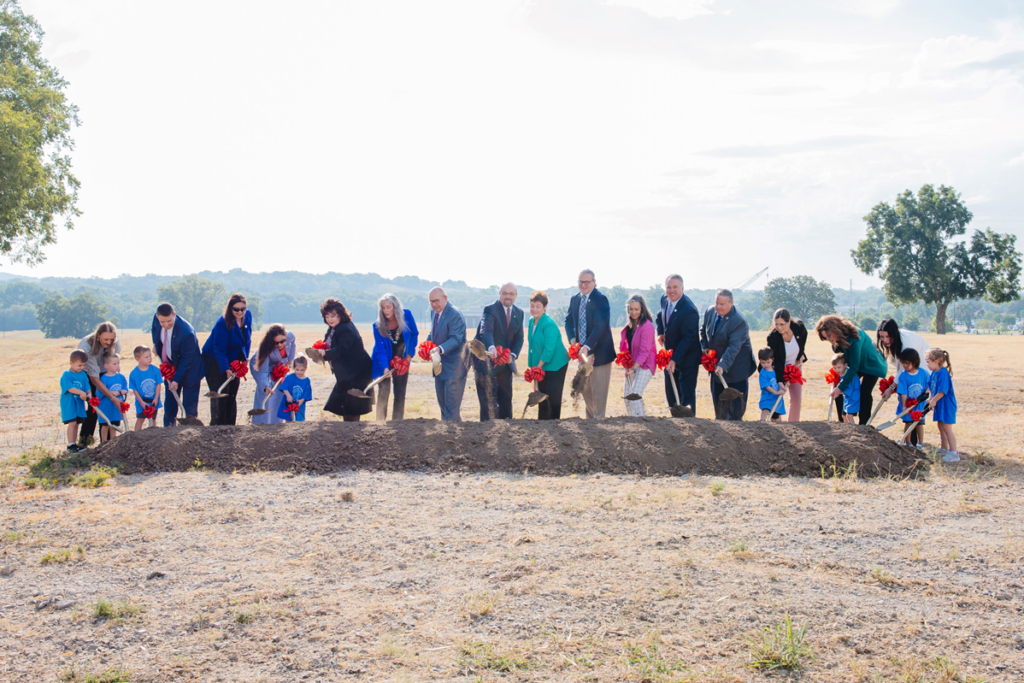 The new facility will be just shy of 19,000 square feet and have eight classrooms, two indoor play areas, an aerobics room, a teacher workroom and breakroom, a first aide room, laundry rooms, a commercial kitchen and two storm shelter areas.
There are already two Chickasaw Nation Child Development Centers, one in Ada and the other in Ardmore, both of which care for children ages six weeks to four years old. The new Ada facility will be in addition to the existing facility, a Child Development Center staff member said.
Chickasaw Nation Child Development Centers will be built in Tishomingo and Purcell as well, Anoatubby announced.
The groundbreaking for those two additional facilities is planned for Spring of 2024.
The new facility's exterior will have two age-specific playgrounds and covered parking for parent drop off and pick up, Anoatubby said.
The existing Ada facility opened in 2009 and has cared for hundreds of children and families.
The new Child Development Center will meet the childcare needs of the growing Chickasaw Nation community.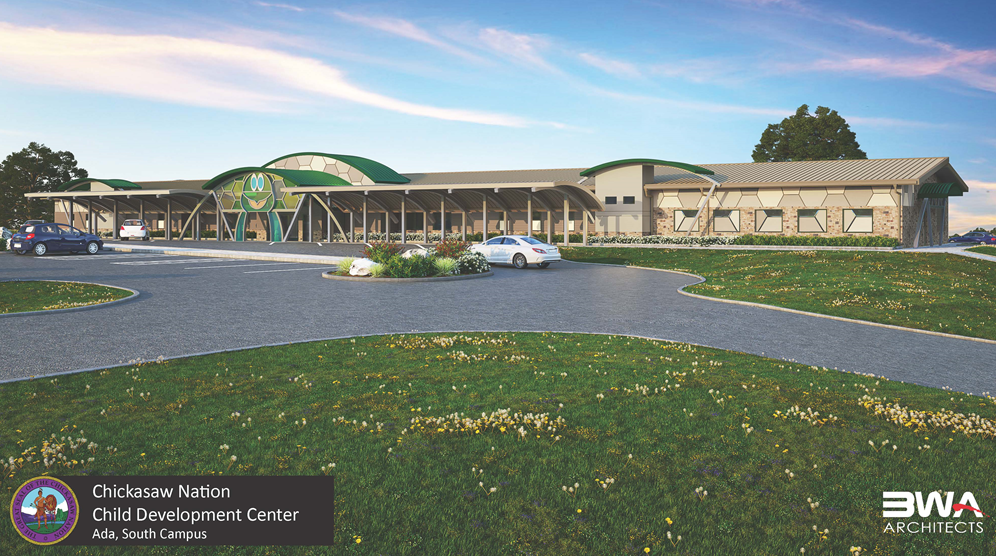 Development Center teachers and fellow staff are dedicated to the children's overall development, as well as helping them develop healthy interaction skills by providing them positive learning environments that encourage discovery.
"We know that education, nurturing and support is vitally important early in a child's life. This year-round program is committed to making long-term positive differences in the lives of our children," Anoatubby said.
The new facility will employ around 40 people, depending on operating hours and the number of children enrolled, Chickasaw Nation Department of Education officials told OBV.
The Development Center's health and wellness components will include nutrition, physical activity and early detection screenings for hearing, vision, dental and overall development.
"We also partner with families and caregivers throughout our children's earliest milestones because we understand the importance of all those who have a hand in the upbringing of our children," Anoatubby said.
The facility's design incorporates Chickasaw culture and language. It will be decorated with river-themed interior corridors, whimsical storefronts and characters that inspires the imagination and supports early learning.
Childcare facilities have been on the decline in Oklahoma for more than a decade.
Oklahoma had more than 4,000 facilities in 2012; that number dwindled to 2,954 by 2021.
Parents nationwide are exiting the workforce due to diminishing childcare options.
A U.S. Chamber of Commerce Foundation study states that 58 percent of working parents reported leaving their job because they could not find viable childcare. Also, 32 percent of women surveyed said having to be home to care for family members made returning to work difficult.
The childcare shortage is not only causing parents to leave their job, it's also preventing them from returning to work.
"Dropping out of the workforce to care for children greatly disadvantages women, often in the form of lower wages and missed promotions," the U.S. Chamber report states.
The new facility in Ada will help meet the increasing need for childcare, Chickasaw Nation Department of Education officials told OBV.
"There is a steadily increasing demand for quality childcare in the Chickasaw Nation and across the United States, and the Chickasaw Nation hopes to ensure parents have the support they need," a Department of Education official said to OBV.