NORMAN, Okla. (OBV) – The Moore Norman Technology Center (MNTC) has a bold, new endeavor that will give students a launching pad into Oklahoma's aviation industry.
MNTC held a ribbon cutting last week for its new aviation maintenance technology training program at its Franklin Road campus in Norman.
The training program's objective is to give students a direct path to aviation and aerospace careers.
"As Moore Norman Technology Center celebrates its 50th anniversary, I am proud to serve as superintendent of a district that has always led the way in career and technical education," said Brian Ruttman, MNTC superintendent and CEO. "Moore Norman Technology Center's aviation maintenance technology program speaks to the limitless future of the district. May we continue to clear the runway for students to fill the ever-changing workforce needs of our community, state, and country."
Aviation and aerospace is not only Oklahoma's second largest industry, but also its fastest growing.
MNTC developed the training program in collaboration with aerospace industry partners and state and local leaders to meet the growing demand for workers who have FAA certification in airframe & powerplant (A&P) mechanics. Such workers ensure the safe and efficient operation of U.S.-registered aircraft, according to a MNTC news release.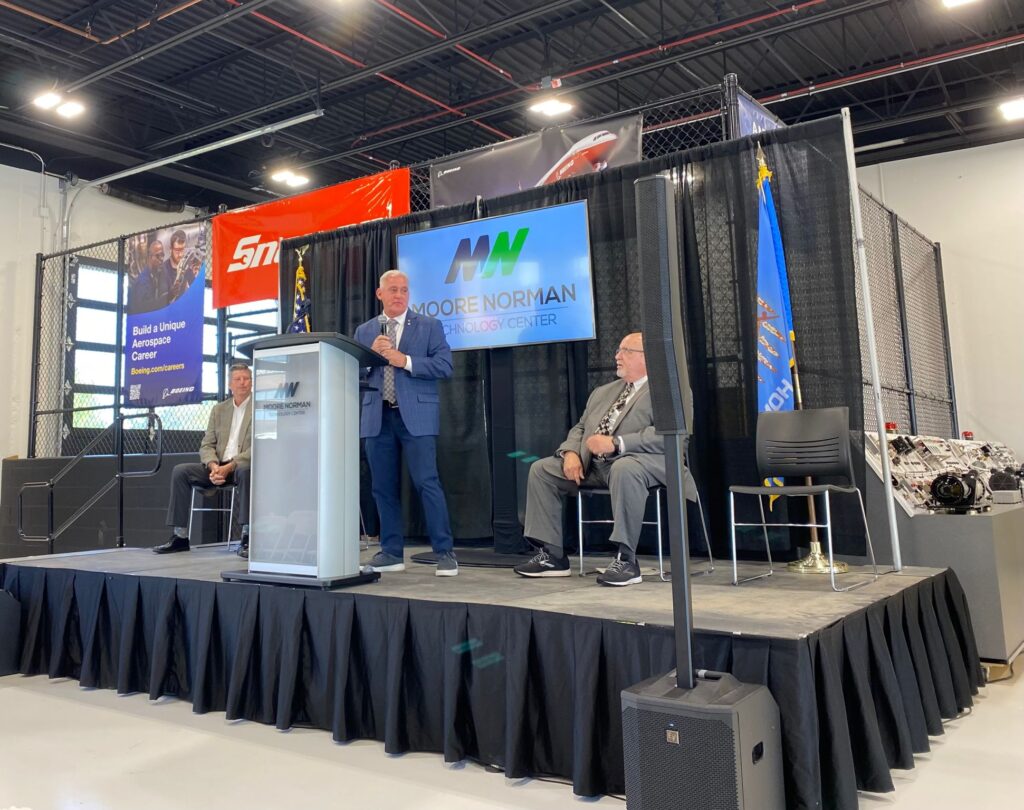 The new program is 18 months long and gives students hands-on training.
Students who go through the program will learn how to conduct pre-flight inspections, perform routine aircraft maintenance and diagnose and repair airframe and powerplant (engine) components.
After completing the program, students will be prepared for FAA certification in A&P mechanics, a career in which annual salaries start at $60,000.
The aerospace and aviation industry generates approximately $44 billion in revenue annually for Oklahoma, according to Oklahoma Sen. Paul Rosino.
Cleveland County is a hub of Oklahoma's aerospace industry, serving as the location for more than 28 aerospace and aviation-related companies, including 19 in Norman.
"We have national companies that are coming to Oklahoma and Cleveland County asking for students," Cleveland County Commissioner Rod Cleveland said. "There's a pipeline directly to a job as soon as you graduate."
Norman is also the home of the Oklahoma Aviation Academy. Run by Norman Public Schools, the Aviation Academy is succeeding in preparing high school students for careers in the aerospace industry, generating wide participation and massive interest among students.
Cleveland directed $1 million in American Rescue Plan Act (ARPA) funds to the new training program earlier this year. Cleveland said he and his fellow county commissioners wanted to use funds to support projects that give residents critical support, improve infrastructure and facilitate economic recovery following the pandemic.
"We wanted to put this money to the best use that we can and leverage it into the future," Cleveland said.
The $1 million in ARPA funds were used to renovate MNTC's new training center, which includes classrooms, training labs, top-of-the-line equipment, aircraft components, a hangar and a tarmac, according to the news release.
MNTC's aviation maintenance technology program currently accepts adult students, but there are plans to include high school students in 2024.
Visit mntc.edu or contact an MNTC career advisor at (405) 801-5000 to learn more about the training program.