STILLWATER, Okla. (OBV) – Oklahoma State University's Brand Squad is breaking ground by empowering student-athletes to capitalize on their name, image and likeness (NIL) rights.
NIL is becoming a dynamic new industry in college athletics, and the Brand Squad is ahead of the game when it comes to teaching student-athletes about their NIL rights.
Dr. Maribeth Kuzmeski, assistant professor of marketing and Brand Squad advisor, visited The State Chamber of Oklahoma and spoke with its members about how the Brand Squad helps student-athletes profit from their name, image and likeness, and prepares them for complex financial intricacies and risks.
"We want to have this positive presence that's out there with our student athletes. It's really [about] connecting athletics with academics," Kuzmeski said.
The NCAA implemented rules on July 1, 2021, allowing Division I, Division II and Division III student-athletes the right to engage in NIL activities in accordance with their respective state's law. The NCAA also allowed student-athletes to hire professional representation, such as an agent.
Members of OSU's athletic department understood that the new rule was a game changer and got on the horn with the Dean of the University about adapting to the change.
Kuzmeski, known to her students as Dr. K, received a call from the Dean's Office asking her if she would like to teach a course on name, image and likeness.
She took the position and searched for textbooks on NIL as it pertains to student-athletes but found that no such book had been written.
"There wasn't anything. So, that summer, I wrote a coursebook, I wrote a textbook on name, image and likeness," she said. "We had to create and break new ground for this and really find a way to teach our student-athletes what they need to do, how to create personal brands that's positive for businesses."
Kuzmeski considered both the athletic and academic demands already placed upon student-athletes and realized that a class alone would not be sufficient in providing them NIL guidance.
"So, I thought, 'I don't know if this is going to work. How are we going to go from asking them to be student athletes to being influencers? All of a sudden, they're taking pictures, and they're on Instagram, and they're doing all this stuff. Who has time for that?'" she said.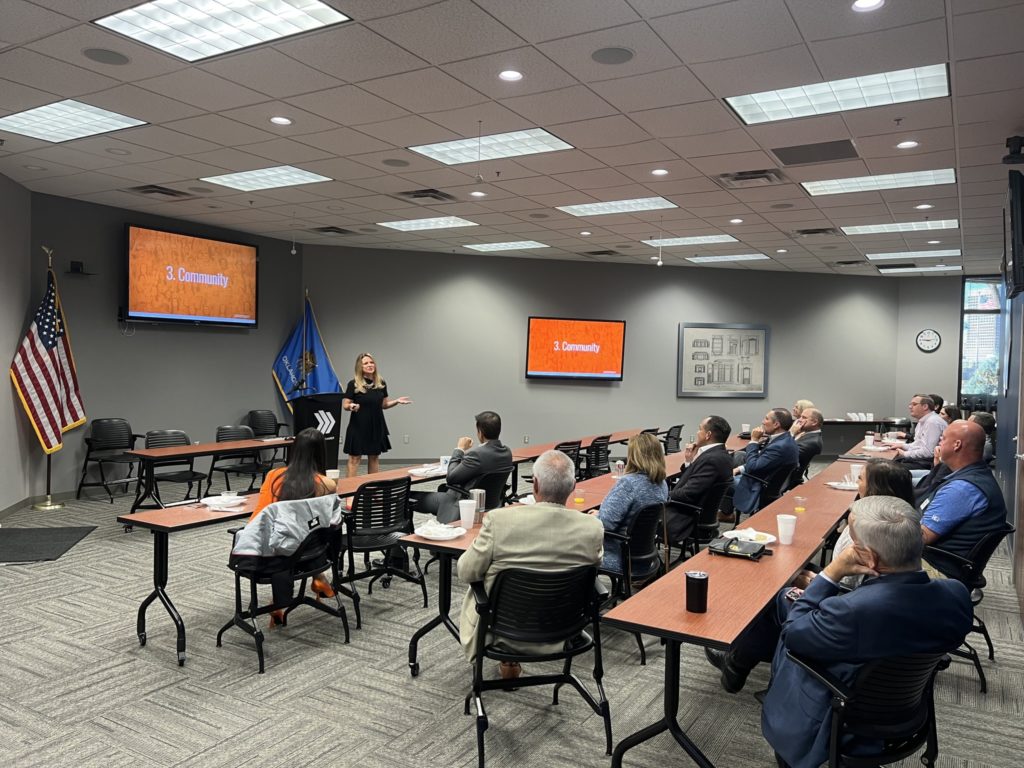 Kuzmeski started the Brand Squad and recruited talented members of the OSU community, such as Marketing Club members, to help student-athletes with their personal branding. She obtained permission from her department chair and the athletic department to start the Brand Squad.
The Brand Squad is comprised of OSU's top marketing, sports management and business school students trained and certified in name, image and likeness, she said.
Mackenzie Janish, an OSU student majoring in marketing, international business and sports management, was a freshman when she took Kuzmeski's class in fall 2021. She said Kuzmeski made the class feel comfortable and engaging.
Kuzmeski mentioned the Brand Squad idea at the end of the semester.
"And it was super intriguing to me. She was just talking about how in marketing I can play a role in helping students and student athletes in their careers and their futures," Janish said.
The squad teaches student-athletes how to make themselves more marketable and media savvy, and how to promote their personal brand through merchandising, speaking engagements, signing events and podcasting. They also help the student-athletes create logos for merchandising.
Janish joined the Squad with a close friend, who was a student-athlete, and was motivated by the opportunity to help students who were plenty busy with both athletic and academic demands.
She was assigned one student-athlete when she joined the Brand Squad. Now, she works with multiple student-athletes as well as non-athletes who are trying to market themselves.
"And I love it," Janish said. "I've met so many new people. I've been able to create many connections and build my network, but also just gain a lot of amazing experience for the future."
Not only is the Brand Squad giving its members real-life experience in marketing, but it's also giving them confidence in their abilities and enhancing their decision-making and leadership skills.
"I'm working with a ton of student-athletes, and I work with a ton of students, and having to talk to them on a daily basis, making sure that I'm holding myself accountable to everything that I'm doing within Brand Squad, and then just making sure that I'm holding them accountable, as well, has really been beneficial," Janish said.
Brand Squad members are parlaying their squad experience into lucrative futures.
"We have students in the brand squad who now have jobs in sports marketing," Kuzmeski said. "One has five job offers and one is with the Kansas City Chiefs."
NCAA guidance states that university athletic departments cannot guide NIL deals for student-athletes. The Brand Squad is not funded by OSU; therefore, it can guide student-athletes in their NIL dealings.
"We're a university club, but we're not working at the athletic department or taking orders from them," Kuzmeski said. "We do what's best for the student athlete and what's best for Oklahoma State, and we have followed the [NCAA] guidance."
Everything the Brand Squad does is above board, Kuzmeski said.
"What we're not doing is pay for play; what we're not doing is paying $9 million to some quarterback; what we're not doing is paying hundreds of thousands of dollars to every single player on the football team; we're doing the things that you hear about in the media," she said.
Kuzmeski meets with the Athletic Department every week to update them on Brand Squad activities.
"They want to make sure we're following the rules. At Oklahoma State, that's the culture, that's how we do it, and we also know if we don't do it that way, it's a slippery slope down," Kuzmeski said. "The only way we can do this at Oklahoma State is to do it clean, and that's how we're doing it."