OKLAHOMA CITY (OBV) – Film and television productions are creating large numbers of jobs and bringing significant revenue into Oklahoma.
The Oklahoma Film & Music Office provided Oklahoma Business Voice data that shows sharp increases in revenue and jobs related to film and television productions over the past two years.
Film and television productions spent $104.1 million in Oklahoma during fiscal year 2022, as of Sept. 23, $169.1 million in fiscal year 2021 and $32.4 million in fiscal year 2020, according to Film & Music Office data.
Those productions also created 6,348 jobs in fiscal year 2022, as of Sept. 23, 7,927 jobs in fiscal year 2021 and 3,827 jobs in fiscal year 2020.
The massive jump in film and television production revenue and jobs from 2020 to 2021-22 can largely be attributed to two major productions. "Killers of the Flower Moon," the Martin Scorsese film starring Leonardo DiCaprio, Robert De Niro and Brendan Fraser, was shot in multiple Oklahoma areas, including Bartlesville, Fairfax, Osage County, Pawhuska and Tulsa, from spring into fall of 2021. "Tulsa King," the Paramount series created by Taylor Sheridan and starring Sylvester Stallone, shot from 2021 into 2022 in Tulsa and Oklahoma City.
Stefanie Appleton, Deputy Director of Marketing & Communications for the Oklahoma Department of Commerce, said the state's film production incentive program increasing from an $8 million incentive to a $30 million program helped entice productions to Oklahoma.
"In the last few years, we've hosted everything from the largest motion picture to ever be produced in the state with 'Killers of the Flower Moon' to supporting homegrown talents like 'What Rhymes with Reason' alongside an influx of television series like 'Tulsa King' and 'Reservation Dogs,'" Appleton said.
The Filmed in Oklahoma Act of 2021 gives a maximum of $30 million in rebates to film and television productions shot in Oklahoma each fiscal year, which is from July 1 to June 30, for 10 years. A production must spend over $50,000 in the state to qualify for the rebate.
Officials with the Film & Music Office encourage film and television productions that shoot in Oklahoma to hire as many local individuals as possible.
"And it is in their best interest to do so from an economic standpoint," Appleton said. "We have talent that can compete with other markets across the nation."
Although the state's film and television industry is growing, the need for local crew can exceed available workforce if multiple large productions are occurring simultaneously, according to Appleton.
"This does not mean Oklahoma does not have the skilled talent here; it means we need more of it," she said.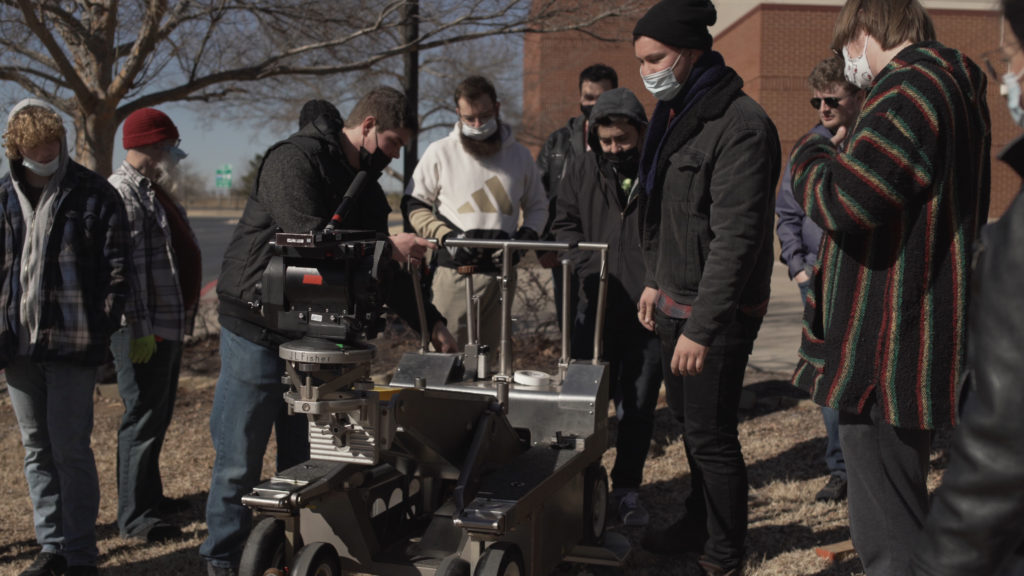 The Film & Music Office is collaborating with Oklahoma colleges, universities and technical schools to expand film programs and teach students the skills that will help them become film industry professionals.
Prairie Surf Studios, a film studio located in Downtown Oklahoma City across from the Paycom Center, is also working with schools to give film students a path into the film industry. Such schools include Oklahoma City Community College, Francis Tuttle Technology Center, Metro Tech, Canadian Valley Technology Center and high schools in Moore, Norman and Mid-Del school districts.
"Looking ahead, there is room for improvement and continued growth to ensure we are maximizing every outlet to benefit the state's growth and subsequent development of local workforce, infrastructure and opportunities for Oklahomans," Appleton said.
Appleton and officials from the Film & Music Office liken the film and television industry to a three-legged stool, the legs of which are incentives, infrastructure and workforce.
"These three legs are key critical elements which must exist for the growth of the film and television industry in Oklahoma," Appleton said. "Only within the last few years has Oklahoma seen the necessary development through both public and private partnership to the development of infrastructure, like soundstages, in state."
Matt Payne, who co-founded Prairie Surf Media, wants the state to increase the annual rebate incentive to entice more productions to the Sooner State.
"Currently, we've tapped our incentive program with 'Reservation Dogs' and 'Tulsa King,'" said Payne. "As we begin to see the economic impact that these high budget shows have, we must also begin to think about increasing the cap so that there is filming year-round."
Appleton said there are a growing number of film production incentives in the state, including incentives offered by the City of Oklahoma City, the City of Bethany and the Cherokee Nation.
The Cherokee Nation Film Incentive provides up to $1 million in annual funding for productions shot in the tribe's 14-county reservation. The Cherokee Nation Film Office began accepting applications for the cash rebate incentive on March 1. The rebate covers expenses for both production expenses and wages, according to Film Office officials.
The state's current incentive rate is eliciting interest from film industry professionals. More production companies are reaching out to the Oklahoma Film & Music Office, Appleton said.
The outlook is strong for Oklahoma film production growth and readiness, according to Appleton.
"Our crews have demonstrated they are ready to work, our film friendly communities are eager to participate and we have more support than ever," she said.