OKLAHOMA CITY (OBV) – Educators and students gathered at the Oklahoma State Capitol to thank state leaders for their support of the Oklahoma's Promise scholarship program and encourage continued funding of the program.
The event was held Tuesday and featured opening remarks from State Regents Chair Michael Turpen. Rep. Cyndi Munson, D-Oklahoma City, Sen. John Michael Montgomery, R-Lawton, and Mike Jackson, executive director of the Legislative Office of Fiscal Transparency, also spoke, delivering remarks to Oklahoma's Promise students about the scholarship's life-enriching benefits.
The state legislature created Oklahoma's Promise in 1992 to help parents and guardians provide their children a college education.
"Since 1992, more than 100,000 Oklahomans have earned the Oklahoma's Promise scholarship, helping them pay tuition at a time when a college degree and an educated workforce have never been more valuable," said Chancellor Allison D. Garrett. "Oklahoma's Promise encourages more students to aspire to college, prepare academically, and earn college degrees. We thank Governor Stitt and our legislators for continuing to keep that promise."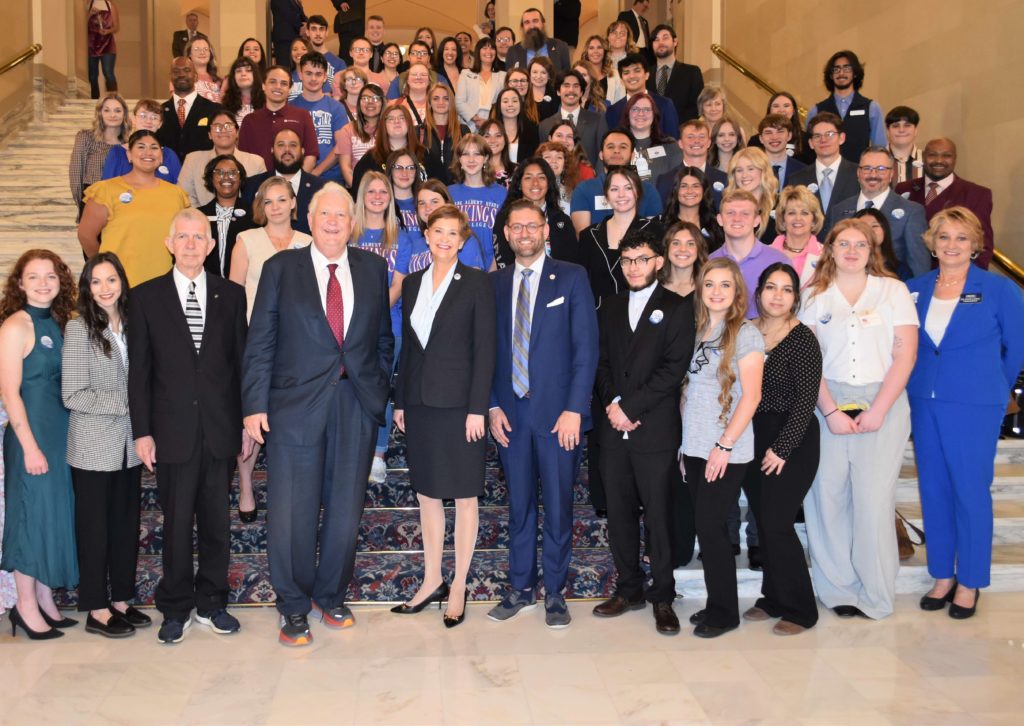 Oklahoma's Promise emphasizes academic readiness while providing financial support for college.
The scholarship covers tuition at all public colleges and universities in the state for five years or until the student receives a bachelor's degree, whichever comes first. It also pays partial tuition at accredited Oklahoma private institutions or for certain public career technology programs. The scholarship, however, does not cover fees, books or room and board, according to an Oklahoma State Regents for Higher Education news release.
Students must enroll in Oklahoma's Promise between eighth and eleventh grade and achieve a minimum 2.50 GPA in 17 core, college prep courses and an overall 2.50 GPA or better for all ninth through twelfth grade courses.
Income level cannot exceed $60,000 for families with one to two dependent children, $70,000 for families with three to four dependent children or $80,000 for families with five or more dependent children.
Once the Oklahoma's Promise student is in college, they must attend class regularly, stay out of serious trouble and avoid drugs and alcohol. Also, their family income cannot exceed $100,000 for the year of college enrollment.
Oklahoma's Promise program students often succeed in their high school academics, earning a 3.47 average GPA (exceeding the state average), achieve high ACT scores that surpass non-Oklahoma's Promise students' scores and perform well in their college freshman classes. Over 92 percent of Oklahoma's Promise students remain and work in Oklahoma after college and more than 90 percent are still working in the state five years later, a higher average than non-Oklahoma's Promise students.
The college-going rate of Oklahoma's Promise students exceeds the state average for high school graduates. They also have above-average full-time college enrollment, persistence and degree-completion rates. In addition, Oklahoma's Promise college graduates are employed and remain in Oklahoma after college at a higher rate than non-Oklahoma's Promise graduates. More than 92 percent of Oklahoma's Promise graduates remain and work in the state one year after graduation, and over 90 percent are still employed in the state five years later.
Nearly 6,300 students from Oklahoma's high school graduating class of 2022 met the program requirements to be eligible for the scholarship. About 14,000 students from the current academic year are expected to receive the scholarship, and approximately 15,000 students are projected to receive the scholarship next year.