INOLA, Okla. (OBV) – Oklahoma beat out more than two dozen states to become the home of a global renewable energy company's new factory – a $1 billion-plus, industrial-scale solar panel manufacturing facility that was described by state leaders as a historic investment.
Officials with Enel North America, a Massachusetts-based company, announced last week that the company will build a 2 million square foot, 3 gigawatt (GW) factory in Inola, Okla., this fall. The company's affiliate, 3Sun USA, LLC, announced Inola as the location for the new factory, saying it will build "innovative, sustainable and American-made photovoltaic (PV) cells and modules."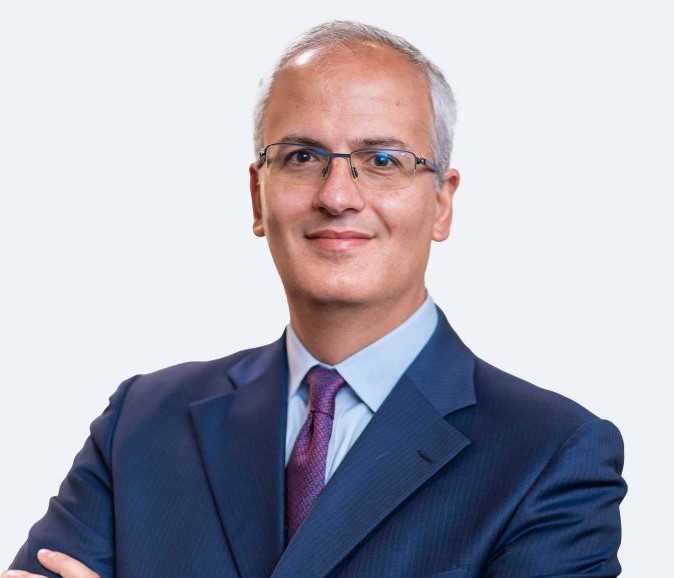 Giovanni Bertolino, head of 3Sun USA, spoke with Oklahoma Business Voice, saying that Oklahoma was among 27 states across the nation and Inola one of over 100 locations that were considered for the location of the massive manufacturing facility. He said the factory's location needed to be spacious and in close proximity to a workforce base. Inola fit the bill.
"We needed a site that would accommodate our facility; we needed over 300 acres. We we wanted to have the right space, easy to build, easy permitting – a greenfield site which had access to strong logistics that could support the utilities needs, like electricity and water, and also in a location where it wouldn't be too hard," Bertolino said. "I mean, there's no place where it would be easy, but at least not too hard to find 1,000 workers to create those 1,000 jobs that we would need for the first phase of our project. And we wanted a location that could support all of these on a rapid accelerated timeline, because we wanted to be able to deliver the fact that it started operating as soon as possible."
Construction on the Inola facility is expected to begin as early as late September, and the facility should be up and running, producing solar panels, by early 2025, Bertolino said.
Building the factory will create over 1,800 construction jobs, and operation of the factory will create around 1,000 permanent jobs in Oklahoma by 2025. Though the factory will initially have a 3 GW capacity, it has the potential for a second phase that would scale the factory to reach 6 GW of annual production, creating an additional 900 new direct jobs, according to Enel officials.
Bertolino expects most of the workers will come from the Tulsa area, which is about 30 minutes away from Inola.
Enel secured 400 acres in Inola; the factory is expected to occupy about 300 of those acres. The facility will be developed in two phases. First, the 2 million square foot manufacturing area and support buildings will be constructed. The second phase includes expanding the manufacturing area, bringing the facility to almost 4 million square feet of building space, according to Bertolino.
Gov. Kevin Stitt enthusiastically welcomed Enel's massive industrial investment.
"When I took office, I promised to bring Oklahoma to the world, and the world to Oklahoma; and today's historic announcement is a testament to that mission, our business-friendly environment and more of everything energy approach," Stitt said. "Enel's expansion is a huge win for Oklahoma, and I'm thrilled by their record investment in our state's economy and workforce, that will have a lasting legacy and continue to impact Oklahomans for generations."
Brent Kisling, executive director of the Oklahoma Department of Commerce, said Enel's investment is historic.
"This is the largest economic development project in state history, bringing over a billion in investment into our state and hundreds of long-term jobs. It was a group effort to get this over the finish line, and we are thankful for the governor, the Legislature, the Tulsa Port of Inola Industrial Park, Tulsa Regional Chamber and SelectUSA for coming alongside the Department of Commerce to get this deal done," Kisling said. "The success of this project proves what we've known for a long time – Oklahoma can support mega projects, both in terms of sites and workforce, and this gives us exciting momentum as we seek more projects like this one."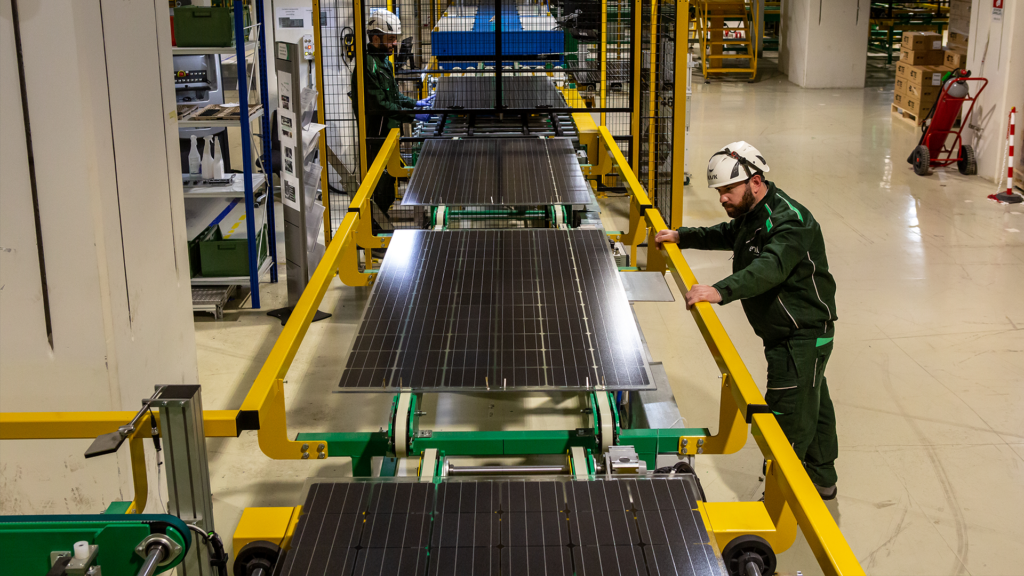 The new facility will manufacture PV panels and their core components, PV cells. Multiple cells are manufactured inside a sandwich of glass that will then be installed as a panel. It will be a one-of-a-kind operation in the United States.
"So, we'll be manufacturing cells and modules, and there is nobody currently in the United States manufacturing cells, and we will be manufacturing cells with our own proprietary technology, which gives us an important technological and competitive advantage as we have the top performing cell technology on the market," Bertolino said. "This will be highly advanced manufacturing; it's a set of very complex and large pieces of equipment all connected through automation that will transform simple silicon wafers into finished PV panels, and there are multiple steps in this process."
The facility will manufacture solar panels for multiple applications, including residential and commercial rooftops, as well as panels that can be used on ground mounted solar plants, according to Bertolino.
The factory will run 24 hours a day, seven days a week and will require 1,000 employees to keep operations steady and on pace.
Enel has had a presence in Oklahoma for more than a decade, with $3 billion in investments that include13 wind farms and a regional office in Oklahoma City.
Enel was founded in Italy in 1962, fusing more than 1,000 energy producers and becoming the European nation's entity for electricity. Hydroelectric power was the company's starting point. Enel later extended Italy's power grid, connecting it to the European network. The company continued to grow and explored alternative energy sources, including nuclear, solar and wind.
"Then the Italian electricity market was liberalized, and we became a private company. Our business focus was the production, distribution, and supply of energy," the company's website states.
Enel expanded into the United States in 2000, purchasing CHI Energy, Inc., North America's first renewably energy plant. CHI was renamed Enel North America in 2003.
The company committed to the United Nations Global Compact – an initiative devoted in part to protecting the environment – in 2004 and launched an Open Power strategy, collaborating with companies, research centers, institutions, startups and universities to develop new energy solutions.
"Now that climate change has become increasingly evident, we are fully aware of the impact the new energy era can have. We have stepped up our investments in digitalization, e-mobility, circular economy, and decarbonization," the company's website states. "Today our sustainable approach to creating long-term shared value is guiding the energy transition. And we aim to carry on finding new, innovative tools to contribute to positive growth, without ever losing sight of the future of our society."
3Sun, a market leader in producing high-efficiency cells, unveiled the company's new heterojunction technology (HJT) solar module in September 2022 and will begin production in September 2023.
"The double-sided HJT can secure higher than average energy production, producing approximately 15-20% more electricity than conventional single-sided panels, and offers significant efficiency improvements, with a certified cell efficiency of 24.6%," an Enel news release states. "In addition, the technology's lower degradation ensures a longer useful life for modules, and the cells' high density is conducive to a variety of applications, including land-constrained utility-scale installations or rooftops."
3Sun will also introduce its next generation tandem cell technology, which achieved a record-breaking certified efficiency of 26.5 percent by utilizing two stacked cells that allows for more light to be captured compared to single-cell structures.
Enel is keeping an eye on the future, and the facility in Inola will expand to meet the need for new innovations, Bertolino said.
"In the future, we have a very ambitious innovation roadmap where we will continue adding new advancements in our solar technology, increasing over time, over and over the efficiency of our panels; efficiency means with the same space you can generate more electricity," Bertolino said. "So, we plan to continue expanding the facility, adding equipment to implement the more advanced production processes and technologies to have an even better performing product."
Oil and gas is Oklahoma's leading industry, but the Sooner State has opened its door wide, inviting the clean energy industry to come inside, according to Bertolino. The state's inclusive business climate will encourage Enel in its pursuit of more clean energy innovations, Bertolino said.
"I believe Oklahoma has a very strong attitude towards energy in a broader sense, and and it is it is a very good place where to invest in renewable and all new technologies in the clean energy space," he said. "We're also looking at options for green hydrogen, for instance. So, we are looking at not only making this a manufacturing plant, but also developing additional generation capacity with solar and wind in the state of Oklahoma."