OKLAHOMA (OBV) – A delegation of Oklahoma leaders and aerospace industry officials traveled to Paris, France, as part of the continuing effort to grow the state's aerospace industry.
The Paris Airshow was held from June 19-25, and Oklahoma's presence was felt.
Gov. Kevin Stitt and Oklahoma Department of Commerce officials led a delegation of Oklahoma aerospace and defense company representatives at the airshow.
Oklahoma has one of the top aerospace industries in the United States, with more than 1,100 aerospace and defense companies in operation, according to Department of Commerce officials.
"Oklahoma is the most pro-business state in the nation, and a key component of that is ensuring our companies have the skilled workforce needed to thrive," Stitt said. "We've focused on building strong workforce programs to train the next generation of aerospace and defense workers right here in Oklahoma— and I was proud to showcase these programs and our state's initiatives at the Paris Airshow."
Representatives from the Oklahoma Aeronautics Commission, Rose State College and Southwestern Oklahoma State University were part of the delegation that traveled to Paris.
Aerospace is a pillar of Oklahoma's economy and workforce. In fact, it is the second-largest and fastest growing industry in the state.
Oklahoma's aerospace and defense industry includes more than 206,000 jobs and accounts for a total of $44 billion in annual statewide economic activity, according to Oklahoma Department of Aeronautics officials.
Nearly 90 percent of aerospace and defense companies operating in Oklahoma are in the business of maintaining, repairing and overhauling (MRO) aircraft.
Oklahoma has one of the world's best concentrations of skilled aviation workers and aircraft repair facilities and is acknowledged as one of seven centers across the globe for the MRO of aircraft, Oklahoma Aeronautics officials said.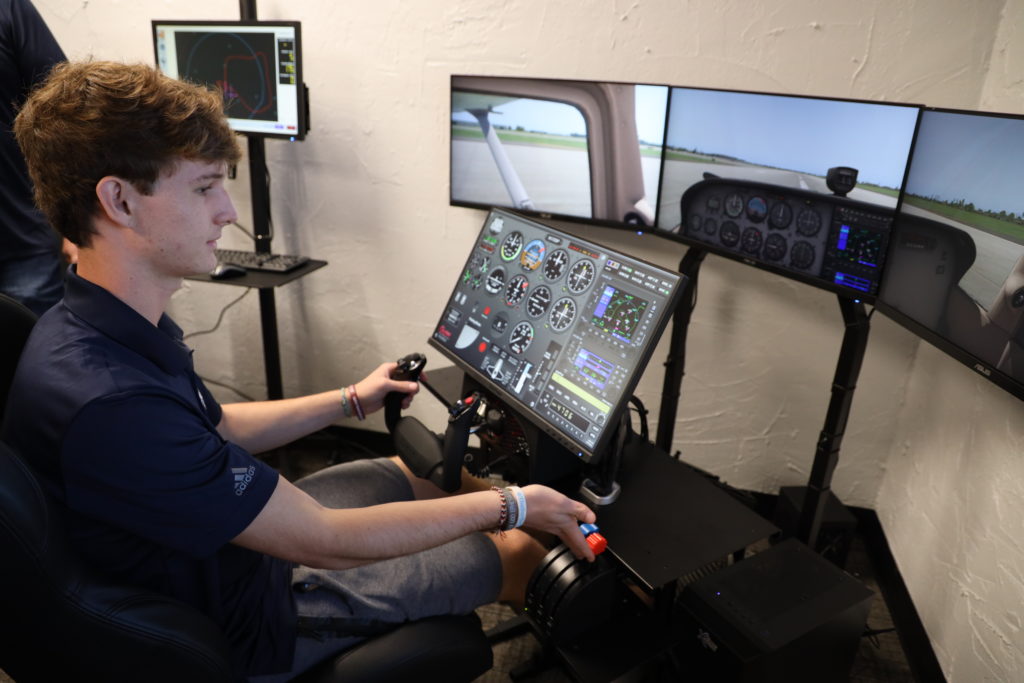 Education is a lynchpin of the state's aerospace industry. Nine colleges and universities in the state offer aerospace degrees and certifications, including Oklahoma State University, the first university in the nation to offer a PhD program in unmanned aircraft systems (UAS). Universities across the state average almost 5,000 aerospace and engineering program completions each year, according to Commerce Department officials.
Oklahoma K-12 schools are also emphasizing aerospace education.
The state was recognized as having the nation's top high school aviation curriculum. It is a leader in offering the Aircraft Owners and Pilots Association (AOPA)'s four-year "You Can Fly" high school curriculum. More than 80 high schools across Oklahoma offer the curriculum for the 2023-24 school year, Commerce Department officials said.
Norman Public Schools launched the Oklahoma Aviation Academy in the 2022 fall semester. High school students earn credit toward an aviation degree as well as drone certifications at the Aviation Academy.
The Aviation Academy was born from the vision of Rick Nagel, a University of Oklahoma regent who is also an Oklahoma Aviation Academy and Oklahoma Defense Industry Association board member.
"There is incredible alignment in Oklahoma with respect to supporting the aerospace sector by and among all the key stakeholders in the education and training space," Nagel said. "High schools have begun adopting the AOPA introduction to aviation elective as part of their core curriculum. Our Career Tech system, one of the best in the U.S., has invested heavily in the technical and hands-on professions needed to make sure students start their careers ready to contribute. Our colleges and universities, led by the University of Oklahoma, have all expanded their degree programs that cover all segments of workforce needs, with OU doubling its capacity and enrollment into the nation's number one flight training and aviation programs."
Visit okcommerce.gov/airshow to learn more about Oklahoma's aerospace and defense sector and for further information about the Oklahoma delegation for the 2023 Paris Airshow.