CRAIG COUNTY, Okla. (OBV) – Amusement is coming to Oklahoma on a grand, multibillion dollar scale.
An American Heartland Theme Park and Resort will be built in Craig County, located in Northeast Oklahoma. The $2-billion-plus investment will be a major entertainment destination located just west of Grand Lake on Route 66.
American Heartland, an affiliate of Mansion Entertainment Group, LLC, will build the 1,000-acre theme park and resort, which is expected to attract more than 4.9 million visitors to Oklahoma each year.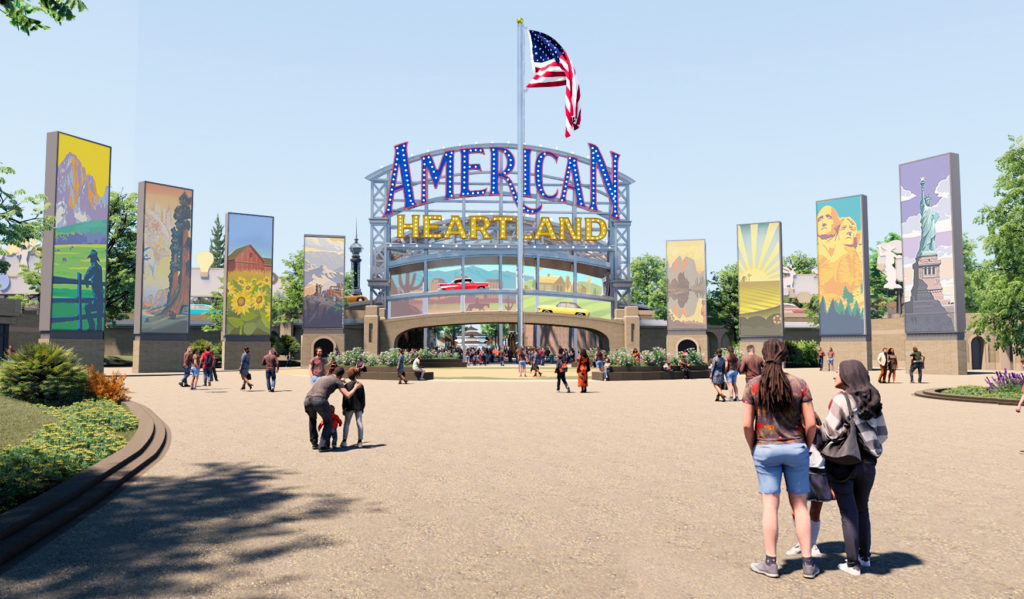 The attraction will be built in phases. A large-scale RVpark with cabins is set to open the first phase in spring 2025. The theme park and resort are scheduled for 2026.
American Heartland will rival the world's top resort destinations, American Heartland officials said.
"We are thrilled to make Oklahoma the home of American Heartland Theme Park and Resort," American Heartland CEO Larry Wilhite said. "At the crossroads of the heartland, Oklahoma is an attractive location for a family entertainment destination. The state's business-friendly approach and innovative partnership efforts have helped make this possible. We look forward to bringing unforgettable generational experiences to Oklahoma."
The 1,000-acre development will include a 125-acre theme park that was described in an American Heartland news release as comparable in size to both Magic Kingdom and Disneyland.
It will have an Americana-themed ambiance and a slew of rides, live shows, family attractions, waterways and restaurant-quality food and beverage offerings.
"Oklahoma is excited to welcome American Heartland Theme Park and Resort," Oklahoma State Rep. Rusty Cornwell said. "Located on historic Route 66 just west of Grand Lake, the development will attract visitors from around the world to experience and celebrate the rich cultures and hometown values America has to offer."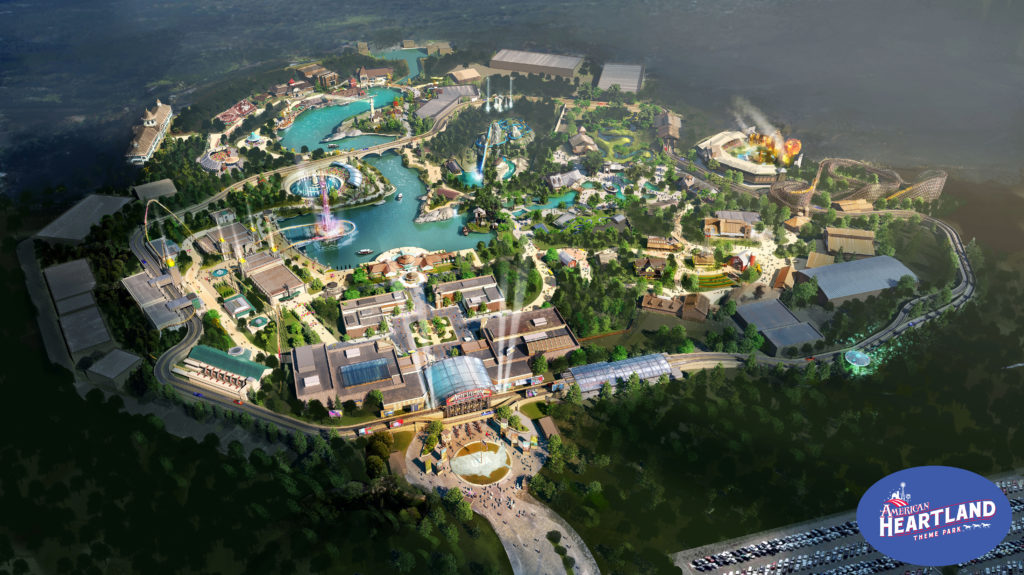 Oklahoma architects ADG Blatt will design the theme-park-adjacent, 320-acre Three Ponies RV Park and Campground, which is touted to be the largest campground in the central U.S. with 750 RV spaces and 300 cabins plus amenities.
"There's no better place to represent the heart of America than northeast Oklahoma," said Oklahoma State Sen. Micheal Bergstrom. "This $2 billion investment in our state will create more than 4,000 jobs and introduce a new category of entertainment to the region, and its long-term economicimpact will be transformative. Tourism is already one of Oklahoma's top industries and this project will elevate our state even further. Since tourism is a doorway to economic development, American Heartland Theme Park and Resort will draw new businesses not only to the surrounding area but also throughout the region and state."
American Heartland Theme Park and Resort was designed by a team comprised of more than 20 former Disney Parks builders and Walt Disney Imagineers. Participating design firms include THG, FORREC and Cuningham, whose portfolios include work for Six Flags, Disney Parks and Universal Studios.
"We are pleased that American Heartland Theme Park and Resort has taken the first step and chosen Oklahoma to build a world-class entertainment destination," said Hopper Smith, interim director of the Oklahoma Department of Commerce. "We look forward to assisting with this project as it develops."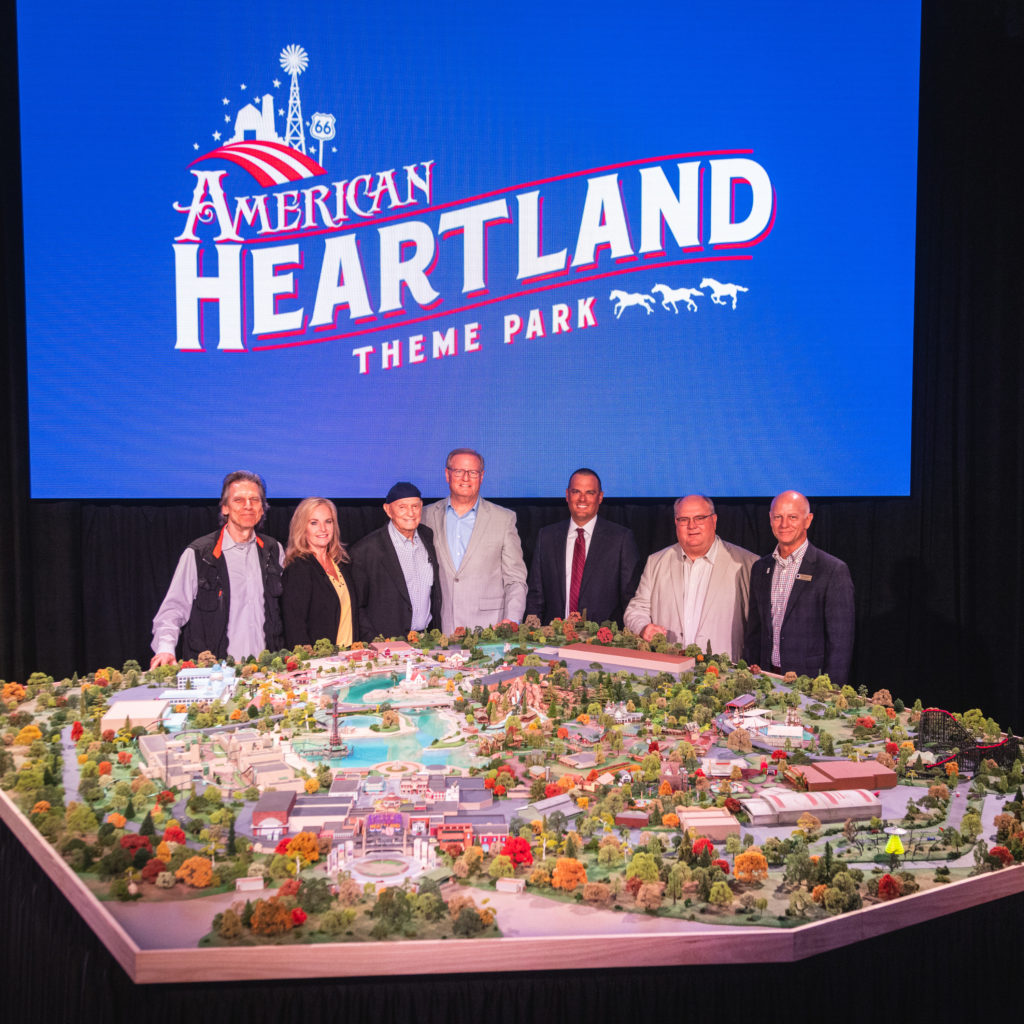 The theme park will feature six lands: Great Plains, Bayou Bay, Big Timber Falls, Stony Point Harbor, Liberty Village and Electropolis. Each will tell a unique part of America's story while offering rides and shows.
"American Heartland will be a place families can come together to create lasting memories, experience joy, laughter, imagination and wonder," American Heartland Founder and Chief Creative Officer Gene Bicknell said. "There is so much to celebrate about our country: its landscapes, its cultures and most importantly, its people. No matter where you're from, you'll feel right at home at American Heartland."
The destination will also include a 300-room hotel and modern indoor water park.
"American Heartland will be an anchor tourist destination on Route 66 set to attract more than two million out-of-state visitors to Oklahoma each year," said Kristy Adams, senior executive vice president of sales and marketing for Mansion Entertainment Group, American Heartland and Three Ponies. "The scale and quality of the development will be unlike anything else in the region, making Vinita, Oklahoma a can't-miss destination for families around the world."
Go to americanheartlandthemepark.com and threeponiesrvparkandcampground.com for additional information.