Note: This city has been updated to reflect the number of childcare centers and the number of childcare homes in Kingfisher.
KINGFISHER, Okla. (OBV) – Schools are back in session and teachers in Kingfisher are relieved to know they have a daycare option that will help them stay on the job.
Little Stingers Preschool & Daycare, 519 S 9th St., recently began its second year of caring for children of teachers and coaches who work for Kingfisher Public Schools.
It has proven to be a great source of comfort and reassurance for many staff members who not only had a difficult time finding a daycare with available space, but also an affordable option.
Little Stingers is now one of only two childcare centers in the Kingfisher. The city also has seven family childcare homes.
Coach Isaac Waltman, PE teacher at Heritage Elementary in Kingfisher, and his wife have an 11-month-old daughter.
"We knew going into the last school year we would need a daycare for her since we are both teachers," Waltman said. "Here in Kingfisher, there are a couple of daycare options, but they were all full, all booked for a couple of years out. We contacted three different ones. They said they could accept a few kids but not newborns, so we were out of luck."
He said his wife taught school in Hennessey, Okla., and that the school district their offered in-school daycare for teachers' children.
Waltman and a couple other Kingfisher coaches spoke with Superintendent David Glover, who at the time had just started in the position, about their childcare needs.
"We let him know a daycare is something that might help us out," Waltman said.
The stars aligned for the school district. A quaint, beige home that the school district leased to Head Start for $1 dollar a year became available.
Head Start, a free, federally-funded, community-based, early childhood education program that focuses on children ages three to five, operated the home as a childcare center. However, a Head Start official contacted the school district and said the agency could no longer use the house because they no longer had the staff needed to operate the childcare center.
Glover and his wife went to the house and looked it over.
"I said, with us having so much trouble finding teachers, that might be a good incentive to go in and try to get this going," Glover said. "And I had no idea what all went into it, but the little house already had a nice playground, and, of course, Head Start owned the playground equipment. It was already set up for that kind of a thing."
Glover investigated the needs that come with running a daycare and the pieces continued falling into place.
"My high school principal told me that his sister over in the Edmond area had run a daycare for teachers out of her home, [and that] she might be interested in coming over and managing it for me," he said. "She had all the licenses and everything, and I thought, 'Great.'"
The principal's sister visited the house and looked it over with Glover.
"She said, 'Yeah, I'll come do this if you want to do it,'" Glover said.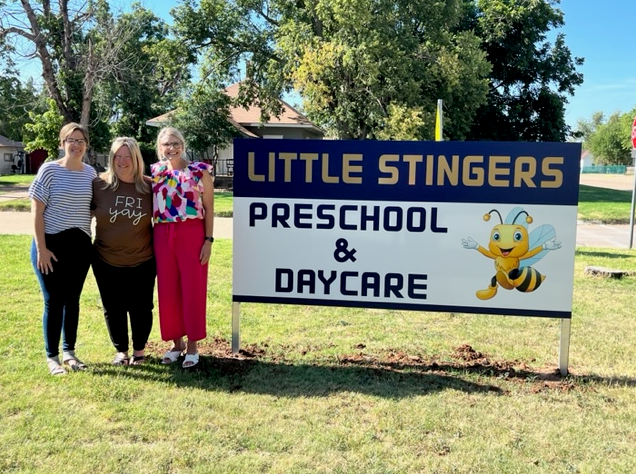 Glover then began the lengthy, highly scrutinizing Oklahoma Department of Human Services (DHS) licensing process. The three-step process includes a multitude of requirements, primarily proofs and documentations pertaining to the staff's ability to competently and safely care for children, as well as documentation that certifies the facility meets all childcare safety standards. It was a daunting endeavor.
"I started wondering if I really wanted to do this or not. I had to go get another background check," Glover said.
The school district met all the DHS guidelines within a month and obtained the needed licenses to open their daycare facility.
Once the daycare was open, a top priority was to make it affordable for their specific clientele: teachers.
"It's unbelievable to me what daycares charge," Glover said.
Childcare at Little Stingers is $500 per child, each month. Kingfisher teachers and coaches receive top priority.
"The price is amazing. Comparatively to other places out here, it's significantly cheaper," Waltman said. "It was our only option and it became the best option. The price is a great thing."
Little Stingers opened in the first week of August 2022. The process of running a daycare was a learning experience, Glover said.
"Last year was a little shaky but this year has been fantastic," he said. "We kind of rushed the start. We were learning on the fly. Now we know what we know. Last year we learned as we went."
The daycare currently cares for around 15 children.
"We will be [licensed] to house up to 22 very shortly and we're excited about that," Glover said.
Waltman said he and his wife are thankful the affordable price and the easy access to the daycare.
"It's close to our elementary school. So it's close proximity if there's an emergency. It really helped us out when we were in a bind," he said.
Little Stingers' success has officials from other school districts curious.
"There's a number of schools that are reaching out to us to find out how to get [their own] daycare going," Glover said.