OKLAHOMA CITY (OBV) – Oklahoma business personnel gathered at Devon Energy Wednesday for a special program discussing the best practices and strategies companies can utilize to address mental health concerns in the workplace.
The program, sponsored by Oklahoma Employers Healthcare Alliance, featured three key panelists: Colleen Dame, Compensation & Benefits manager for Devon Energy, Angela Dunlevy, licensed clinical social worker for Devon, and Jeff Branz, Total Rewards HR director for ONE Gas.
The panelists discussed how mental health has become a growing focus of concern in the workplace in recent years, and the actions Devon and ONE Gas has taken to help employees who are struggling with their mental health.
"When we have mental health [issues] going on, it takes away from our focus and affects productivity," Dunlevy said. "Anxiety and depression cost the global economy $1 trillion annually. The [U.S.] Surgeon General said mental health is the defining societal challenge of our time."
As Devon's licensed clinical social worker, Dunlevy provides counseling to employees who are struggling with various forms of mental health anxiety and related issues. She said she has treated employees for a wide range of issues that impact mental and work performance, including depression, stress, burnout, marital problems, divorce, substance abuse and excessive drinking of alcohol.
Devon has around 1,000 employees at its Oklahoma City headquarters and 1,000 employees out in the field in rural areas in Oklahoma, New Mexico and Texas, among other states.
Dame joined Devon in 2013, a time when the company was implementing its wellness program.
"We started with traditional wellness, physical activity and nutrition," Dame recalled.
Devon's wellness program evolved to help employees with mental wellness as well.
"We decided that the whole person is coming to our campus," Dame said. "They're not just dealing with physical issues, they're dealing with financial issues and mental wellbeing issues. We really wanted to enhance our mental health offerings."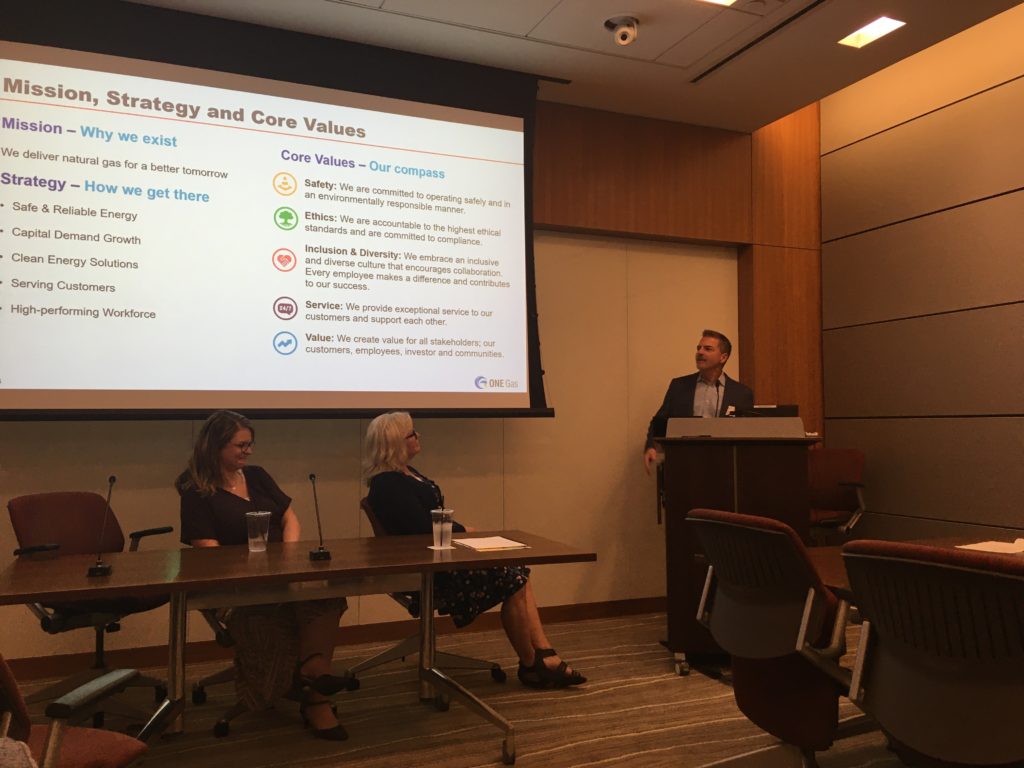 When the COVID-19 pandemic hit, it shook workplaces across the nation. Employers, administrators and managers had to react on the fly, with many deciding to protect their staff by either having employees work remotely from home or giving them the option to do so.
The sudden change in work dynamics and fear over coronavirus, which was killing thousands of people across the nation each day, took a major toll on workers' mental health.
"COVID brought to the forefront mental health. It exploded the issue, [bringing it] front and center," said Branz. "It started a whole new reality for us about mental health and the topic of mental health. How do we connect with our employees, our customers."
All three panelists touched upon the stigmatization of mental health issues, saying that employees are often afraid to speak with employers about the mental health issues with which they are struggling.
"The need is real. Twenty percent of our population need [mental health counseling]," Branz said. It's about getting them that proper access, and COVID has helped in making that access more available."
The panelists agreed that mental health issues cause employees to be less productive and less engaged in the work process.
A Gallup report stated that 70 percent of workers in the United States come to work uncommitted to delivering their best performance. Of the 70 percent, 52 percent are not engaged and the other 18 percent are actively disengaged.
"This has serious implications for the bottom line of individual companies and the U.S. economy as a whole," the Gallup report states.
Actively disengaged employees cost the U.S. $450 billion to $550 billion in lost productivity per year, according to Gallup estimates.
Both Devon and ONE Gas implemented multilayered mental health awareness and assistance programs.
Devon employees and dependents ages 13 and up have access to free online therapy, enabling them to chat and text with counselors in real time.
ONE Gas worked vigorously to implement a mental wellness program to better ensure employee safety.
"If we don't have an employee coming to work bringing their whole self, they are more likely to have an accident, and that accident can result all the way up to death. We wanted to make sure our employees were engaged," Branz said.
ONE Gas provides an employee assistance program that offers mental health counseling, financial stress management and virtual care.
"We do things around financial well-being so when you come to work you're not [worrying about] how to pay your next bill," he said.
Worker safety is the paramount concern, Branz said.
"One in five employees is probably going through mental health event," he said. "If you can get them the right care, they will be more safe and productive."