OWASSO, Okla. (OBV) – The Cherokee Nation is making its big picture even bigger.
Members of the Cherokee Nation recently gathered at Cherokee Film's Owasso campus and broke ground on a new soundstage and other production spaces that will expand Cherokee Film Studios.
"Cherokee Film aims to become a global production hub at the center of the film, TV and entertainment industry that champions diversity and inclusion for underrepresented voices," Cherokee officials said in a news release.
The 10,000-square-foot soundstage will be the studio's second soundstage. It will have a 35-foot ceiling, cinema-standard full soundproofing, a modular truss system with chain hoists, a hair and makeup room, a multipurpose flex space, restrooms, 14-foot bay doors for load-ins and RV hookups for production trailers.
"The film and television industry is a forever industry within our reservation. Cherokee Film remains on the leading edge of it because its leadership and staff are working every day to keep it that way," said Cherokee Nation Principal Chief Chuck Hoskin Jr. "As we increase infrastructure, such as we're celebrating today, we are fueling the growth and expansion of this exciting industry that will help drive an economic boost for our communities, create new quality jobs and bolster our talented citizens and small Native-owned businesses alike."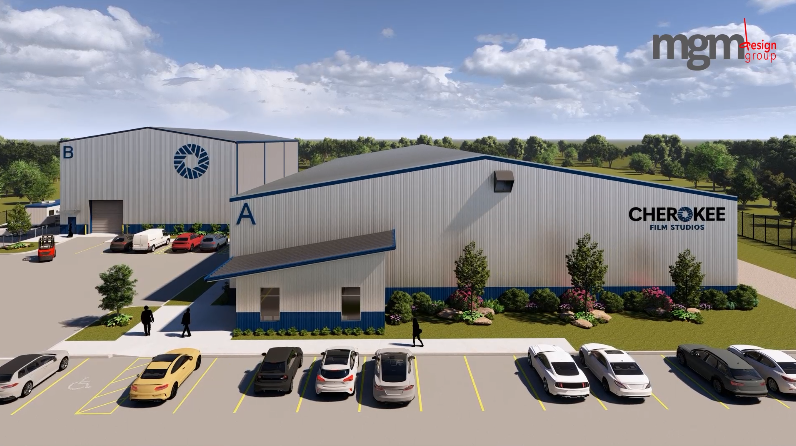 The expansion is expected to be completed in early 2024.
"In pursuit of our longtime mission of growing the tribe's economy, our company invests in the success of Cherokee Nation through new and diverse opportunities across the globe," said Chuck Garrett, chief executive officer for CNB. "The rapid and continued growth of Cherokee Film is an excellent example of our commitment to continually finding new ways to diversify our efforts so that we can provide even more funding and resources for our fellow Cherokee citizens while remaining a positive community partner for our state."
The following spaces will also be built as part of the expansion:
New lobby and client waiting area
Construction mill space equipped with a cyclonic air filtration system
Multipurpose/flex space
Production offices
Conference rooms
Wardrobe and storage spaces
Audio recording suite
Catering kitchen
Additional greenroom
"This is an excellent illustration of our commitment to fulfilling the infrastructure needed to help grow the state's burgeoning film industry," said Jennifer Loren, senior director of Cherokee Film. "The expansion of Cherokee Film Studios, Owasso Campus will answer the region's need for purpose-built professional facilities while simultaneously providing an industry-leading space for Cherokee Nation to create our own productions at the highest level possible."
The current studio is 27,000 square feet and located on more than four acres within the tribe's reservation, less than 20 minutes from Tulsa International Airport. It has state-of-the-art extended reality (xR), virtual production LED volume studio crafted with industry-leading software and hardware technologies.
The campus also consists of 14,000 square feet of dedicated virtual production and practical studio space, edit suites, a control room, a pro-grade audio booth, crew and client lounges and hair and makeup facilities.
Film and television production has grown significantly in Oklahoma in recent years. The hit Paramount Plus show "Tulsa King" was filmed in Tulsa, Oklahoma City and other in-state areas, and the popular FX television show "Reservation Dogs" is shot in the Sooner State, specifically in Okmulgee. The soon-to-be-released feature film "Killers of the Flower Moon," directed by legendary filmmaker Martin Scorsese and starring Leonardo DiCaprio, Robert De Niro and Brendan Fraser, filmed in several locations across Oklahoma, including Bartlesville, Fairfax, Osage County, Pawhuska and Tulsa.
The growth is obvious, according to Oklahoma Film & Music Office charts that provide fiscal year breakdowns of the number people hired for film and television productions in the state, the amount of money spent in the state by those productions and the wages paid out by the productions.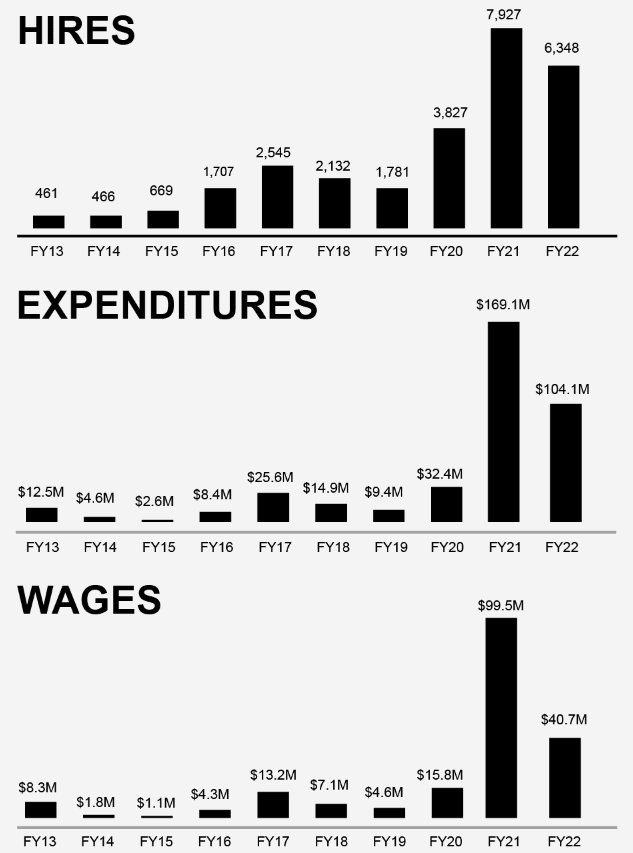 Jeanette Stanton, director of the Film & Music Office, said film production expenditures and wages in Oklahoma sharply declined from FY21 to FY22 because "Killers of the Flower Moon," the largest film production in the state's history, was produced during FY21.
Film production impact numbers for FY23 are expected to stay somewhat consistent with FY22 numbers, Stanton said.
"However, looking into our current FY24, there could be more notable changes between those fiscal years due to legislative changes, the type of projects we've had during this time and the SAG/WGA strike," she said.