OKLAHOMA CITY (OBV) – Young torchbearers who will lead Oklahoma's business industry into the future were the talk of the State Capitol on Monday.
Oklahoma recipients of the NextGen Under 30 award gathered for NextGen Under 30's Day at the State Capitol event, which included speeches from Lt. Gov. Matt Pinnell and business leaders, as well as a luncheon and networking.
Hundreds of professionals under 30 years old filled the capitol's fourth floor rotunda and listened as Pinnell spoke about the significance of their efforts within Oklahoma's professional landscape.
Gov. Kevin Stitt recently appointed Pinnell the state's secretary of workforce and economic development, a position he created for Pinnell.
Pinnell said the young women and men at the event are the engine that powers Oklahoma's workforce and the continuing growth that will make Oklahoma a top business state.
"We cannot build the kind of state that we want without you," Pinnell said. "There's many people that have come before you, but you're going to be blazing the trail forward. You're going to be working and potentially years from now in industries that don't even exist yet. That's how quickly commerce is developing and adapting inside the state."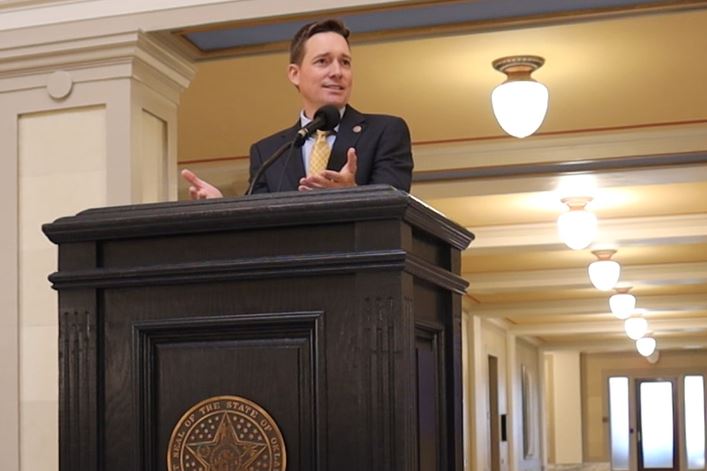 Pinnell told the young professionals that it is up to them to define themselves and realize the great potential of what they and their state can be.
"If we don't define who we are as a state, 49 other states are going to define it for us," Pinnell said. "If you don't define you – those of you all in the audience – if you don't define what Oklahoma means to you, to your friends and colleagues in other cities, in other states, they're going to have the same negative perceptions, unfortunately, of the state of Oklahoma."
The diversity and talent of the young professionals in attendance will forge the state's future and enable Oklahoma's cities to compete against major metropolitan areas in the Midwest and the Southwest.
"We can win. We can compete against Dallas and Kansas City, Houston and all these other thriving communities for young talent. Because of you, it is our people that separates us. And I know it's easy to say that, but today in Oklahoma, we have more companies looking at our state today than in any time in state history," Pinnell said.
Grow with Google's Emily Giese spoke after Pinnell. Giese, who is 29, won the Next Gen Under 30 award three times.
"After earning three awards, I've just learned that success is an army of talent, tenacity and relentless learning," Giese said.
Giese spoke about her career trajectory and how she evolved from being a protégé to a mentor.
"To leave a mark and stand as a guiding light, an innovator, and perhaps the tech lifeline your office never knew it needed," she said. "Don't be above helping a colleague."
Giese encouraged the NextGen Under 30 honorees to have faith in their abilities.
"Your presence here is a testament to your capabilities," she said. "Embrace your uniqueness, and remember, age is just a number. Experiences are the true milestones."
Brent Skarky, vice president of communications for The State Chamber of Oklahoma, also spoke during the event. He told the NextGen Under 30 recipients that they are the future of business and politics in the state and that they should savor their time at the State Capitol and make invaluable connections with one another.
"This place needs to be familiar and you need to be familiar with a lot of the faces that are here. You guys are the future. Congratulations. It really is a true honor for you to be part of this next Gen Under 30 class. It is something that you're going to remember for a long time," Skarky said. "Remember the person next to you. Remember the person in front of you for a long time. Because the connections you make with this group, those connections will last through a lifetime. They'll be friends, but they'll also be important business and possibly political allies that you'll need to call upon. It's all about who you know, who you know, who you know. So, get to know as many people as you can today, especially afterwards."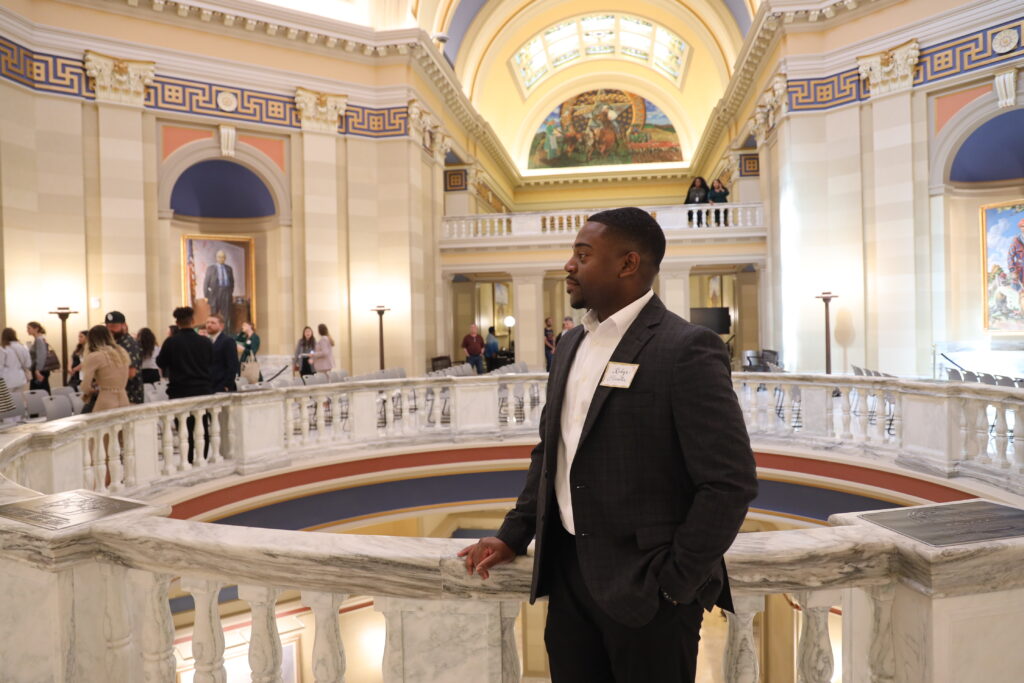 Ridge Hester, a NextGen Under 30 award winner, is achieving milestones of which he and his family can be proud.
Hester works for Elekta, a Swedish company that provides radiotherapy services for cancer care. He works out of the company's Oklahoma office and often travels across the state and to neighboring states to sell radiation therapy devices. He said helping patients with their cancer journey is the most rewarding part of his job.
"To be in Oklahoma and make that direct impact for the patients here is huge," Hester said.
Hester is dedicated to service. He has a ministry and sings at churches across the Oklahoma City metro. He wants his good efforts to be a legacy that his son, Ridge Jr., can look up to.
"[My hope] is to make that impact, for him to say, 'My dad made a positive impact.' We need positivity in our world," Hester said.
The NextGen Under 30 award inspires young professionals to work hard and be achievement-oriented, according to Hester.
"When you are recognized for what you do and people see it, it helps develop that track of success," he said. "For all of us young people, it provides hope that our generation is helping the community for the better."