OKLAHOMA CITY (OBV) – Lt. Gov. Matt Pinnell highlighted the many contributions Native American tribes are making to Oklahoma's workforce and business landscape and the potential for future growth during a luncheon at the First Americans Museum this week.
The American Indian Chamber of Commerce of Oklahoma hosted the luncheon at the First Americans Museum in Oklahoma City on Wednesday.
Pinnell spoke before tribal business leaders as well as various members of Oklahoma's business community about a range of topics including workforce, entrepreneurship, business development and tourism – all topics that Pinnell has focused on in his role as lieutenant governor.
Gov. Kevin Stitt recently appointed Pinnell the state's secretary of workforce and economic development, a position he created for Pinnell. Pinnell was previously the state's first secretary of tourism and branding.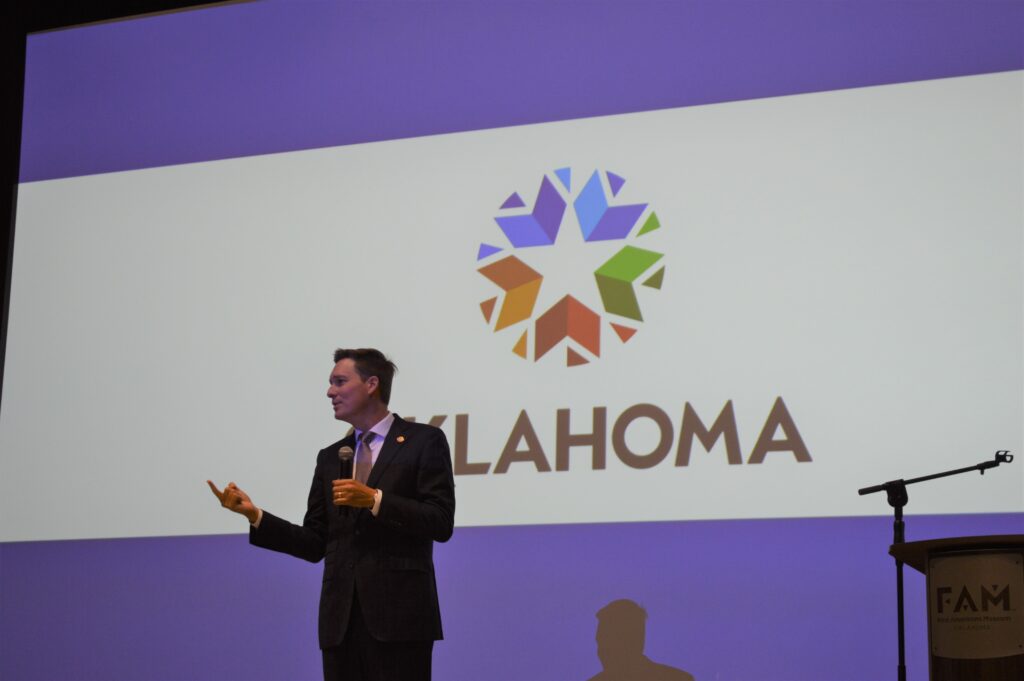 Pinnell gave special mention to the Chickasaw Nation's Adventure Road advertising campaign, which goes beyond promoting casinos by also spotlighting destinations and attractions throughout Oklahoma.
"It's generated a whole lot more sales tax revenue for a lot of communities, particularly rural communities, because they chose to do that. That is not the Oklahoma Department of Tourism's campaign. That's the Chickasaw Nation's campaign," Pinnell said. "It's a great example of a rising tide lifting all boats here."
Oklahoma's sovereign tribal nations give the Sooner State a great advantage over other states, according to Pinnell.
"They don't have another nation that is spending millions of dollars advertising and creating billions of dollars of sales tax revenue," Pinnell said.
Pinnell lauded the tribal nations for their efforts to create new industries and workforce sectors within their lands. He gave special mention to the Cherokee Nation joining Oklahoma's growing film and television production industry.
The Cherokee Nation recently broke ground on an expansion of Cherokee Film Studios in Owasso. They will build a 10,000-square-foot soundstage that will be the studio's second soundstage. The new soundstage will have a 35-foot ceiling, cinema-standard full soundproofing, a modular truss system with chain hoists, a hair and makeup room, a multipurpose flex space, restrooms, 14-foot bay doors for load-ins and RV hookups for production trailers.
"Killers of the Flower Moon" – directed by legendary filmmaker Martin Scorsese and starring Leonardo DiCaprio, Robert De Niro and Brendan Fraser – was filmed in several locations across Oklahoma, including Bartlesville, Fairfax, Osage County, Pawhuska and Tulsa.
Pinnell said the soon-to-be-released feature will bring greater attention to Oklahoma's tribes and lead to more film production opportunities for the state and tribal nations.
"The moment in time we have here, 2023, of getting tribal representation on film, and television and music, I think is absolutely unprecedented," Pinnell said. "We have such an amazing opportunity as a state to create a whole lot of jobs in that industry. I know there's a number of people here today that work inside of that industry."
Pinnell emphasized the importance of the state and tribes working together to achieve mutual success. He cited the First American Museum as a shining example of how something great can be created when the state and the tribes join forces.
"Yes, we spent some money down at 23rd and Lincoln to help, but this would would not be here if not for our tribal nations partnering with the state of Oklahoma to build this museum for all our nations," the lieutenant governor said.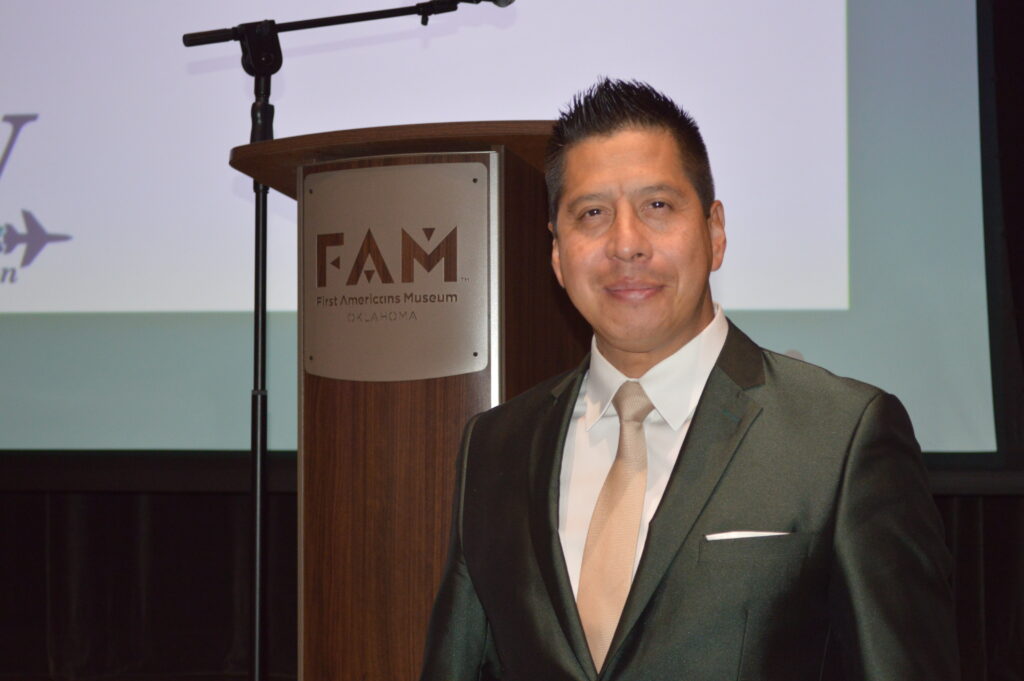 Bailey Walker, state president of the American Indian Chamber of Commerce of Oklahoma, said the luncheon was a great opportunity to create robust dialogue between the sovereign nations and the state "to work cohesively and collectively for a better Oklahoma."
"We are all together in this. The rising tide should lift all ships," Walker said. "I think [Lt. Gov. Pinnell] being here today is a great opportunity to shed light on marketing and tourism and workforce development – all three are really in the supply chain of people. I think he expressed a great opportunity to work together within that capacity."
Tribal nations are developing workforce's future generations by investing more money into CareerTech, according to Walker.
"It's very important that we continue to push endeavors within those sectors to be able to create more dynamic business opportunities for those would-be entrepreneurs," Walker said.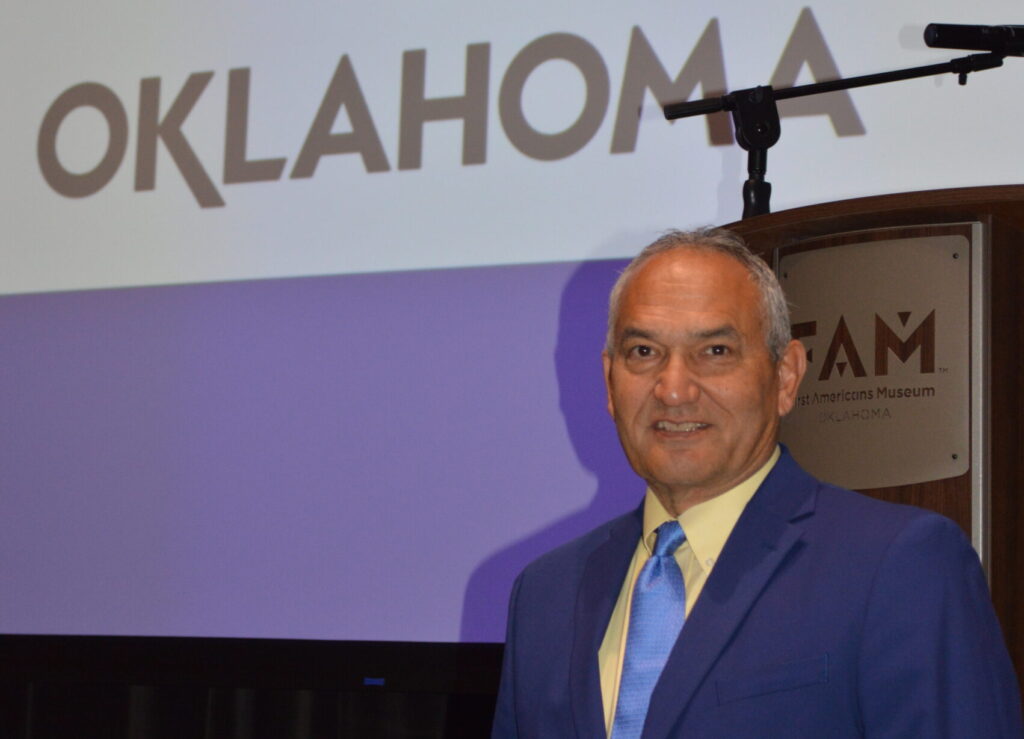 Nathan Hart, vice president of the American Indian Chamber of Commerce of Oklahoma's Oklahoma City chapter, said investing money into special skills training and workforce development will benefit the tribal nations because manufacturing companies are looking to locate in smaller, regional areas.
"I know some tribes really put an emphasis on their labor pool. They work closely with the local and regional educational institutions with a focus on developing the workforce," Hart said. "They want a skilled worker pool not just for the skilled labor and talent they need for the businesses they're running, but they also understand that as a tribal government and tribal business entity, they want to attract other businesses to their tribal lands, and the skilled workforce is critical to that."
A sound infrastructure is essential to attracting lucrative companies and businesses, Hart said.
"We're seeing right now a lot of broadband money coming into the state. It sounds very simple that you want internet for all, but developing that backbone, that infrastructure benefits more than just the household, benefits more than just the educational institutions. It's going to attract businesses that need that type of telecommunications infrastructure in place," Hart said.
Hart praised Pinnell for working with tribal business leaders.
"Lt. Gov. Matt Pinnell has been a strong advocate of tribal relations ever since I've known him," Hart said. "I got to meet him early on in his career as lieutenant governor, and I think he's going to continue to be an advocate for a great working relationship between all governments – tribal governments, city governments and state government."
Pinnell spoke with Oklahoma Business Voice after the luncheon and said that the tribal nations are working hard to help Oklahoma succeed in its quest to become a top business state.
"They're creating accelerators and incubators to invest in local entrepreneurs in rural parts of the state, which is a very big deal because we are trying to make sure our younger talent in the state has the opportunity to build businesses here instead of going to another state to build those businesses," Pinnell said. "Gaming has provided them the ability to be very strategic investing in other industries and investing in their citizens, including entrepreneurial services that really helps the state of Oklahoma from a small business perspective and a big business perspective."