OKLAHOMA CITY (OBV) — Gov. Kevin Stitt's former deputy chief of staff is now on the job as his new secretary of state.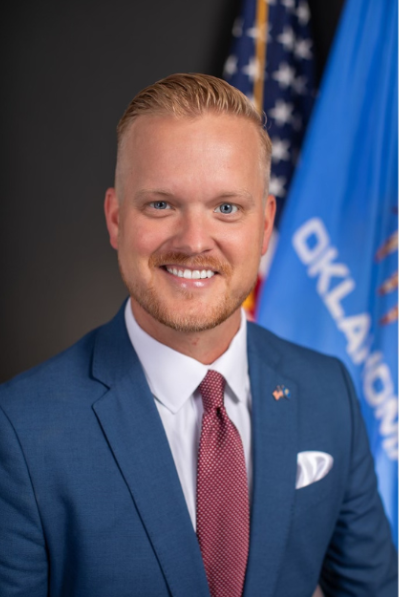 Stitt recently appointed Josh Cockroft to serve as his secretary of state and chief policy advisor.
Cockroft succeeds Brian Bingman in the top cabinet position.
"Josh is a dedicated and widely respected public servant who has served Oklahomans with integrity for over a decade," Stitt said. "His legislative expertise and commitment to our Top Ten agenda make him the perfect fit to be the next secretary of state and I'm proud to have him on my team."
Cockroft previously worked as Stitt's deputy chief of staff and senior policy advisor. His work prior to joining Stitt's team includes three years as the senior director of government affairs for the Oklahoma Association of Realtors, in which he led all federal, state and local governmental activities; Cockroft served as a state representative for the people of House District 27 in Pottawatomie and Cleveland Counties from 2010 to 2018; served in numerous leadership positions under four speakers of the House of Representatives while he was an elected official; chaired the House Rules Committee; led two Special Investigative Committees; was on multiple policy and budget committees; and was a member of the Presiding Officer Team. He also has a background in farming and ranching.
As secretary of state, Cockroft will lead Stitt's policy operation, developing and monitoring legislation and regulation and advising Stitt on all executive acts.
"It's an honor to be named secretary of state and chief policy advisor to Governor Stitt," Cockroft said. "I look forward to further strengthening relationships with my colleagues in the Legislature and I'm thankful for the opportunity to continue serving my fellow Oklahomans in the Stitt administration as we strive to make our state the best place to live, work, and raise a family."
Stitt thanked Bingman for his work as secretary of state.
"Secretary Bingman has been an incredible asset to the state, my administration, and Oklahomans for over three years," Stitt said. "I'm appreciative of his unwavering service and I wish him the best in his next chapter."
Bingman joined Stitt's cabinet in 2020. He helped build the largest savings account in Oklahoma history and implemented Stitt's "Top Ten" vision for the state. He was previously the mayor of Sapulpa and the longest-serving Republican president pro tempore in Oklahoma State Senate history.
Bingman said he was honored to have worked for Stitt.
"I am proud of the work we accomplished over the last three years, and I know he will continue to accomplish great things for the people of Oklahoma," Bingman said.