OKLAHOMA CITY (OBV) – Paula Faris, a childcare advocate and former Good Morning America Weekend anchor, brought her fight for childcare reform to Oklahoma City, calling upon the state and other states across the nation to address the childcare crisis that impacts countless working families.
Faris is an Emmy Award-winning journalist who founded CARRY Media, an advocacy organization that supports working mothers. She is also the author of You Don't Have to Carry it All. She co-anchored Good Morning America Weekend, co-hosted The View and hosts her podcast, Journeys of Faith with Paula Faris.
She visited Oklahoma City last week and served as the keynote speaker for the Oklahoma Commission on the Status of Women (OCSW) 2023 Fall Summit at Oklahoma City Community College.
Her message: high-quality, affordable childcare reform is needed now and is essential for a healthy economy, healthy family life and gender equality.
"We know that we are losing $122 billion in our economy almost every year because of the lack of access to quality, affordable childcare," Faris said. "We know that we are losing $122 billion in our economy almost every year because of the lack of access to quality, affordable childcare."
The cost of childcare is prohibitive, and working mothers are struggling to stay in their career because of the astronomical cost, Faris said.
"We know that the cost has skyrocketed, and that's important for states here in the United States. It costs more to send your kids to daycare than it does to pay your kids in-state tuition. That is bonkers, right? And then here's the kicker. It is the number one problem for women in the workplace, the lack of affordable childcare. And yet people really don't care," Faris said.
Obtaining childcare, affordable childcare especially, has been an ongoing challenge for Oklahoma parents, with many having to quit their job to stay home and take care of their child.
Parents nationwide are exiting the workforce due to diminishing childcare options.
A U.S. Chamber of Commerce Foundation study states that 58 percent of working parents reported leaving their job because they could not find viable childcare. Also, 32 percent of women surveyed said having to be home to care for family members made returning to work difficult.
Mothers are especially impacted, quitting work at an alarmingly high rate to stay home and take care of young children. The labor participation rate among Oklahoma mothers with children ranging from infant to four years old declined 6.1 percent between 2020 and 2021.
The childcare shortage is not only causing parents to leave their job, it's also preventing them from returning to work.
"Dropping out of the workforce to care for children greatly disadvantages women, often in the form of lower wages and missed promotions," the U.S. Chamber report states.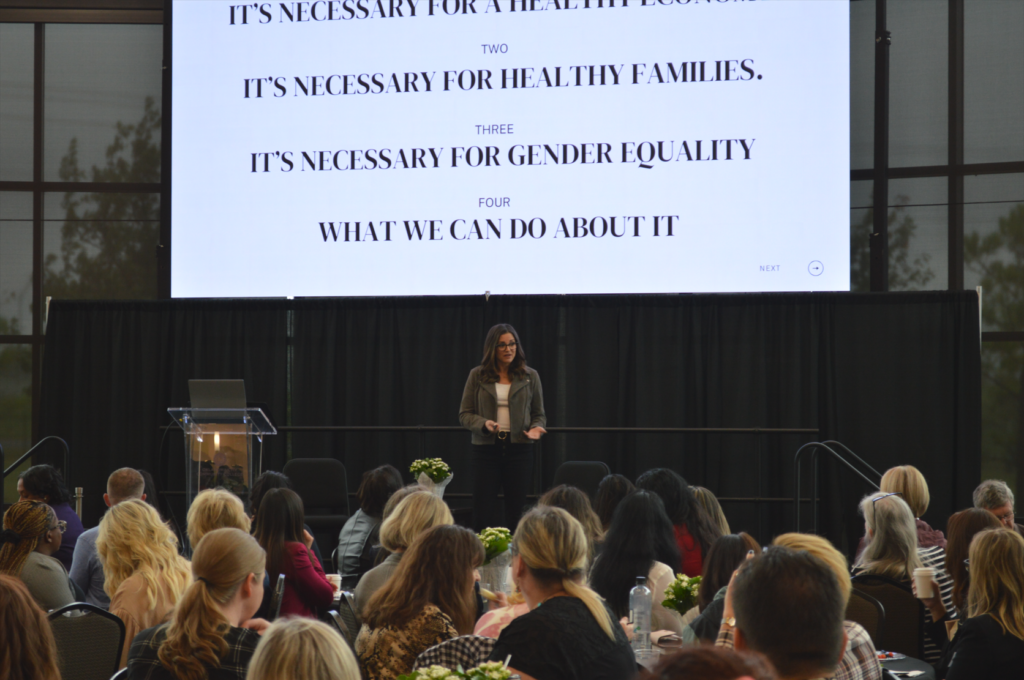 Faris spoke with Oklahoma Business Voice about the childcare crisis and explained why state legislators must prioritize childcare reform during the next legislative session.
"I think we have to look at quality, affordable childcare as necessary, not just for healthy families, but for a healthy economy. Because if we do not invest in children and we make it more difficult for families to have children, we'll have fewer and fewer children," Faris said. "We have a labor shortage. We cannot grow our economy. It's not just the right thing to do. It bodes well for our economy to invest in families. And one of the greatest things that they could do is offer a really incredible tax credit for families to take a load off. I mean, the amount of money we get as parents and the tax code at the end of the year is offensive."
It comes down to putting American families first, Faris said.
"If we say we're a family-friendly country, we kind of have to put our money where our mouth is. We have to support families, and supporting them means actually putting those policies in action," Faris said. "It's good for our economy to invest in families, in childcare. It's for the betterment of our families, and it's good for gender equality, too. Lack of access to affordable and quality childcare is the number one barrier for women in the workforce. We went off a cliff and nobody seems to care, but yet we're losing $122 billion or more each year because of the lack of access."
Faris said childcare should be subsidized.
"You look at Europe where they have a collective care responsibility. There the attitudes are different; they have a mentality of I am my brother's keeper because they realize kids are the future of our country. They are the next generation, and we need to invest in them. They have early, early cognitive development," she said.
Childcare options have grown increasingly scarce in Oklahoma.
Thirty-four of Oklahoma's 77 counties (55 percent) are considered childcare deserts. The childcare crisis costs Oklahoma $1.2 billion annually in lost earnings.
Childcare facilities have been on the decline in Oklahoma for more than a decade.
Oklahoma had more than 4,000 facilities in 2012; that number dwindled to 2,954 by 2021, a more than 25 percent drop.
Carrie Williams, executive director of Oklahoma Child Care Resource and Referral, told Oklahoma Business Voice in April that long childcare waiting lists prevent many parents from getting their child into a facility.
"The wait list for childcare can be up to two years for an infant. So, they're not an infant anymore by the time the parents can obtain childcare," she said.
Rep. Suzanne Schreiber, D-Tulsa, attended the summit and spoke during a breakout session. Schreiber has been a stalwart proponent of childcare reform. She authored House Bill 2452, which succeeded in the Oklahoma Legislature this past Spring and was signed into law by Gov. Kevin Stitt. The bill streamlines Oklahoma's family childcare home licensing regulations to help daycares and other such facilities stay open, which ensures greater childcare availability for Oklahomans. It was a key bill in the legislative effort to expand childcare and get more parents back into the state's workforce.
Schreiber spoke with Oklahoma Business Voice at the start of the summit about the childcare crisis and the significance of the summit.
"There's a really broad range of knowledge in this room. There's people who are deeply knowledgeable about the way childcare funding works, and there's people who are just understanding that this is an issue for the first time," Schreiber said. "And that is why I think it's a great event, because that allows for that cross-pollination of everybody to share the information and deputize everyone here in this room, no matter what their role is – whether they're on the commission, whether they're a provider, whether they're an employer, whether they're a policymaker – to go out with these facts and advocate for this because this is a good issue for the whole state. We need to get this done."
Oklahoma businesses have been adversely impacted by the childcare facility and worker shortage, seeing a 6.1 percent decline in workforce labor participation among Oklahoma mothers who have children ranging in age from infant to four years old. It's a problem impacting businesses across the board.
"It's in every sector. It's [happening] at a very high, professional level and it's at the manufacturing level – it's at that kind of a hands on level," Schreiber said. "We need all of those people to grow Oklahoma's economy."
Childcare breakdowns cause states to lose an average of $1 billion in economic activity annually, according to the foundation study. Part of the lost revenue stems from the cost of parents missing work because quality childcare was not available—or unaffordable.
The average cost of childcare in the U.S. ranges from $11,000 to $29,000 annually, according to the U.S. Chamber.
Oklahoma parents who manage to find a childcare facility nearby often have to contend with high childcare costs. Oklahoma is one of the 10 most expensive states for childcare costs, with families having spent 6.9 percent of their income on childcare in 2020.
Jennifer Ellis, president and CEO of Cosmetic Specialty Labs Inc. in Lawton, attended the summit and spoke during a breakout session. Childcare is a priority at Ellis' company, providing employees an environment that enables them to bring their children to work. It's a tradition her grandmother started when she founded the company.
"She really began the program, and we continued and expanded it really out of necessity," Ellis said to Oklahoma Business Voice. "Being able to to find employees has often hinged on them being able to either have some help before or after school or sometimes during the day. So, it's been more of the necessity to find employees in Southwest [Oklahoma]."
The lack of affordable and accessible childcare is a crisis in Oklahoma, Ellis said.
"It is certainly contributing to our workforce shortage," Ellis said. "We certainly have to continue to bring awareness to this issue and how critical childcare is to workforce development."
The childcare crisis is a national epidemic. Businesses across the nation are losing employees because of childcare shortages. Childcare system gaps prevent businesses from fully re-staffing their operations, which leads to closures and operation hour reductions across all industries. The Foundation study states that employee absences and turnover costs employers anywhere from $400 million to $3 billion a year.
The state has relied on funds from childcare desert grants as well as stabilization grants to help Oklahoma childcare centers as well as incentivize the opening of new centers.
Subsidized childcare aid provided through a federal Childcare Development Fund grant is helping low-income Oklahoma families reenter the workforce. It also aids individuals working in the childcare field.
The childcare crisis is a struggle that affects all Oklahomans, Schreiber said.
"We have people here from Laverne, Okla., we have people here [at the Summit] from Stillwater, Tulsa, Oklahoma City. It's not a rural or urban issue – it's a whole state of Oklahoma issue, and when we work on it together, we're really going to see some huge return on our investments," Schreiber said.