OKLAHOMA CITY (OBV) – A $400-million Chickasaw Nation resort and waterpark that is expected to create 800 jobs in Oklahoma City recently hit a major development milestone.
Chickasaw Nation Governor Bill Anoatubby presided over a topping off ceremony for the in-development OKANA Resort & Indoor Waterpark in Oklahoma City's new Horizons District, just east of I-35 and south of I-40 along the Oklahoma River, adjacent to the First Americans Museum. The ceremony celebrated the laying of the final steel beam on the resort's 11-story, 404-room hotel.
In addition to the riverfront hotel, the resort will include a spa, outdoor adventure lagoon, amphitheater, indoor waterpark, restaurants, Native American marketplace and retail outlets.
"Once completed, we anticipate OKANA will build off the momentum of the First Americans Museum and quickly become a destination resort with a significant economic and cultural impact," Anoatubby said after the ceremony, which was held on Nov. 2.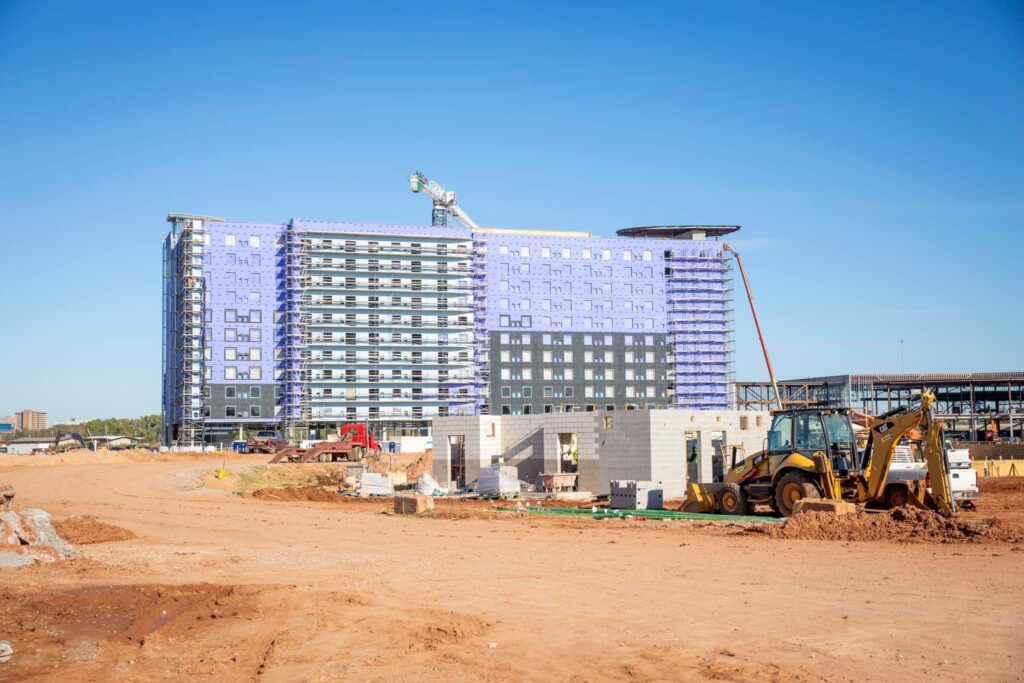 Mayor David Holt spoke during the ceremony.
"Today's topping-out ceremony means we can now see the 2025 grand opening from here. OKANA is one of the biggest developments in OKC history and we are so grateful to Governor Anoatubby and the Chickasaw Nation for their continued partnership and friendship," Holt said on social media.
The Chickasaw Nation and City of Oklahoma City are partnering on the resort, which is expected to be a world-class tourist destination.
The massive attraction will include the following:
Five-acre outdoor adventure lagoon lined with sandy beaches and a pedestrian bridge that crosses over;
33,000-square-foot family entertainment center that has a 100,000-square-foot indoor waterpark, golf simulator, multiple retail outlets and restaurants;
39,000-square feet of conference center space;
Native American marketplace;
1,500-seat amphitheater.
The resort is expected to have a billion-dollar impact on Oklahoma City within a decade of its expected 2025 opening.
The Chickasaw Nation unveiled plans for the resort in 2021.