TULSA, Okla. (OBV) – President Joe Biden designated Tulsa one of the nation's inaugural 31 Tech Hubs in his plan to strengthen U.S. economic and national security and grow the workforce of the future.
The Tech Hubs Program invests in regions throughout the nation that have the assets and resources to potentially become globally competitive in future technologies and industries. The plan aims to grow those industries and keep jobs within those industries in the U.S. The Tech Hubs designation endorses a "region's plan to supercharge a critical technology ecosystem and become a global leader over the next decade," according to U.S. Economic Development Administration (EDA) officials.
"President Biden's Investing in America agenda is rooted in policies that will empower the United States to out-innovate and out-compete the rest of the world. Our Tech Hubs Program is fundamental to that mission and will supercharge innovation across the nation by spurring cutting-edge technological investments and creating 21st century job opportunities in people's backyards," said U.S. Secretary of Commerce Gina Raimondo. "Each of these consortia will help us ensure the industries of the future—and their good-paying jobs—start, grow, and remain in the United States."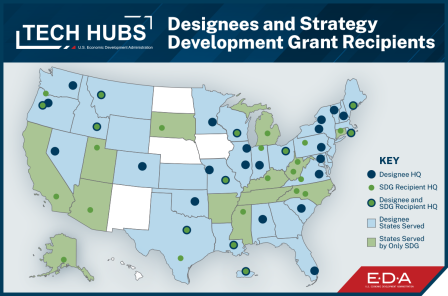 The program unites diverse public, private and academic partners who will work together to drive inclusive regional growth. The Tech Hubs will use their existing innovation assets to build the workforce of the future; enable businesses to start and grow; and deliver new and vital technologies, EDA officials said.
"Innovation, cutting-edge research, and creativity can be found in every community across America. Thanks to President Biden's Investing in America Agenda, the Tech Hubs program is seizing that potential and investing in regional consortia that will boost U.S. manufacturing, create more good-paying jobs and bolster U.S. global competitiveness," said Deputy Secretary of Commerce Don Graves. "The phase 1 designees and grant recipients reflect the diverse technological industries growing here at home and are symbols of American innovation and opportunity. The Tech Hubs program will provide them tools and resources to drive economic growth across the nation, which Americans will feel for generations to come."
Tulsa's Tech Hub designation is the "Tulsa Hub for Equitable & Trustworthy Autonomy" (THETA). Tulsa Innovation Labs is THETA's lead agency. Tulsa Innovation Labs designs and launches economic and workforce development initiatives in the following four emerging technology clusters: virtual health, energy tech, advanced air mobility and cyber. It supports startup growth, trains diverse talent, expands job opportunities and spurs academic innovation aligned to interconnected tech clusters.
"Through Tech Hubs our goal is to create 200,000 new jobs, and with our proposal's intentional focus on equity, Tulsa has an opportunity to add 66,000 women and 39,000 Black, Latinx and Native American individuals to the region's workforce in autonomous systems-related occupations, with wages $7,000 higher than the regional average," Tulsa Innovation Labs officials said on social media.
THETA aspires to lead the world in developing and commercializing autonomous systems for agriculture, pipeline inspections and regional transportation. It aims to develop and innovate autonomous systems applications while increasing their security and integrity by leveraging university-based research institutes in unmanned systems and cyber technologies, the Skyway Range flight corridor testing facility and existing capital investments.
Strengthening national and economic security while connecting the region's small manufacturers with autonomous systems supply chain opportunities is THETA's primary goal.
As a Tech Hub designee, THETA can apply for the Tech Hubs Phase 2 Notice of Funding Opportunity (NOFO).
EDA will award implementation grants to five to 10 designated Tech Hubs. Hubs that receive the grant will receive approximately $40-$70 million across approximately three to eight projects.
Click here for more information.