LAWTON, Okla. (OBV) – Sen. John Michael Montgomery said his upcoming position as the president and CEO of the Lawton Fort Sill Chamber of Commerce will give him the opportunity to fulfill his personal passion of advocating for businesses.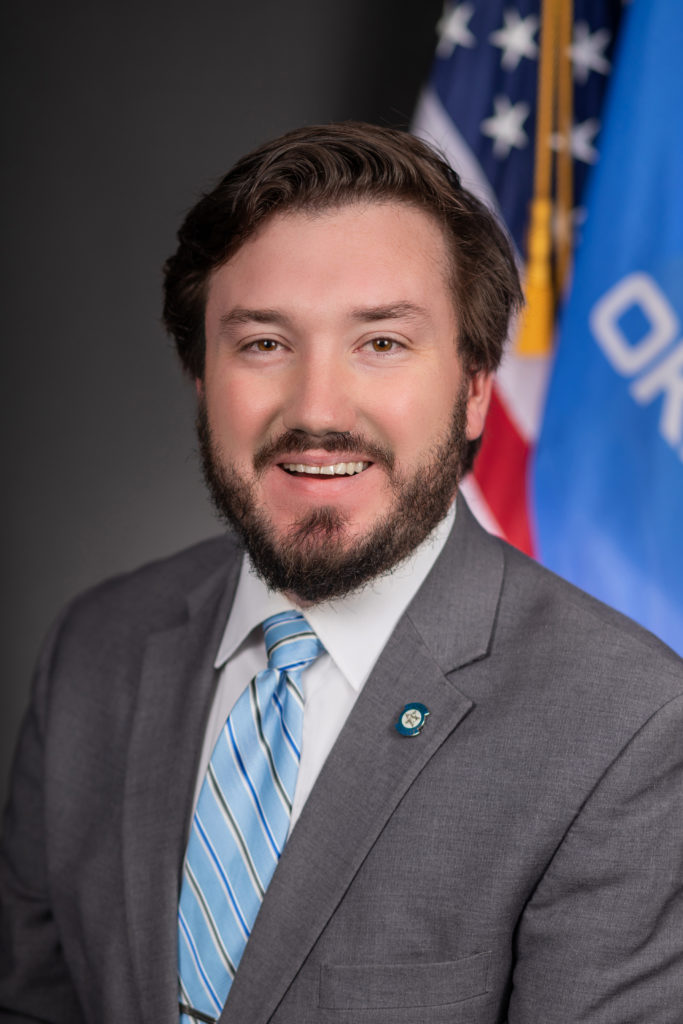 Montgomery, R-Lawton, announced last week that he is stepping down from the State Senate to become the Lawton Fort Sill Chamber leader and that his resignation will be effective on Aug. 1.
He issued the following statement about his resignation and new position:
"It has been an honor and truly humbling to have been able to represent at the state Capitol the community that I have grown up in and call home for the last nine years. I am deeply grateful for the trust my constituents have placed in me, for the outpouring of support I have had, and cherish my colleagues I have worked with these many years. I consider it a great blessing to be able to continue to work for my home in a new role as president and CEO of the Lawton Fort Sill Chamber of Commerce and believe that my resignation from the Oklahoma State Senate, effective August 1, 2023, will be a long term investment in our community."

Sen. John Michael Montgomery
Montgomery, a strong advocate for the state's business community, spoke with Oklahoma Business Voice about his decision to leave the Senate and his plans for the Lawton Fort Sill Chamber.
The soon-to-be former state senator said he had heard that Dr. Krista Smith-Ratliff was concluding her tenure as president and CEO of the Lawton Fort Sill Chamber. He said family and friends encouraged him to pursue the position.
"I came to the conclusion to go ahead and apply and give it a shot," Montgomery said. "It's definitely an area that I've been very much interested in from my legislative experience; just just kind of a lot of the things that I've worked on there."
Montgomery said he has multiple priorities for the Lawton Fort Sill Chamber, including employer-employee benefits.
"Making sure that we're, you know supporting our employers to the best of our ability, just making sure that they can have good quality retirement offerings and that sort of thing," Montgomery said.
Enhancing workforce will be a major goal, Montgomery said.
"The question for us down here is ultimately how can one chamber better support our employers and make sure they get the get people filled and the jobs that they need," Montgomery said. "Making sure that people have a fulfilling career and an opportunity that they want to pursue."
Creating opportunities will be a key part of the job, according to Montgomery.
"That's kind of part of what I want to pursue here is how to best support our members. So, there's certainly some ideas out there around scholarships and that sort of thing," he said.
Working with local communities fits squarely into Montgomery's plans.
"There's definitely an interest down here, and I really would call it a regional chamber approach where we partner up with some of our other communities around us to advocate for businesses here and things like that," Montgomery said.
Montgomery worked in the Oklahoma State Legislature for nearly 10 years, serving as a member of the House of Representatives from 2014-2018 and starting his Senate tenure in 2018.
Senate Pro Tempore Greg Treat, R-Oklahoma City, praised Montgomery's work in the Senate.
"Senator Montgomery is a talented leader who has a bright future ahead of him. He is a valued member of our Senate family and while we hate to lose his expertise and knowledge, I wish him nothing but the best in this new role. He helped the Senate pass numerous measures that will benefit generations of Oklahomans – especially when it comes to economic development and the financial stability of our state. I appreciate his service, friendship and am glad he will still be in a public-facing role with the chamber."

Senate Pro Tempore Greg Treat
Montgomery's most recent success in the legislature was his contribution to House Bill 1039X, a bill that passed both houses of the legislature and became state law.
HB1039X repealed the state's franchise tax. The franchise tax was a direct tax levied on a company's net worth, taxing $1.25 for every $1,000 in capital, with the amount capped at $20,000, regardless of the company's size or net worth.
The bill automatically became state law five business days after it fully cleared the Oklahoma State Legislature. Bills passed by the legislature become law after they have been on the governor's desk for five days and have not been vetoed.
Gov. Kevin Stitt will call a special election to fill the seat. The date of that election has not been determined.
Oklahoma business leaders Jennifer Ellis and JJ Francais have both announced their candidacy to fill Montgomery's District 32 seat.