OKLAHOMA CITY (OBV) – An election date is set for voters to approve or deny continuing a sales tax that would be used to fund a new $900-million arena that will keep the OKC Thunder in Oklahoma City beyond 2050.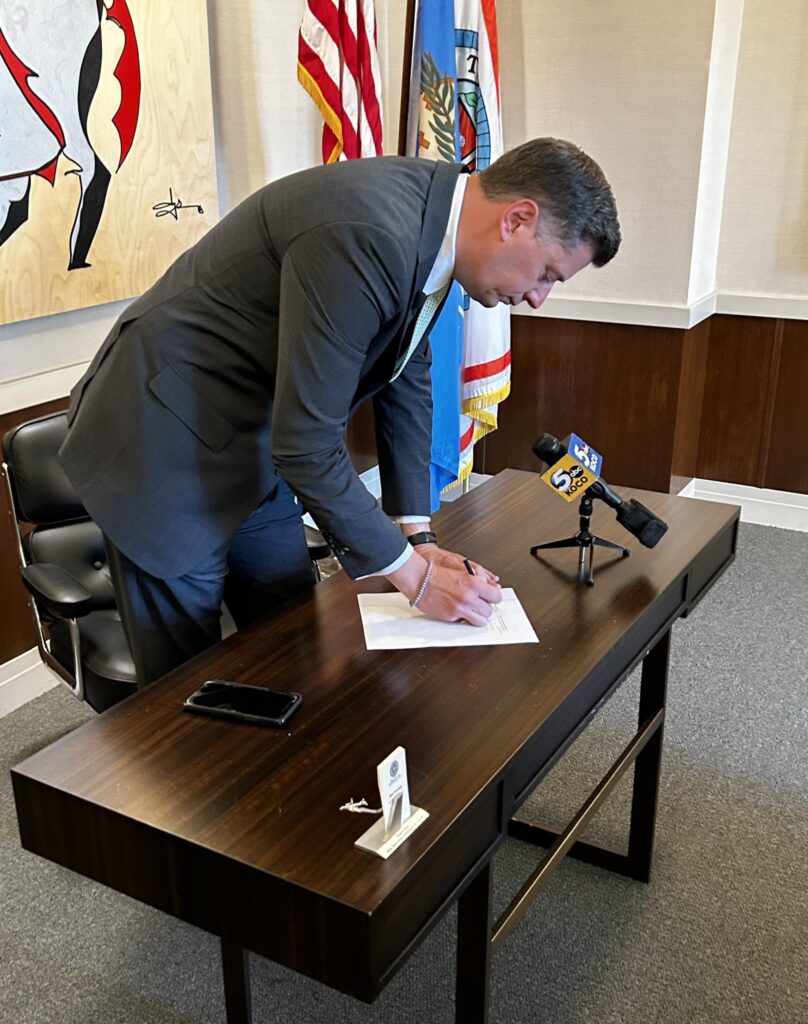 The OKC City Council met Tuesday and called for a Dec. 12 citywide election, asking voters to approve building a publicly-owned arena that will serve as the Thunder's new home as well as a venue for concerts and other major entertainment events.
Mayor David Holt and City Manager Craig Freeman presented the arena plan to the City Council and requested that the plan be sent to voters for a Dec. 12 election.
Holt and Freeman also presented a letter of intent signed by Oklahoma City Thunder Chairman Clay Bennett, committing the Thunder to play 25 years in the new arena if voters approve the one-sent sales tax and legal documents are signed. The City Council approved that letter of intent, and Holt cosigned it following the council's approval.
"I commend the Council for authorizing me to sign that agreement, the Thunder for their partnership, and I thank the dozens of people who came today to Council with a firm belief in our future," Holt said on social media. "Now, there is one last step. We all have to show up on Dec 12th & vote YES to keep OKC big league. By continuing to invest in ourselves – and without a tax increase – we can secure this remarkable renaissance for another generation. Let's finish the job on December 12th."
The new arena will be at least 750,000 square feet. However, the arena's exact location and the number of seats it will have has not yet been determined, according to Kristy Yager, director of public information for the City of Oklahoma City.
The new arena, if approved by voters, will be funded in part by a 72-month, one-cent sales tax that will start when the MAPS 4 tax ends and will not increase the sales tax rate. MAPS 4 is the latest phase of OKC's ongoing city revitalization initiative that began with the original MAPS in 1993
The team's ownership group agreed in the letter of intent to contribute $50 million toward the arena's cost. The city will use $70 million in MAPS 4 funding for the arena. The arena is expected to cost at least $900 million.
The plan is for the new arena to be completed and ready to go by the 2029-2030 NBA season, if not sooner.
The City Council also adopted a resolution directing Freeman to arrange with the new arena operator to use workforce intermediary programs to recruit, train and hire Oklahoma City residents who are in most need of jobs. The resolution requires the new arena operator to pay part-time and full-time employees a wage equal to what City of Oklahoma City employees earn for similar work. It also establishes a working group to study and evaluate the use of labor peace agreements at the new arena.
City Councilman Mark Stonecipher released the following statement, saying the new arena is essential to OKC's continuing growth and success.
"Today, the City Council passed a resolution to allow our residents to vote on a new arena.

I think it is important to remember, since the Thunder came to Oklahoma City, we have jumped from the 37th largest city to now the 20th largest city. Today we are the sixth fastest growing city in the United States and unemployment is at a record low. In our most recent OKC Citizens Survey, 81% of our residents say Oklahoma City is a great place to live, 77% say it's a great place to work, and 70% say it's a great place to raise children.

Will Roger's once said, 'even if you are on the right track, you'll get run over if you just sit there.' Now is not the time to hit the brakes. Remember what happened when Seattle did not want to invest in a new arena? Also, there are at least 18 major cities that would love to have an NBA team, including Las Vegas. Let's not forget what happened to OKC with the National Finals Rodeo and Las Vegas. So, let's get on board and support the new arena so we keep our OKC economy growing!"

Mark Stonecipher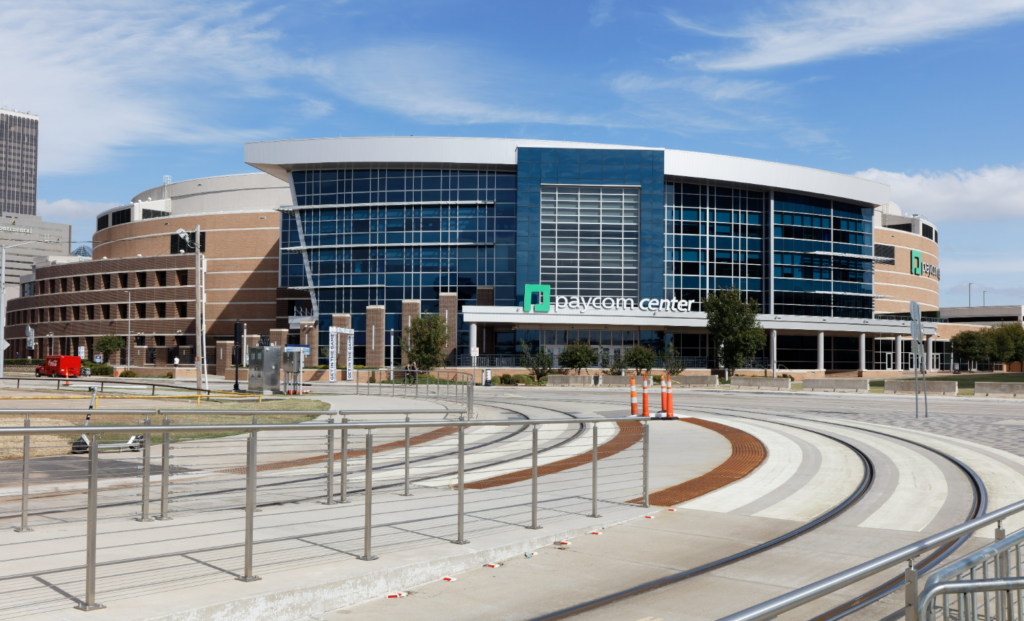 The Paycom Center is Oklahoma City's current arena. The MAPS sales tax initiative funded the $89.2 million arena, which was initially referred to as the MAPS Sports Arena. It opened in June 2002 with a new name, the Ford Center. The name was changed to Chesapeake Energy Arena in July 2011, and then to the Paycom Center in July 2021.
The Thunder and various entertainment attractions at the Paycom Center have been a boon to Oklahoma City's economy and workforce.
Economic impact studies cited by city officials state that the Thunder has an annual economic impact of $600 million and 3,000 jobs.
Oklahoma City has grown from the nation's 31st largest city to its 20th largest city, and its GDP has risen 62 percent since the Thunder came to OKC in 2008.
The Thunder generated $55.8 million in direct spending in the pre-COVID 2018 calendar year, according to Greater Oklahoma City Chamber data.
Thunder games attract droves of fans from OKC and out of town, which brings large revenue to businesses in the city. In-town game attendees spend an average of $75 per game in gameday-related expenses, and Thunder fans from out of town spend $237 per game on expenses that include food, lodging, fuel and retail, Greater OKC Chamber data shows.
The new arena will be a major economic asset for the city, Christy Gillenwater, president and CEO of the Greater OKC Chamber, said in a statement to OBV earlier this month.
"Securing the Thunder for another generation and making sure Oklahoma City remains competitive in bringing concerts and other events to the city is critical. The presence of major league sports is simply vital to our city's image and to our continued growth," Gillenwater said. "Our community is fortunate to have visionary leadership from our Mayor and City Council, effective and professional city management, and team ownership that is committed to keeping professional sports in our market. We believe our community understands the importance of a new arena to maintaining our competitive position as a city, and we look forward to securing our city's momentum on December 12."
The current arena is 581,000 square feet, the smallest in the NBA by square footage. It seats only 18,203 people for NBA games. It was originally designed to meet National Hockey League requirements. It is also the second-cheapest arena in the NBA, having received a total investment of around $200 million – far less than the most recently built NBA arenas, the Chase Center in San Francisco, which opened in 2019 and cost $1.4 billion to build, and 2018's $524-million Fiserve Forum in Milwaukee.
Building a new arena is vital to meeting the needs of an elite NBA team, which is necessary to keep the Thunder in Oklahoma City, as well as ensuring top concert and entertainment attractions come to OKC, city officials said.
"The Paycom Center is not capable of securing a long-term lease with an NBA team. Meanwhile, there are U.S. markets larger than Oklahoma City that don't have an NBA team, some of which already have or are planning an NBA-ready arena," city officials said. "Also, without a new arena, it will prove more and more difficult for Oklahoma City to retain and attract new major concerts, family shows, and other similar events."
The Thunder's chairman expressed his excitement earlier this month for the team to remain in Oklahoma City and anticipates great mutual growth.
"For fifteen years the Thunder has been honored to help lead the transformation of Oklahoma City and enhance the tremendous pride our citizens have in their community," Bennett said. "We now have an opportunity to build on that progress, advance our status as a true big-league City, continue to grow our economy and secure the long-term future of the Thunder. We look forward to continuing our partnership with Mayor Holt, members of the City Council, and the forward-thinking business and civic leaders in our community. Together we can develop an arena to serve as a crowning achievement in the ongoing renaissance of Oklahoma City."