OKLAHOMA CITY (OBV) – A multipronged initiative to transform Oklahoma's workforce is underway at the State Capitol.
The state leaders behind the initiative spoke during a news conference Wednesday afternoon at the Oklahoma History Center.
The plan is to streamline workforce into a more coordinated and focused system that will work to fill jobs across multiple sectors and stimulate the state's economy.
Gov. Kevin Stitt launched the initiative in January, ordering the creation of a Workforce Transformation Task Force, followed by legislation from Sen. Adam Pugh, all in coordination with The State Chamber of Oklahoma.
"I want Oklahoma to be the most business-friendly state in the nation, and for Oklahoma to keep up with the jobs of tomorrow, we have to reimagine our approach to workforce," Stitt told Oklahoma Business Voice on Wednesday. "I'm eager to see the bold vision cast by the Workforce Transformation Taskforce."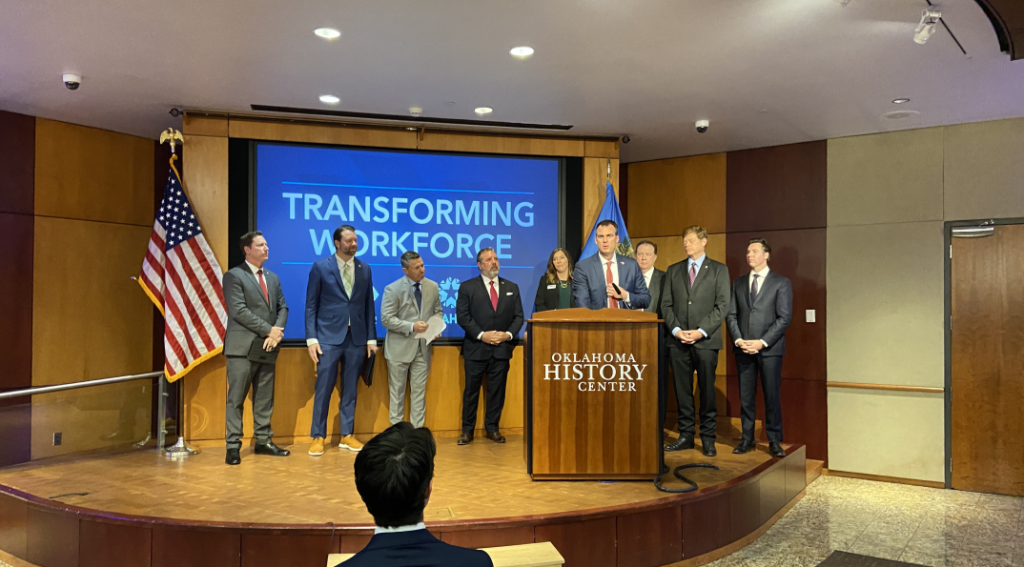 Stitt said Oklahoma's workforce is often siloed into multiple uncoordinated parts that do not always pursue shared goals or strategies and suffer from excessive administrative duplication.
The governor issued Executive Order 2023-02 last month, saying his plan would bring focus and coordination to the state's workforce efforts.
The Workforce Transformation Task Force will be comprised of private sector leaders and public officials who will work to identify ways funding can be aligned to goals and economic needs. The Task Force's work will also lead to the appointment of a state workforce leader.
Stitt announced the individuals comprising the Task Force during the news conference. Secretary of Commerce Chad Mariska and Chad Warmington, President and CEO of The State Chamber, will serve as Task Force co-chairs. The other Task Force members are as follows:
Sen. Adam Pugh, R-Edmond
Rep. Brian Hill, R-Mustang
Rick Nagel, Managing Partner, Acorn Growth Companies/State Chamber Board Member
Tim Pehrson, President & CEO, INTEGRIS Health
Karen Pennington, Executive Director, Madison Strategies Group
Elizabeth Pollard, Secretary of Science and Innovation
Ryan Walters, Oklahoma State Superintendent of Public Instruction
Jeff Stava, COO Tulsa Community Foundation/CPO George Kaiser Family Foundation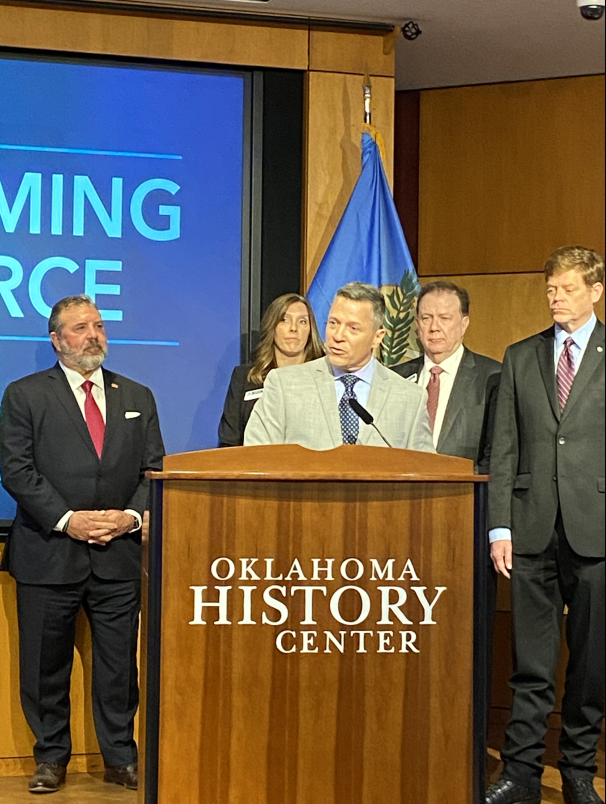 "Workforce is a critical element of economic development, and without a strong system and talent pipeline in place to provide the workforce needed, Oklahoma can't reach its full potential," Mariska told Oklahoma Business Voice. "However, with an optimized workforce system, Oklahoma can set itself on a trajectory to achieve historic economic prosperity."
The Task Force will implement a comprehensive strategy that will change workforce for the better, according to Warmington.
"Many state agencies and individuals touch workforce development, but nobody owns workforce," Warmington said. "This is a great opportunity for the business community, the governor's office and the state legislature to come together to transform workforce.  We have a significant workforce problem and there is a significant effort in progress to fix it."
Pugh filed Senate Bill 621 days after Stitt's executive order. The bill, if passed, will create the Oklahoma Workforce Commission, a new commission made up of private sector business leaders who will direct the state's workforce development strategy and administer and oversee funding allocated by the legislature for workforce development initiatives. The commission can contract with outside parties to achieve its mission.
"We are now in a 50-state competition; I can even make a very good argument that we are in an international competition for the best and brightest, to recruit them, to retain them, and to have them help our businesses grow," Pugh said.
"How can we ensure across the entire enterprise of systems and agencies, and individuals and entities that build our workforce, how can we ensure we are creating men and women with the skillsets that they need – whether it be aerospace, engineering, biomanufacturing, agribusiness, healthcare, whatever jobs may exist for my five year old in 2040 that don't even exist today – and who will be in charge of that?" Pugh said during the news conference. "Senate Bill 621 seeks to provide that answer. And it will work with business leaders in the private sector, with education leaders and with government leaders to ensure that Adam Pugh as a senator, Brian Hill as a representative, Kevin Stitt as a governor are not the ones growing the economy, that we're giving you all the tools you need to grow the economy."
Hill spoke after Pugh, citing the importance of strong leadership in realizing the vision of a better workforce system.
"Today, to be able to stand here knowing that our governor is leading the way, and with all of these industry leaders, knowing that we as Oklahomans have acknowledged our workforce issue and that good is not good enough," Hill said.  "The days before when 'Oklahoma is OK,' we've moved past that.  Because of industry leaders in this room, were taking the next steps for the next generation to succeed."
The executive order moves the pieces the governor will control – recurring federal funds through Workforce Investment and Opportunity Act (WIOA), state agencies that report to the governor – toward the new workforce system.
SB 621 moves the pieces the legislature will control – state funding for workforce priorities, establishing a new entity and reporting mechanisms necessary to truly unify the entire system long term – toward the new system and ensure accountability.
Both share the same goals of transforming workforce delivery and coordinating workforce ecosystems to ensure better outcomes for Oklahoma's business community, workers and economy.
Warmington said he and his colleagues looked at effective workforce models from other states when developing the new plan.
"There's some states that do it really well – Florida, Texas, Indiana, Ohio, Utah. They have fantastic workforce development and workforce delivery systems," Warmington said. "We're taking the best bits from all those and trying to make sure they work in Oklahoma. We don't need to reinvent the wheel – we know there are great programs out there. We're going to reach out to them and have them help us understand the challenges they had so it makes it easier for us to get going."
The plan will is a new frontier for workforce, said Ben Lepak, Executive Director of The State Chamber Research Foundation.
"It's really exciting times for Oklahoma when it comes to workforce development," Lepak said. "This is a challenge in every state. Oklahoma leaders are really stepping up. The business community is coming up with answers to the workforce problems in the state. I'm proud to see our governor and our legislature stepping up to the plate as well."