OKLAHOMA CITY (OBV) – Legislators gathered with education and workforce leaders at the State Capitol on Monday to investigate changes to Oklahoma's graduation requirements in hopes of getting more high school students trained to enter the workforce and fill the growing need for skilled workers.
Rep. Rhonda Baker led the special interim study before the House Common Education Committee, which she chairs. The interim study's purpose was to examine student pathways for meeting graduation requirements.
"One thing we all understand and know is that there is a connection between our education system and workforce readiness. We got to make sure what we're doing is a true plan," Baker said. "This is a great opportunity for us to come together as leaders and have a discussion about what works and what doesn't work. We got to keep up with the needs of our students and do what's best for them. All of us value education, and we must make sure we're moving toward a path of success for our students."
Several workforce leaders and state education officials spoke during the interim study, including Chad Warmington, president and CEO of The State Chamber of Oklahoma, Brent Haken, director of Oklahoma CareerTech, Ben Lepak, executive director of the State Chamber Research Foundation (SCRF), Stephen Pruitt with the Southern Regional Education Board, Chuck McCauley with Bartlesville Public Schools, Marissa Lightsey with the State Department of Education, Tyler Bridges, superintendent of Clinton Public Schools, Dr. Robert Placido, who handles academic and student affairs for the Oklahoma State Regents for Higher Education, and Jeff Anderson, senior director of engineering for Boeing Defense, Space & Security.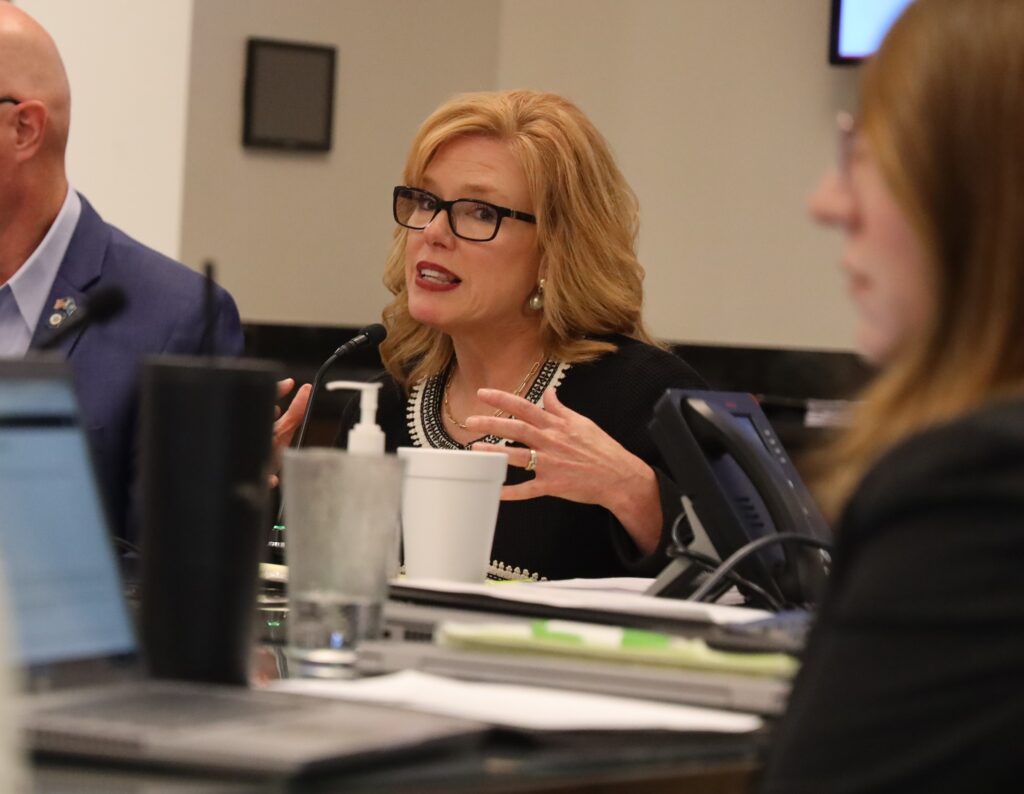 Haken spoke with Oklahoma Business Voice last week and said the interim study would bring together workforce and education officials to determine the steps Oklahoma needs to give students a world-class education while equipping them with the skills they will need to enter the workforce and build a thriving career.
All the speakers agreed on the need for greater flexibility when it comes to graduation requirements, but without compromising academic standards.
"I think everybody is looking for a way to offer flexibility and innovation in their graduation pathways," Baker said to OBV after the interim study ended. "What we have to as legislators be very careful with is that we are not exchanging flexibility for positive outcomes and rigor. It's important that our students are prepared for the workforce and prepared for the jobs that [companies] like Boeing are looking to have."
Rigid graduation requirements prevent the kind of flexibility that would allow for more careers skills classes to be added to curriculums, Bridges said.
"We have really good work happening at school districts across the state that are trying to do what we're talking about today within the constraints of graduation requirements," Bridges said. "A lot of the pace of the modernization of the career pathways are slowed down by the constraints of the system."
Haken told OBV last week that Oklahoma is not optimizing skills training and career readiness education in K-12 schools.
"The biggest obstacle right now is the lack of flexibility within graduation requirements," Haken said last week. "We don't have the flexibility to really individualize what learning needs to look like and how we can help students understand what their career trajectory should look like. We've made it a little too rigid and we have understood that there is equal value for many different careers and that a student should have some say by the time they're about to become an adult and what that looks like for them."
He spoke of the need for flexibility during the interim study.
"We have to create opportunity for those students to have extra curricular involvement," Haken said. "To be engaged in their education and see what they're good at and go compete at it."
Implementing flexibility in graduation requirements means policy change, Placido said.
"For example, in our statutes it will say 'three units of math,' and then it will have a big parenthesis to say that to qualify it has to be this math — trigonometry, geometry — and we have to stop having those parenthesis because there are so many ways to achieve experiences in math," Placido said. "That's what we mean by flexibility; not to reduce down or make it easier — we want every experience to rigorous and meaningful to the student — but connected to the fields they want to be involved in."
Expanding math courses to include mathematics as it applies to practical applications, such as statistics or mechanical and technological uses, is the type of flexibility the state should aim for when it comes to graduation requirements, according to Placido.
"[School districts] should have the opportunity to create an experience for their students without all that administrative burden," he said.
The interim study participants also agreed changes must be made to build a skilled labor force that will meet the demands of Oklahoma's future workforce.
"To be competitive with the rest of the country, we're going to have to double the number of students who earn certificates," Pruitt said. "If we don't, we're going to see 18-million unemployable adults across the south, in Oklahoma that translates to 740,000 individuals."
Oklahoma business leaders who are members of The State Chamber have stressed the need for skilled workers who can fill positions that require particular training and skills, according to Warmington.
"If 62 percent of [State Chamber] members are telling you their number one issue is workforce, then you better have a workforce agenda," Warmington said. "It's important for the business community to understand they have an obligation and a role to get involved."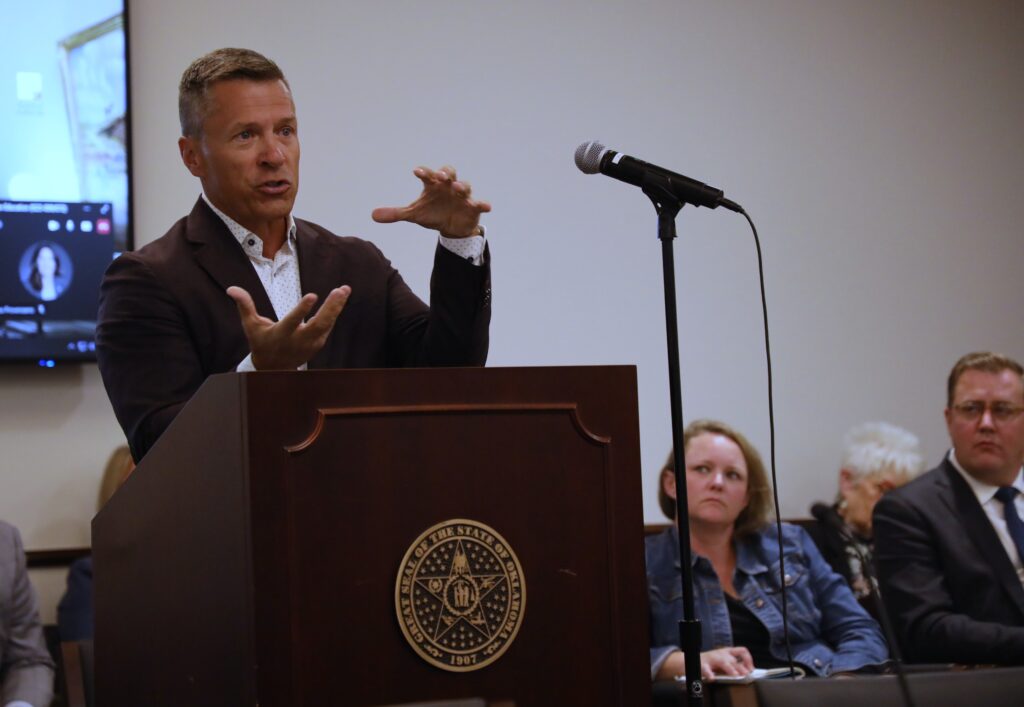 Lepak said there is a skills mismatch happening in Oklahoma.
"There are a number of jobs open but not enough workers with the necessary skills to fill those positions," Lepak said. "Only about 10 percent of the credentials Oklahoma students are earning coming into the workforce are in line with the top demand occupations"
Projections from Oklahoma Works, the state's workforce development agency, showed that 70 percent of Oklahoma's jobs will require education or training beyond high school by 2025. The state's solution for addressing the skills gap was setting a goal to have 70 percent of Oklahoma's 25-64 years-old having workforce education or training beyond high school by the year 2025, including post-secondary degrees, certificates and other high quality credentials.
A 2017 Oklahoma Works report referenced Lumina Foundation data, which showed a 37 point gap between the skill level of the state's workforce at the time (40 percent) and the post-secondary skill level (77 percent) employers said they would need by 2025 for new jobs in the state.
"Thus, the new minimum for success requires a post-secondary degree or credential in order for Oklahoma to meet labor demands, for businesses and industry to grow and for Oklahoma citizens to start businesses or succeed in wealth-generating occupations," the Oklahoma Works report states.
Anderson said business leaders, educators and legislators have the opportunity to do something that he has not seen anywhere else.
"That is setting our individual agendas to the side and creating an agenda together that essentially aligns with a harmonized, strategic view of how we go off and engage and tailor our academic infrastructure that aligns not just with creating academics but creating a workforce that can ultimately feed between academia and industry so that Oklahoma is producing the talent that not just Oklahoma needs, but the talent that the nation needs," Anderson said.
Norman Public Schools has been proving that school districts can create such talent by providing students the skills training they will need to build their future careers.
Aerospace is the second largest industry in Oklahoma. Norman Public Schools' Oklahoma Aviation Academy is succeeding in preparing high school students for careers in the aerospace industry, generating wide participation and massive interest among students. But there are a wide number of industries needing talented young workers who can come onto the job skill-ready.
Oklahoma's youth are eager to learn tangible skills that will help them enter the workforce and build a career.
Haken said more than 11,000 students were on the waiting list to get into CareerTech last year.
"Our goal is 10,000 more [CareerTech] students within five years," Haken said. "That would be unprecedented growth."
Lightsey said she was encouraged and excited about the conversation had during the interim study.
Baker said while the aim is for greater flexibility in graduation requirements, the legislature would likely not be in favor of giving school districts the power to set their curriculums.
"I think still having a core curriculum, but maybe offering flexibility with that child's pathway to where maybe an Algebra II course does not work for a child who is going [a particular] pathway, but there's a comparable class that they can take that would offer the rigor that they would need," she said.
Baker foresees legislation on graduation requirement flexibility being filed in the Oklahoma Legislature within the next year or two.